Through December 31, 2023, Experian, TransUnion and Equifax will offer all U.S. consumers free weekly credit reports through AnnualCreditReport.com to help you protect your financial health during the sudden and unprecedented hardship caused by COVID-19.
A credit score simulator is an interactive online tool that can estimate your current or future credit score based on various debt-related factors. Your history with credit as well as decisions you might make can be considered, such as how opening a new loan or credit card account, paying off debt or taking other actions might affect your scores.
Some credit score simulators function similarly to online quizzes or surveys: They ask you for information and give you a credit score estimate based on your responses. The FICO® Free Credit Scores Estimator, for instance, estimates your FICO® Score☉ by asking 10 questions. These concern the number of loans and credit card accounts you have, how long they've been open (or paid off), and your history of repaying them.
Other simulators, such as those featured on websites that provide free credit scores, begin their estimates using your actual credit score, and then allow you to test various scenarios to see how different actions might influence that score.
The Experian FICO® Score Simulator, available through the Experian CreditWorks℠ subscription service, also bases its calculations on an actual credit score (the FICO® 8 Score) and shows you how it could be affected by a wide array of actions, including:
Applying for a new loan or credit card
Advancing your current debt history two years into the future (aging your accounts)
Missing a bill payment
Closing a credit card account
Maxing out all your credit cards
Declaring bankruptcy
The sophistication with which different credit score simulators depict different scenarios varies widely, but all demonstrate the interaction of the factors that influence all credit scores.
For example, this is what Experian's FICO® Score Simulator might show you for the scenario that you miss a bill payment: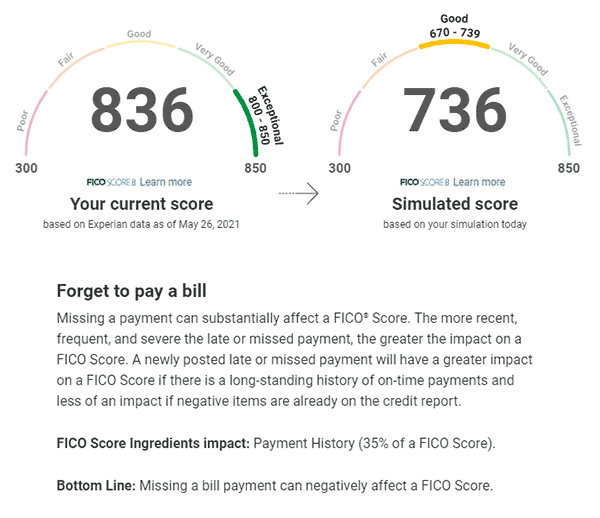 Experian FICO® Score Simulator image is shown as an example for educational purposes and may not reflect typical results.
How Your Credit Score Is Calculated
Credit scoring models use sophisticated mathematical algorithms to calculate credit scores based on a credit report from one of the three national credit bureaus (Experian, TransUnion or Equifax). Each credit report reflects your credit history as reported by the creditors you've worked with, including your current and past debts and our record of making payments on them. FICO® and VantageScore®, which produce the most widely used consumer credit scores, generate most scores using a scale of 300 to 850. In this range, higher scores indicate lower risk of missing debt payments.
Credit scores from different sources can vary considerably for a number of reasons:
The contents of your credit reports change as you use credit cards, make payments and open new accounts.
Various scoring models calculate scores differently. A 650 FICO® Score 8 is not the same as a 650 VantageScore 3.0, for instance, so it's important to know which scoring system is being used to determine (or simulate) your credit score.
Different versions of the same credit scoring model can generate different scores. Lenders (and simulators) may use any of multiple versions of a scoring model, each of which yields somewhat different scores.
While the specific calculations used to determine (or simulate) your credit score vary, the FICO® Score and the VantageScore systems look for patterns of credit behavior, and similar good habits promote higher scores on both systems.
While credit scores are calculated somewhat differently, there are some basic credit factors that can reliably help you improve your scores, and score simulators can help you understand how those factors interact. According to both FICO® and VantageScore, those factors are:
Timely payments: Paying your credit bills on time, every month, is the single most important thing you can do to build a good credit score. Conversely, going more than 30 days overdue on just one loan or credit card payment can have a major negative effect on your credit score. Payment history is responsible for about 35% of your FICO® Score.
Moderate balances: Your debt balances have the potential to affect your credit scores, so it's important to keep a close eye on them. The percentage of revolving credit (such as credit cards) you're using compared with your credit limits is known as your credit utilization ratio. If that figure exceeds about 30%—on any individual card or when you divide the sum of all your balances by the sum of all your borrowing limits—the negative effect it could have on your credit score is more exaggerated. The amounts you owe on your accounts is responsible for about 30% of your FICO® Score.
Track record: Lenders believe experience counts, so people with longer credit histories tend to have a higher credit score than more recent arrivals to the credit marketplace (all other factors being equal). Age of your credit accounts contributes about 15% of your FICO® Score.
Variety of credit: A combination of credit cards and one or more installment loans, such as a student loan, car loan or home mortgage, shows lenders that you can handle a variety of credit types responsibly, and could help you credit scores. Credit mix is responsible for about 10% of your FICO® Score.
Responsible borrowing: Your credit scores may take a hit whenever you apply for or accept a new loan or credit account. If you keep up with your bills after assuming new debt, however, scores tend to rebound within a few months. New credit accounts make up about 10% of your FICO® Score.
Credit scores can take a major hit if severe negative information is added to your credit reports, including a bankruptcy, foreclosure or repossession of a financed vehicle. These events remain on your credit reports for seven to 10 years, although their negative impact on your credit scores lessen over time.

What Credit Score Simulators Can and Can't Do
Credit score simulators can help you see, in broad strokes, how different decisions tend to influence credit scores. Simulators that let you compare scenarios only consider one action at a time so, because, multiple actions influence your credit score—making purchases, paying down balances, making loan payments, etc.—no simulator can predict your future score with certainty, even one that begins its approximations using your actual credit score.

When Does It Make Sense to Use a Credit Score Simulator?
Credit score simulators let you compare the consequences of different actions in a general way. If you're considering taking on a mortgage, for instance, a simulator can help you see how taking on that new debt could affect your credit score.
Perhaps more important, a simulator can give you an idea how different credit-use strategies can help you raise your credit score before you submit a mortgage application. Paying down a credit card with a high utilization ratio is likely to benefit your score more than paying off one with low utilization, for instance. On the other hand, making early payments on your loans may save you some interest charges, but it might not have much effect on your credit score at all.
Credit score simulators can help you gain a greater understanding of the factors that influence credit scores and how they interact with one another. Consulting simulators to help think through credit decisions can be a useful exercise, along with regularly checking your credit reports and monitoring your credit scores. You can get a free copy of your credit reports from all three major credit bureaus through AnnualCreditReport.com. You can also check your credit report and see your FICO® Score 8 based on your Experian report for free directly through Experian.

Note: Experian FICO® Score Simulator image is shown as an example for educational purposes and may not reflect typical results.
Learn More About FICO® Scores