At Experian, one of our priorities is consumer credit and finance education. This post may contain links and references to one or more of our partners, but we provide an objective view to help you make the best decisions. For more information, see our Editorial Policy.
When you use a balance transfer credit card, you can save money by transferring an existing credit card balance to a new card that charges low or no interest for a period of time. Often, balance transfer credit cards charge 0% interest for a year or longer.
Before you transfer a balance, it's important to weigh the benefits of doing so against any fees you'll pay and the likelihood that you'll pay off the debt by the end of the intro 0% interest period. Here's what's important to know about balance transfer credit cards.
How Do Balance Transfers Work?
The goal of a balance transfer is to save money on interest while you pay off credit card debt. You can move a credit card balance to a new card, but typically, you're not allowed to transfer a balance from one card to another that's issued by the same company or any of its affiliates.
Beyond credit card debt, you may also be able to move other types of debt, like personal loans, directly to a balance transfer credit card. Or the card issuer may provide paper checks you can use to pay off balances on other accounts, like auto loans or home equity lines of credit (HELOCs). The amount you pay with the check will then be added to your balance transfer card balance and accrue interest at the promotional annual percentage rate (APR).
How Much Money Can You Save With a Balance Transfer?
The amount a balance transfer can save you depends on the new interest rate you receive and the length of your 0% APR promotional period.
For example, say you have a $3,000 balance on a credit card with an APR of 16.3%. Your minimum monthly payment would be $90, and it would take you 152 months to pay off the balance by paying only the minimum. You'd pay $2,239 in interest charges in that time.
Now imagine you transfer the $3,000 balance to a card that carries a 0% intro APR, a 3% balance transfer fee and an 18-month interest-free period. If you pay off your balance in 18 months, you'd pay $0 in interest, and your payment would increase to about $167 per month. You'd also pay a $90 balance transfer fee.
If you kept your monthly payment the same—$90 rather than $167—you'd take 36 months to pay off your debt. For 18 of those months, you'd pay interest. If your interest rate after the promotional period increased to 14.99%, you'd pay about $252 in interest in total. That's still nearly $2,000 in interest savings compared with not using a balance transfer card at all.
What to Consider Before Completing a Balance Transfer
When you're evaluating whether to pursue a balance transfer, consider the following:
Credit score requirements: Check your credit score before you proceed. Most balance transfer credit cards require good to excellent credit—670 or higher. If you're not quite there yet, look into ways to improve your score.
Effect on your credit score: When you apply for a new credit card, your credit score may dip as a result of a hard inquiry being added to your credit report. The effect will likely be minor, if there's any effect at all. Still, it's something to keep in mind if you're applying for new credit, such as a mortgage, in the near future. On the other hand, transferring a balance could be a way to improve your credit utilization, which is an important credit scoring factor. The new card would increase your overall credit limit and your individual card balance on the card you're transferring the balance from.
Balance transfer limits: Your new credit card issuer will take a look at your credit history and determine your credit limit. You can then likely only transfer a certain proportion or dollar amount of that limit to the card. Prioritize transferring the highest-interest debt you can to save the most money.
Time period to complete the transfer: You may be allotted as little as 45 to 60 days from account opening to initiate the balance transfer. Make sure you set aside time to do so.
Calculate the fees and savings: Since you'll most likely have to pay a balance transfer fee, make sure the interest savings from the transfer justify it.
How to Complete a Balance Transfer
To begin the balance transfer process, and to make the most of your card:
Choose the right balance transfer credit card. You'll likely need a good or excellent credit score to qualify. Also specifically look for cards that offer a 0% intro APR for 12 months or longer and as low a balance transfer fee as possible.
Verify the credit limit and fees. You may receive a limit that is less than your total debt. Check the card's fees, transfer and purchase APR, the length of its promotional period, and the circumstances under which you could lose access to the 0% intro APR deal, including making a late payment.
Determine how much to transfer. Consider the new card's credit limit when planning your transfer. The new card's credit limit may mean you're only able to transfer a portion of an existing card's balance. Moving the balance with the highest interest rate will likely save you the most on interest.
Complete your transfer. Verify with the issuer whether you can make the transfer online, and check that you have the necessary information handy, including the original account number, to do so. Make sure to complete the transfer within the time limit the issuer specifies. If you're using a paper check to complete the transfer, make sure you fill it out completely and accurately to prevent any delays.
Use the new card wisely. Continue making payments on your previous balances until your new card's issuer confirms the transfer is complete. Don't make any purchases while you pay down balances on the new card. Additionally, calculate the monthly payment you'll have to make in order to pay off the balance by the end of the 0% APR period. Stick as closely to that schedule as you can.
Best Balance Transfer Credit Card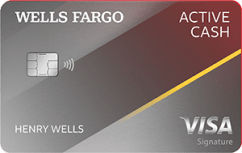 Wells Fargo Active Cash® Card
Apply
on Wells Fargo's website
Recommended FICO® Score*
Good - Exceptional
Wells Fargo Active Cash® Card
20.24%, 25.24%, or 29.99% variable APR
0% intro APR for 15 months from account opening on purchases and qualifying balance transfers
2%
Cash Rewards on Purchases
Earn unlimited 2% cash rewards on purchases
Earn a $200 cash rewards bonus after spending $500 in purchases in the first 3 months
Card Details
Earn a $200 cash rewards bonus after spending $500 in purchases in the first 3 months
Earn unlimited 2% cash rewards on purchases
0% intro APR for 15 months from account opening on purchases and qualifying balance transfers, then a 20.24%, 25.24%, or 29.99% variable APR; balance transfers made within 120 days qualify for the intro rate and fee of 3% then a BT fee of up to 5%, min: $5
$0 annual fee
No categories to track or remember and cash rewards don't expire as long as your account remains open
Enjoy a premium collection of benefits at a selection of the world's most intriguing and prestigious hotel properties with Visa Signature Concierge
Get up to $600 of cell phone protection against damage or theft when you pay your monthly cell phone bill with your eligible Wells Fargo card (subject to a $25 deductible)
Select "Apply Now" to learn more about the product features, terms and conditions
Matched For You are statements made by Experian and may not reflect Wells Fargo's underwriting standards
Is a Balance Transfer the Right Option for You?
Consider a balance transfer if your credit qualifies you for a card with a promotional 0% APR period and you can commit to paying off the whole balance, or at least a significant portion of it, in that time. A balance transfer might also be a good option if you can find a card with no balance transfer fee or the amount you'd pay in fees wouldn't cut notably into your savings.
In the right circumstances, a balance transfer can be a ticket to freedom from overwhelming debt, or a meaningful step in that direction.
Learn More About Balance Transfer Credit Cards