At Experian, one of our priorities is consumer credit and finance education. This post may contain links and references to one or more of our partners, but we provide an objective view to help you make the best decisions. For more information, see our Editorial Policy.
You may have fewer options if you want a new credit card and have a bad credit score—but there are still good cards available. Some even come with rewards and have low fees. You can also use your new credit cards for bad credit to improve your credit scores, making it easier to qualify for other cards and more favorable loans later.
What to Do Before You Apply for a Credit Card
You can start by checking your FICO® Score☉ for free with Experian. It's a good first step because submitting a credit card application can lead to a hard inquiry, which could lower your credit score slightly. With this in mind, you might not want to submit an application unless you're fairly confident you'll get approved. But there are ways to find credit cards that are a good fit without hurting your credit score.
If you have a bad score, such as a FICO® Score below 580, one option is to look for preapproved credit card offers. You might receive these in the mail or from your current financial institutions. If you've gotten these offers, it's because you've been prescreened and meet the card issuer's requirements to extend a firm offer of credit.
Credit card issuers might also let you request a credit card prequalification. Don't be thrown off if the website says preapproval rather than prequalification—some card issuers use the two terms interchangeably.
When you submit a prequalification, the card issuer reviews your basic information and may invite you to apply for certain cards. You may be presented with several card offers, but if you don't get prequalified, you might want to look for options from other card issuers.
Both credit card preapprovals and prequalifications result in a soft credit inquiry, which won't hurt your credit scores. Neither one is a guarantee of approval; however, if your creditworthiness hasn't gotten worse since you were preapproved or prequalified, there's a good chance you can get the card.
Preapprovals and prequalifications aside (they're not always an option), you could focus on credit cards that are generally available to people with low credit scores.
What Type of Credit Card Can You Get With Bad Credit?
Secured and subprime credit cards, tailored to those who have little credit history or are working to rebuild their credit from past mishaps, could be your best option. They work in similar ways, and there are many cards to choose from within each category.
Secured Cards
Secured credit cards are often for people who are brand new to credit or have poor credit. When you open a secured card, you need to send the card issuer a refundable security deposit—that's where the name comes from.
The security deposit limits the card issuer's risk and will usually determine your card's credit limit. Many cards have a minimum $200 security deposit, but you can also send more if you want a higher limit.
Aside from the required deposit, secured cards work just like other credit cards. Some of the best secured cards even offer rewards, and a few don't have an annual fee.
The OpenSky® Secured Visa® Credit Card has a $35 annual fee and doesn't offer rewards, but it might be a good option for some people who have bad credit. For example, many secured cards require you to have a bank account. But not this card: You can open the card by sending the refundable security deposit by wire transfer, check or money order. Applying also doesn't require a credit check, which could be helpful if you have especially bad credit or want to avoid a hard inquiry.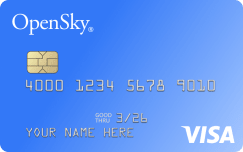 The OpenSky® Secured Visa® Credit Card
Apply
on Capital Bank N.A.'s website
Recommended FICO® Score*
Poor, New to Credit, Rebuilding
The OpenSky® Secured Visa® Credit Card
Card Details
No credit check to apply. Zero credit risk to apply!
Looking to build or rebuild your credit? 2/3 of cardholders receive a 48+ point improvement after making 3 on-time payments
With an 87% average approval rate for the past 6 months, OpenSky gives everyone an opportunity to improve their credit
Extend your $200 credit line by getting considered for an unsecured credit line increase after 6 months - no additional deposit required!
Get free monthly access to your FICO score in our mobile application
Build your credit history across 3 major credit reporting agencies: Experian, Equifax, and Transunion
Fund your card with a low $200 refundable security deposit to get a $200 credit line
Choose the due date that fits your schedule with flexible payment dates
Fund your security deposit over 60 days with the option to make partial payments
Join over 1.2 million cardholders who've used OpenSky to build their credit
Subprime Cards
Subprime cards are unsecured cards for people who have bad ("subprime") credit. These could be a good option if you don't want to tie up your money with a security deposit. Review the card's terms and fees carefully before applying, however.
Some subprime cards have an application fee, along with annual or monthly fees. They may also be difficult to manage if the card issuer doesn't offer an intuitive online interface or good customer service. You'll also likely receive a low credit limit, although that may be increased over time if you use your card responsibly.
Although you generally want to be wary of unsecured subprime cards, the AvantCard could be a good option. It has a $59 annual fee, but there's no foreign transaction fee. However, the card isn't available if you live in Iowa, Hawaii, Vermont, Massachusetts, West Virginia and Wisconsin. It also has a high annual percentage rate, which makes carrying a balance expensive.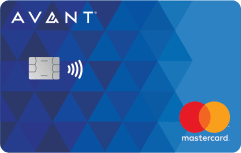 Apply
on Avant's website
Recommended FICO® Score*
Poor - Good, Rebuilding
Card Details
No deposit required
Report to all three major credit bureaus
No hidden fees
We may periodically review your account for credit line increases
Fast and easy application process
Help strengthen your credit history with responsible use
Zero fraud liability for unauthorized charges. See the Mastercard Guide to Cardholder Benefits here (https://www.avant.com/cardholder-benefits/)
Checking your eligibility does not affect your credit score
Avant branded credit products are issued by WebBank
Disclosure: If you are charged interest, the charge will be no less than $1.00. Cash Advance Fee: 3%, Min: $10.
Cards with Alternative Underwriting
Another option may be to look for card issuers that use alternative underwriting tools and don't rely as heavily on your credit scores. These are often newer companies that only offer a couple of credit cards.
How to Improve Your Credit Before Applying for a Credit Card
Improving your credit score can increase your chances of getting approved for a new credit card. But your next steps can depend on why you have bad credit.
If you're behind on bills, you may want to focus on bringing past-due accounts current and settling or paying off collection accounts. You could even look into working with a credit counselor to get an outside perspective on your finances.
Or, perhaps you have bad credit due to previous late payments, collection accounts or filing bankruptcy. Patience can be important here, as these negative items will stay on your credit report for seven years or possibly longer in the case of bankruptcy. The good news: The impact of negative items decreases over time.
In either case, you can commit to improving your credit by making on-time debt payments that add positive information to your credit history and reducing balances on revolving accounts, such as credit cards. Paying those down could help your scores by lowering your credit utilization rate. Payment history and credit utilization are the most important factors in calculating your credit scores, so these two steps could go a long way toward helping you rebuild your credit.
If you don't have any open loans, a credit-builder loan is one option to help you build credit. These loans are often offered by credit unions and smaller community banks.
Monitor Your Credit and Get Matched With Credit Cards
Opening a credit card lets you add new information to your credit reports, which can help you build credit—as long as you manage your new card responsibly. If you're focused on improving your credit scores, you could use the card for one small purchase each month and then pay the bill in full.
Monitoring your credit scores can help you understand where you currently stand, and when you might have a chance of getting approved for better credit cards. Experian lets you check and monitor one of your FICO® Scores for free. Once you sign into your account, you can also use Experian CreditMatchTM to compare credit cards and get matched with cards from our partners.
Learn More About Having Bad Credit