At Experian, one of our priorities is consumer credit and finance education. This post may contain links and references to one or more of our partners, but we provide an objective view to help you make the best decisions. For more information, see our Editorial Policy.
If you have no credit and are trying to get your first credit card, you need to look in the right places. The easiest credit card to get without having a credit history is a secured card or a card that uses a nontraditional underwriting process to review your application. In either case, the card issuer has created a card for people who don't have a credit history—or have a poor credit history—and is open to working with applicants like you.
Which Credit Card Can I Get if I Don't Have Credit?
Some credit cards for people who don't have any credit history are loaded with fees and offer few, if any, perks. But that's not always the case. Here are a few of the best cards to consider.

Discover it® Secured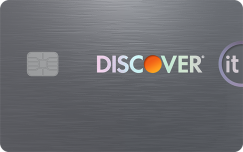 Apply
on Discover's website
Recommended FICO® Score☉
Poor, New to Credit, Rebuilding
22.99% Variable
Intro APR: 10.99% on Balance Transfers for 6 months
2%
cash back on Gas Stations & Dining
1% cash back on All Other Purchases
Intro Bonus: Dollar-for-dollar match of all cash back earned the first year
Card Details
No Annual Fee, earn cash back, and build your credit with responsible use.
It's a real credit card. You can build a credit history with the three major credit bureaus. Generally, debit and prepaid cards can't help you build a credit history.
Establish your credit line by providing a refundable security deposit of at least $200 after being approved. Bank information must be provided when submitting your deposit.
Automatic reviews starting at 8 months to see if we can transition you to an unsecured line of credit and return your deposit.
Earn 2% cash back at Gas Stations and Restaurants on up to $1,000 in combined purchases each quarter. Plus, earn unlimited 1% cash back on all other purchases – automatically.
Get 100% U.S. based customer service & get your free Credit Scorecard with your FICO® Credit Score
INTRO OFFER: Unlimited Cashback Match – only from Discover. Discover will automatically match all the cash back you've earned at the end of your first year! There's no minimum spending or maximum rewards. Just a dollar-for-dollar match.
Get an alert if we find your Social Security number on any of thousands of Dark Web sites.* Activate for free.
The Discover it® Secured card doesn't have an annual fee or foreign transaction fees, and it waives the first late payment fee (it's up to $39 each time after that). You'll earn 2% cash back at gas stations and restaurants (on up to $1,000 in combined purchases each quarter) and 1% cash back on other purchases. But this card's high APR makes it a poor choice if you think you might revolve a balance.
Discover will attempt to conduct a credit check, but you may still qualify even if you don't have a credit history, as long as you have a bank account. There's a $200 minimum security deposit, although you can provide more if you want a higher credit limit. After eight months, Discover will review your account and may refund your security deposit and let you keep the account open as an unsecured credit card.

The Capital One
®
Secured Mastercard
®
provides several appealing features for cardholders looking to build or rebuild their credit. It reports to all three major credit bureaus so your on-time bill payments will help you establish a positive credit history. It's also a good card for those who are seeking a bit more flexibility. In addition to its variable security deposit amounts (you'll pay $49, $99 or $200 to secure the card with a $200 credit limit), you can pick your own monthly due date.
While this card does not offer rewards on purchases, it provides some quality features. Once you've opened your account, you may be considered for an increase in your credit limit in as little as five months without needing to provide an additional deposit. You'll also gain access to Capital One's Eno service that can alert you to potential fraud, help you set up virtual card numbers and notify you of bill amount changes.
The OpenSky® Secured Visa® Credit Card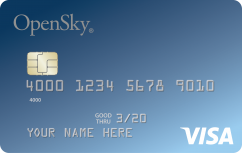 Apply
on Capital Bank N.A.'s website
Recommended FICO® Score☉
Poor, New to Credit, Rebuilding
17.39% Variable
Intro APR: N/A
Card Details
No credit check necessary to apply. OpenSky believes in giving an opportunity to everyone.
The refundable* deposit you provide becomes your credit line limit on your Visa card. Choose it yourself, from as low as $200.
Build credit quickly. OpenSky reports to all 3 major credit bureaus.
99% of our customers who started without a credit score earned a credit score record with the credit bureaus in as little as 6 months
We have a Facebook community of people just like you; there is a forum for shared experiences, and insights from others on our Facebook Fan page (search "OpenSky Card" in Facebook).
OpenSky provides credit tips and a dedicated credit education page on our website to support you along the way
*View our Cardholder Agreement located at the bottom of the application page for details of the card
When you apply for the The OpenSky® Secured Visa® Credit Card, the card issuer will not check your credit history. Additionally, you don't need to have a checking account—a requirement for some other secured cards.
As with other secured cards, however, you will need to send OpenSky a refundable security deposit ($200 minimum), and your security deposit amount will become your credit limit. The card has a $35 annual fee and a high APR, which could make it a more expensive option than other cards, particularly if you revolve a balance.

The Difference Between Secured and Unsecured Credit Cards
Secured credit cards are backed by a required refundable security deposit, which reduces the lender's risk and makes it easier for people who don't have credit—or who have bad credit—to qualify. This typically makes them easier to get than unsecured cards, which have no such requirement. Some card issuers don't even require a credit check for their secured cards.
The credit limit on a secured card is usually equal to the security deposit. You may also be able to send a larger security deposit if you want a higher limit. With unsecured cards, the issuer may determine your credit limit based on your credit history and the information from your application.
Your security deposit won't go toward your monthly payments: You still have make regular payments or you could be charged a late payment fee and wind up with a late payment on your credit reports. Because payment history is the most important factor in your credit scores, you don't want that to happen whether you have a secured or unsecured card.
If you stop making monthly payments, the secured card issuer may close the account and keep the security deposit to cover the unpaid balance and fees. An unsecured issuer may send your account to collections, or sue you for the remaining debt.
When it comes to using your credit card, secured and unsecured cards work the same way—merchants might not even know if your card is secured or not.

How Can I Build Good Credit?
Once you get your credit card, use it responsibly so you can build good credit and avoid interest charges. Managing a credit card wisely can be one of the most effective ways to establish a positive credit history. Here's how:
Use only a small portion of your available credit. To build credit, you generally want to keep your credit card balance low relative to your credit limit. This is known as your credit utilization rate or ratio, and it plays a large part in your credit scores. To determine your utilization ratio, divide your credit card balance by your credit limit. For the best scores try to keep your utilization rate below 7%.
Often, card issuers report the balance around the end of the statement period, which may be a few weeks before your bill's due date. If you use a large portion of your card's available balance one month, try to pay down the balance before the end of the statement period to decrease your credit utilization. Ideally, pay your bill in full every month to avoid interest charges.
But do use your card. While you may think that not using your credit card is a good thing, if you never make purchases with it, your card issuer could close the account. Using your card regularly—and paying off the balance—shows future lenders that you can manage credit without getting yourself into financial trouble. If you're mainly using your new card to build credit, consider putting one of your monthly subscriptions on the card and paying it off every month.
Make all your payments on time. Payment history is the most important factor in calculating your credit scores, and making all your payments on or before the due date will help you build a positive credit history. On the other hand, one late payment can damage your credit. Even if you use your credit card more than you anticipated one month and can't afford to pay the entire bill, as long as you make at least the minimum required payment on time, your card issuer will report your on-time payment to the credit bureaus.
Weigh Your Options
While being new to credit can limit your options, fortunately, many credit card issuers are willing to work with people who are building credit for the first time. The cards above are some of the best picks, and another option is to see what cards your bank or credit union offers, particularly if you've had an account there for a long time. Sometimes, banks and credit unions will consider your history with the organization when reviewing your application for a new credit card.
Once you have a list of cards you're considering, compare features, fees and benefits to make sure you're getting the best card possible for your needs. With a little research and some good financial habits, you'll be on your way to building a solid credit history.