A secured credit card, or a secured card, is a credit card that requires you place a deposit of your own money as collateral for the card. That deposit is usually your credit limit.
See the best credit cards for you now in Experian CreditMatchTM.
Secured credit cards might be right for you if:
Secured credit cards might NOT be for you if:
You have low credit scores or a limited credit history
You have higher credit scores (and are able to get better interest rates)
You are looking to build or rebuild your credit
You are looking to get rewards or cash back from your credit card spending
You aren't able to get approved for most credit cards
Building Credit With a Secured Credit Card
There's a Catch-22 you face when you are trying to build or rebuild your credit. You need a credit card or some other type of loan to help improve your credit. Yet when you have credit problems or little credit history, it's very difficult to get a loan.
One way to obtain a new line of credit is to apply for a card tailored to those people with bad credit or limited credit histories, known as a subprime credit card. Unfortunately, these cards will usually have exorbitant rates and fees.
Alternatively, you can apply for a secured credit card which is a more affordable way to rebuild your credit. Although secured cards make up less than 1% of the U.S. credit card market, they are specifically designed to help you build or rebuild your credit. There are other ways to build your credit as well, such as getting a cosigner or becoming an authorized user on someone else's account.
You should also regularly check your own credit report and credit scores to get an idea of what potential creditors or lenders may see when you apply for new credit (you can check your Experian credit report for free here on Experian.com).
See the best credit cards for you now in Experian CreditMatch™.
How to Get a Secured Credit Card
The primary difference between secured credit cards and regular credit cards is that secured card users must submit a refundable security deposit before their account can be opened.
You are given the choice of how large a deposit to submit, but the line of credit you receive will typically be equal to the amount of the deposit. Many major card issuers such as Citi and Discover offer secured cards and you can find several options on Experian CreditMatch to best fit your needs.
The Deposit For a Secured Credit Card
How much do you need to have to get a secured card? The deposit necessary for a secured card varies, but most range from approximately $200-$2,000. You will need to have the deposit ready and available to transfer once approved in order to activate the secured credit card.
It's important to remember that the deposit isn't used to pay your credit card bill when it comes due. In that sense, a secured card is very different from a debit or prepaid card. The deposit is held by the credit card issuer and you'll need to pay your credit card bill each month with separate funds. Learn more about the deposit for a secured card here.
See the best credit cards for you now in Experian CreditMatch™.
How to Use a Secured Credit Card
Once your secured card account is opened, it will look and operate just like a normal credit card. No one will know that it isn't a typical credit card when you use it to make purchases. Like any other credit card, you will receive a statement each month and must make a payment.
If you choose to carry a balance, you will incur interest charges, just like any other credit card. The security deposit you submitted when you opened the card will be forfeited if you default on your payments.
By making consistent on-time payments, you can add to your credit history andimprove your credit scores. And when you qualify for a standard, unsecured card—and pay off your remaining balance—you can close your secure card account and receive your deposit back.
In fact, some secured card issuers will automatically approve you for an unsecured credit card as soon as you qualify by making continuous on-time payments on your secured card.
Advantages of a Secured Credit Card
Secured credit cards have several benefits including:
1. You Can Still Get Approved for a Secured Card with Bad Credit
For those who suffer from credit problems, the most important advantage is how easy it is to be approved for the card. Because the bank or credit union will have a deposit equal to the card's line of credit, it's not taking a risk, and won't require a strong credit history.
This means that nearly anyone can be approved for a secured card, regardless of their credit history. However, the card issuer will first verify your identity, and check to see whether you have any pending bankruptcies.
See the best credit cards for you now in Experian CreditMatch™.
2. You Can Build Credit
Secured cards also allow you to quickly improve your credit history and raise your credit scores. Unlike debit cards, a secured credit card account will appear on your credit report, contributing to your credit scores.
After a year of making each monthly payment on-time, many secured card users can qualify for a normal credit card. They can then close their secured card account and have their security deposit refunded.
3. Get Cardholder Benefits
Secured cards can offer many of the cardholder benefits that normal credit cards have. These are benefits exclusive to credit cards that you won't find in debit and prepaid cards.
For example, credit cards transactions are protected by the Fair Credit Billing Act, which ensures that you are never responsible for things that you didn't receive.
Secured cards can also come with valuable travel insurance benefits, such as rental car insurance. This allows you to save money by avoiding the expensive coverage sold by the rental car companies.
Other valuable benefits include damage and theft protection policies, and extended warranty coverage. Also, many credit card issuers now offer all cardholders free credit monitoring. This benefit is especially valuable to secured card users who are trying to rebuild their credit.
See the best credit cards for you now in Experian CreditMatch™.
Drawbacks of a Secured Credit Card
As previously mentioned, secured cards may have higher interest rates or lower credit limits than traditional credit cards.
However, most credit cards that are available to those with low credit scores or a limited credit history will not be as ideal as those available to people with excellent credit scores because lenders and creditors likely see you as a higher risk for paying back credit extended to you.
And you have to start somewhere, so responsibly managing a secured credit card will ultimately set you up for better and more credit options in the future.
What to Look for in a Secured Credit Card
When you are comparing secured credit cards, you'll want to check out:
1. The Credit Card's Rates and Fees
This is especially true with secured credit cards, as they can have higher rates and fees than standard, unsecured cards. Thankfully, every credit card's rates and fees are required to be printed in a standard format, known as the Schumer box.
Example of a Schumer box, which lays out a credit card's rates and fees: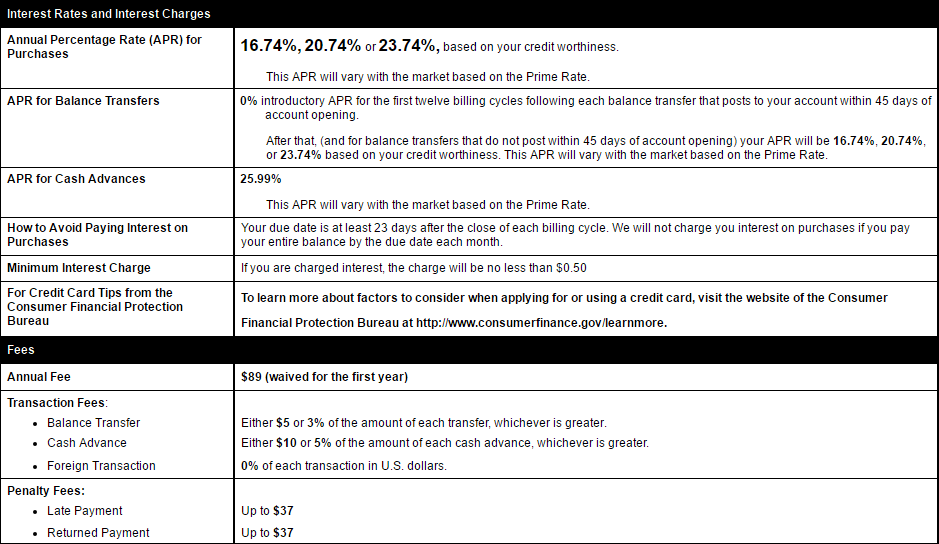 The most important fee to look for will be the card's annual fee. Some secured cards have no annual fee, but others can have high fees that can be billed monthly. You also want to look out for any application fees, maintenance fees, processing fees or additional cardholder fees.
You will also want to examine a card's interest rates. In general, secured credit cards will have higher interest rates than the most competitive unsecured cards.
But fortunately, these rates can be lower than many regular credit cards that are designed to help you rebuild your credit. You also need to see if the card has a grace period, which will allow you to avoid interest charges by paying your monthly statement balance in full.
See the best credit cards for you now in Experian CreditMatch™.
2. The Cardholder Benefits
A secured card likely won't have as many purchase protection and travel insurance benefits as a premium rewards card, but it should offer some.
If you will be using your secured card to rent a car, then you will want to ensure that it comes with rental car insurance. And if you are planning on making major purchases with it, look for a card that offers a purchase protection against accidental damage or theft, as well as extended warranty coverage.
3. Find an Issuer That Offers Additional Options
It can be helpful to apply for a secured card that's offered by a bank or credit union that also issues standard, unsecured cards. This will make it easier to transition from your secured card to an unsecured card when the time comes.
Additional Questions to Ask About Secured Credit Cards
Do you report to the credit bureaus? Make sure the card you're considering will actually help build your credit history. Ask the issuer whether they report your payments to one or more of the three credit bureaus. Some secured cards don't—which won't help you if you want to improve your credit scores and later qualify for an unsecured card.
Where is my deposit held for my secured credit card? You'll want to make sure it's kept in a separate account at an institution that is FDIC-insured. Some cards may even put the funds in a certificate of deposit, or CD, that earns a small amount of interest.
What deposit do I need to make? Know what deposit you'll need to make because that will be necessary to finalize the application and start spending on your card. Deposits for secured credit cards vary depending on the card.
See the best credit cards for you now in Experian CreditMatch™.
Bottom Line
Secured cards can offer you an affordable way to build or rebuild your credit at a time when it can be extremely difficult to receive a loan. At the same time, having a secured card allows you to enjoy the security and convenience of a credit card, as well as its cardholder benefits.
By comparing a card's terms and conditions, and learning about its benefits, you can choose the right credit card for your needs.