At Experian, one of our priorities is consumer credit and finance education. This post may contain links and references to one or more of our partners, but we provide an objective view to help you make the best decisions. For more information, see our Editorial Policy.
Credit cards often have numerous fees, which can be confusing to consumers. When you are shopping online for a credit card, you should always click on the link for "Rates and Fees" or "Terms and Conditions," which will bring you to table of all the fees that can apply to that particular credit card.
These rates and fees appear below the interest rate and APR information. By law, all fees are required to be prominently displayed in a standard format, known as the Schumer box.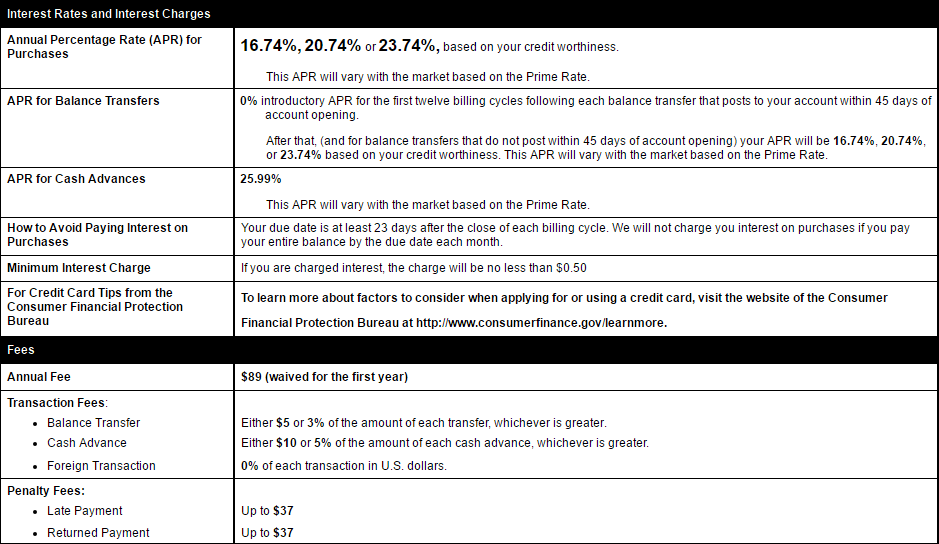 Here's an explanation of all of the fees your credit card might have:
Annual Membership Fee or Annual Fee
This is a fee that's usually charged once per year, but there are some cards that bill this as a monthly fee. You may be charged this fee when you open your account, although some credit card promotional offers will waive it for the first year.
Then, you'll be charged this fee each year on the anniversary of your account being opened. While many cards have no annual fee, there are also a large number of premium credit cards that charge annual fees of $49 to $550. In general, a credit card with an annual fee will offer more generous rewards and benefits than those that don't.
For example, a credit card with an annual fee might feature rewards of 3x points for certain purchases, while a similar card without an annual fee might not. A credit card with an annual fee is also more likely to offer you premium benefits, like enhanced purchase protection and travel insurance policies, or travel perks when using its co-branded partner such as an airline or a hotel.
There are also some secured credit cards and subprime credit cards that charge annual fees to account for the increased risk of users with poor credit histories.
Additional Card Fee
Most credit cards will allow you to add additional authorized credit card users for no additional fee. However, some cards will charge you to add cards to your account.
Generally, the ones that do may be premium cards that offer substantial benefits to additional card authorized cardholders, such as airport business lounge access. Or, they may be subprime cards that impose as many fees as possible to account for their cardholder's increased risk of default.
Cash Advance Fees
When you use your credit card at an ATM, you're not withdrawing money, you're receiving a loan in the form of cash. Credit card issuers find that these loans have a greater risk than ordinary purchases, and most impose a cash advance fee on these transactions.
Often the fee is 3% or 5% of the amount of each cash advance, with a minimum fee of $5 or $10. These fees are in addition to any fees charged by the ATM owner. And while not a fee, credit card cash advances are usually subject to a higher APR that has no grace period. For all of these reasons, using a credit card for a cash advance is extremely expensive and should be avoided whenever possible.
Foreign Transaction Fees
Foreign transaction fees are imposed by many credit cards whenever you make a purchase that's processed outside of the U.S. Most cards that charge this fee add 3% to the amount of the purchase (American Express commonly charges 2.7%). This is not a foreign exchange fee, as you can incur this fee when you make a purchase in U.S. Dollars.
Furthermore, you don't even have to leave the country to be charged this fee, as you can be charged it when you make a telephone or online purchase from a foreign company that doesn't process the transaction in the U.S.
There's a clear trend away from these fees, and most travel reward cards no longer have it. If you are planning on traveling outside the U.S., or making purchases from a foreign company, then you should make sure to use a credit card that doesn't impose this unnecessary fee.
Late Payment Fee
When you fail to make at least the minimum payment before your statement's due date, then most credit cards will add a late payment fee. Credit card issuers can charge a maximum late fee of $25 the first time you are late and up to $35 if you've been late on a payment within the last six months.
However, the late fee can't exceed the amount of the minimum payment, so you can't receive a $25 late fee on a $10 payment. You can avoid late fees by setting up automatic payments on your accounts, as well as reminders. Late payments also can lower your credit scores, which is another reason to stay on top of those credit card bills.
Returned Payment Fee
Like most businesses, credit card issuers will charge you a fee If you send them a check or another form of payment that is returned for insufficient funds.
Overlimit Fee
It used to be common for a credit card issuer to approve a purchase that exceeds your credit limit, and then charge you a fee to do so. But thankfully, there aren't many card issuers that still have this fee.
Read more here about how to choose the right credit card.