Free credit score
Get your FICO® Score* for free and see how you can improve it.
*Credit score calculated based on FICO® Score 8 model. Your lender or insurer may use a different FICO® Score than FICO® Score 8, or another type of credit score altogether. Learn more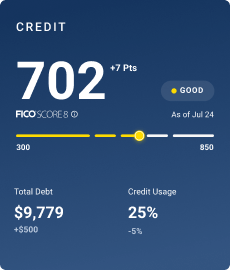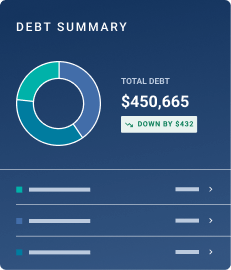 Why get your free credit
score with Experian?
Lenders like FICO® Scores
90% of top lenders use FICO® Scores.
See the same type of information lenders see when requesting your credit.
Credit score factors
View specific factors that are impacting your FICO® Score.
See the factors influencing your FICO® Score, including payment history, amount of debt, credit history length, amount of new credit and credit mix.
Credit score tracking
FICO® Score tracking powered by Experian data.
With an interactive FICO® Score tracker, you can visualize your progress over time and receive customized alerts when your score or rating changes.
Boost your credit scoresø
Raise your FICO® Score instantly for free with Experian Boost®.
Get credit for your eligible phone, utility and streaming service bills by adding positive payments to your Experian credit file.
øResults will vary. Not all payments are boost-eligible. Some users may not receive an improved score or approval odds. Not all lenders use Experian credit files, and not all lenders use scores impacted by Experian Boost®. Learn more.
What can you do with your credit scores?
Upgrade your account for your
full credit picture
3-bureau FICO® Scores
See how each credit report impacts your FICO® Scores.
Compare all 3-bureau credit reports and FICO® Scores, and see what different factors and data provided by creditors are impacting each of your credit scores.
Additional FICO® Scores
Did you know that you have more than one FICO® Score?
The FICO® Score 8 is widely used by lenders, but with Experian's paid membership you'll get access to your credit card, auto and mortgage scores.
FICO® Score Planner
Get help meeting your FICO® Score goals.
Hit your credit score goals with a 3-, 6-, 9- or 12-month plan specifically tailored for you.
FICO® Score Simulator
See how different scenarios may affect your FICO® Score
Use the score simulator to see how actions such as applying for a new credit card, missing a payment or closing a credit card could impact your credit score.
Credit score FAQs
What credit score do you get from Experian?
With Experian, you can get your FICO® Score, used by 90% of top lenders.
Does checking your credit score lower it?
Checking your credit score is considered a soft inquiry and will not lower your credit scores.
How often is a credit score updated?
With every new update from a creditor to your credit report, there can be a potential change to your credit scores.
How often should you check your credit score?
You can check it any time, but it's especially important before you make a major purchase or apply for a loan or credit card.
Can Experian Boost® help your credit score?
Experian Boost could improve your credit scores by using eligible bills, including phone, utility and streaming services.
How can you establish credit if you have no prior credit history?
If you're just starting out, Experian can help you establish and get access to credit with Experian Go.
Credit score education & advice