Personal loans continue to hold their place as the fastest-growing debt category in the U.S., with balances reaching $305 billion in the second quarter (Q2) of 2019. That's an increase of 12% year over year—double the growth of credit card debt, the next-highest category, according to Experian data.
In the past, personal loans were often considered a last resort for people trying to escape debt. But since financial technology firms, or fintechs, began flooding the market in recent years with unsecured personal loan offers, personal loan balances have surged. Fintech loans can be easier to qualify for than those from traditional banks and credit unions, and consumers looking to make big purchases or consolidate debt are turning to them in record numbers.
Personal Loan Accounts See Double-Digit Growth
There are 38.4 million personal loan accounts nationwide today—an 11% year-over-year increase from 2018. And while personal loan debt is growing at a faster rate than auto loan, mortgage, credit card and student loan debt, it accounts for just 2% of total U.S. consumer debt in dollars.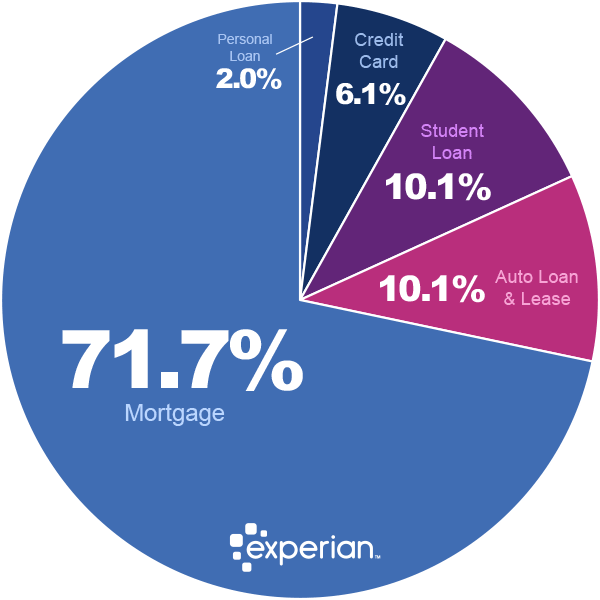 As total personal loan debt and the number of personal loan accounts continue to increase, the average balance per consumer has declined. Over the past four years, the average personal loan balance has shrunk slightly, landing at $16,259 in Q2 2019.
Looking at the size of personal loans consumers are taking out, more are willing to take on higher personal loan debt in recent years. Balances of $30,000 or more have increased 15% compared with five years ago, while balances of $20,000 to $25,000 have grown 10%.
Personal Loan Snapshot
Average Personal Loan Balance
$16,259
Average Monthly Payment
$360
Average Annual Percentage Rate (APR)
9.41%
Number of Outstanding Personal Loan Accounts
38.4 million
Number of New Personal Loan Accounts
6.8 million
Percentage of Consumers with a Personal Loan
11%
Existing Personal Loan Debt
$305 billion
Washington State Carries Highest Average Personal Loan Balance
Taking a look at how personal loan balances rank across the country, consumers in Washington state have the highest average personal loan balance among states at $27,188, according to Experian Q2 2019 data. At the other end of the spectrum, Hawaii holds the lowest average personal loan balance of $12,802.
Among U.S. metro areas, the San Luis Obispo-Paso Robles, California, market carries the highest average personal loan balance of $42,219. The Brownsville-Harlingen, Texas, market has the lowest average personal loan balance of $7,856.

Baby Boomers Lead in Average Personal Loan Balance by Generation
When looking at personal loan balances by generation, there are few surprises. Baby boomers, who carry the second-highest average debt load of all generations, have the highest average personal loan balance at $19,253. Generation X, which takes the top spot for overall debt load, holds the second-highest average personal loan balance, at $17,175.
Millennials' average personal loan balance came in at $11,819 for Q2 2019. Their average personal loan balance has grown 44% over the past five years—more than doubling the growth seen by any other generation for the same period—but still remains 39% lower than the average baby boomer personal loan debt. Generation Z saw the biggest year-over-year average balance increase of 12% to $4,526.

Fintechs Fuel Demand for Personal Loans
The substantial growth in fintech lending is helping fuel the increase in personal loans. In addition to the industry's capital infusion, allowing it to lend more money to more consumers, fintechs continue to innovate, offering more diverse products to enhance customer experience.
Competition in personal loan lending between traditional financial institutions and fintechs is increasing. Fintechs have more than doubled their market share of unsecured personal loans in the past four years, from 22.4% in 2015 to 49.4% in 2019, according to Experian's fintech marketplace trends e-book.
The unsecured personal loan category has grown significantly in the past four years, as new loan originations reached 1.3 million in March 2019 compared with 656,000 in March 2015. Fintech lending is expected to grow as unsecured personal loans continue to gain popularity; in 2018, fintech loans reached $45.5 billion and are projected to grow to $73.7 billion in 2022.
"We know unsecured personal loans represent the largest product offering in the fintech industry, and our report reveals continued growth in this area over the last four years," says Michele Raneri, vice president of analytics and business development at Experian. "We believe significant changes in the financial profile of fintech borrowers and an increase in adoption from younger consumers is fueling this growth."

Top Reasons Consumers Get a Personal Loan
In line with the growth in higher personal loan balances, most consumers take out personal loans for large purchases or debt consolidation, according to an Experian survey of people who had at least one personal loan. The survey indicated that:
28% used the personal loan for large purchases
26% used the loan for debt consolidation
17% used the loan for home improvements
9% used the loan to refinance existing debt
30% reported using their loan for another reason not listed
Finding the Right Personal Loan
If you are thinking about applying for a personal loan, research your options to determine which type of loan is right for you and where you can find one that fits your needs. Getting the best offer you qualify for will help you save on interest and fees.
Here are some tips to consider when searching for the right personal loan:
Understand how personal loans work. Repaying a personal loan is different from repaying credit card debt. With a personal loan, you pay in fixed installments over a set period of time until the debt is repaid.
Know your credit score. Before making any credit decision, find out your credit history and scores so you understand how lenders see you. You can check your Experian credit score for free to see where you stand.
Know the terms. It's crucial to understand the terms of any loan you're considering. Review the interest rates, length of the loan, what your monthly payment will be and how it fits with your budget.
If you need help finding the right personal loan for you, consider trying Experian CreditMatch™, which will match you with relevant offers based on your credit profile.

FICO® is a registered trademark of Fair Isaac Corporation in the U.S. and other countries.