Experian Boost®ø is a first-of-its-kind feature that helps consumers instantly improve their FICO® Score☉ by giving them credit for on-time utility, telecom, rent, insurance and certain streaming service payments. Experian Boost is good for people with little to no credit history as well as established borrowers looking to increase their credit scores.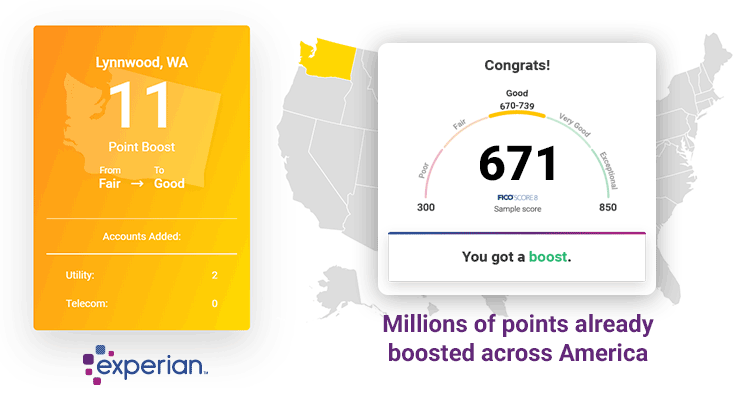 Average users boosted their FICO® Score 8 based on Experian data by 13 points. Some may not see improved scores or approval odds. Not all lenders use credit information impacted by Experian Boost.
How Does Experian Boost Work?
Normally, utility, phone, insurance, streaming and rent payments do not factor into your credit scores. When you use Experian Boost, however, Experian uses your bank and credit card records to find on-time qualifying payments for these monthly bills, giving you even more opportunity to improve your credit scores.
By adding these records to your credit file, Experian Boost helps you build positive payment history. Payment history is the most important factor in calculating your credit scores, so adding records of on-time payments can be very valuable. Keep in mind, Experian Boost only considers positive payment history on these accounts, so late payments will not lower your credit scores.
The length of your credit history also plays a big role in your credit scores. Adding more accounts to your credit file with Experian Boost helps you build credit history by showing more evidence of active accounts and on-time payments.
How Is Experian Boost Different?
Experian Boost isn't just different—it's the first-ever feature to give users the ability to increase their FICO® Score in a matter of minutes. As mentioned, certain payments have never before factored into your credit scores. Experian Boost is the first product to change that, boosting your credit scores immediately if qualified on-time payments are found in your bank and credit card accounts.
Who Can Benefit From Experian Boost?
The majority of people who use Experian Boost increase their FICO® Score instantly. Anyone can sign up for Experian Boost, but consumers with little to no credit and those with very poor to fair credit scores tend to benefit the most.
Most people get an instant increase in their FICO® Score with Experian Boost. People receiving a boost instantly raise their FICO® Score by an average of 13 points with Experian Boost.
Experian Boost can help improve your FICO® Score 3, 8, 9 and 10, as well as your VantageScore® 3 and 4.
How Much Does Experian Boost Cost?
Experian Boost is completely free. Once you sign up, you'll automatically be enrolled in a free Experian membership, which offers additional services such as free credit monitoring and a free FICO® Score. There is no additional charge to connect your bank and credit card accounts, and if you choose to disconnect your account, you can keep your Experian CreditWorks Basic membership.
If you regularly pay a utility, telecom, rent, streaming or insurance (excluding health insurance) bill using your bank account or credit card, consider using Experian Boost to get credit for your past on-time payments and instantly raise your credit scores. You can always get your free credit score from Experian to stay on top of your credit and see how you may be able to improve your scores.