Your credit scores are determined by credit scoring models that analyze one of your consumer credit reports and then assign a score (often ranging from 300 to 850) using complex calculations.
FICO® and VantageScore®, the two main consumer credit scoring models, look for information that indicates if someone is more likely or less likely to miss a payment. A higher score means there's a lower chance that the person will miss a payment, which is why having a higher credit score can help you qualify for favorable rates and terms from lenders.
Specific factors and how they're weighted when determining your credit scores differ according to the credit model calculating them. They also vary depending on the type of credit score and which credit report from the three national credit bureaus (Experian, TransUnion or Equifax) is used when calculating the scores. Read on to find out which factors determine your credit score.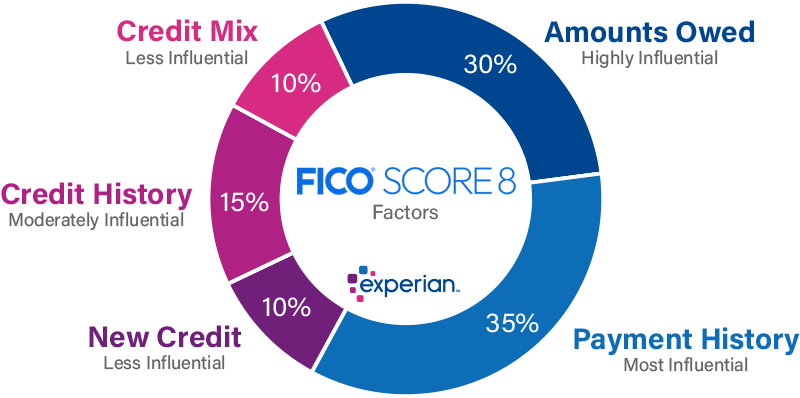 Payment History
Your payment history, as it appears in your credit report, is typically the most important category in determining your credit scores. Within this category, the scoring models consider:
On-time payments: A history of paying your bills on time is good for your credit scores.
Late payments: Payments made over 30 days late will typically be reported by your lender and hurt your credit scores. How far behind you are on a bill payment, the number of accounts that show late payments and whether you've brought the accounts current are all factors.
Public records: Filing bankruptcy can significantly hurt your credit scores.
The Fair Credit Reporting Act dictates how long negative information can stay on your credit report. Most negative marks, including late payments, last for up to seven years. Bringing past-due accounts current could help your scores, but negative marks may continue to have an impact for as long as they remain on your credit reports.
Amounts Owed
Amounts owed, or your credit usage, comes just after payment history in importance when determining credit scores. In part, this category includes how much you owe on loans and how many of your accounts have balances. The main consideration in this category, however, is your credit utilization ratio.
Your credit utilization ratio, or rate, is determined by comparing the current balances with the credit limits on your revolving accounts, mainly credit cards. To calculate your credit utilization ratio, add up the balances on all your credit card accounts, divide that number by the sum of all your credit card limits, and multiple by 100 to get a percentage. That percentage is your utilization ratio, and generally, lower utilization ratios are better for credit scores.
Credit scoring models look at each revolving account's utilization rate as well as the overall rate across all accounts. In either case, it's best to keep your utilization under 30%. Those with the best credit scores tend to use under 10% of their available credit.
There are different ways to lower your utilization ratio, such as paying down credit card balances or increasing your cards' credit limits. But even if you pay your bill in full each month, you could have a high utilization rate.
That's because scoring models calculate utilization rates based on the balance that your credit card issuer reports to the credit bureau, which often happens around the end of each statement period (a few weeks before the bill's due date). Making a payment during your statement period can lower your reported balance and resulting utilization rate.
Length of Credit History
Responsibly managing credit accounts over a long period of time can help your credit scores. Credit scoring models may look at the age of your oldest account, newest account and the average age of all your accounts when factoring in credit history.
There's no shortcut to building a lengthy credit history, although becoming an authorized user on an account that the primary user has had for a long time may help. If you decide to close a credit card account in good standing, it can remain on your credit report for up to 10 years, and could continue to help your credit scores during that time. However, closing an account reduces your overall available credit, which could have a negative effect on your scores.
New Credit
Recent credit activity isn't a major determinant in your credit score, but several things can happen when you apply for and open a new account.
First, submitting an application can lead to a hard inquiry—a record of the fact that someone reviewed your credit to make a lending decision. Hard inquiries can lower your credit scores, as they could increase your risk as a borrower in the eyes of lenders.
However, credit scoring models are also built to recognize that consumers who are shopping for a loan aren't necessarily extra risky. After all, you might apply to get preapproval for eight auto loans to find your best rate, but that doesn't mean you're taking out eight auto loans. As a result, scoring models may "deduplicate" multiple hard inquiries that occur within a 14- to 45-day window (depending on the scoring model)—in other words, only count them as a single inquiry when determining your score.
Opening a new account can also impact other scoring factors. For example, it may lower the average age of your accounts, which could slightly hurt your scores. But it also increases your available credit and presents an opportunity to make on-time payments on a new account in your credit report, which could help your scores over time.
Types of Credit Accounts
Credit scoring models may also look for experience managing both revolving and installment credit accounts. Having a mix of accounts can help your scores.
Some credit scores are built for specific types of creditors, such as credit card issuers or auto lenders. Your experience with the correlated types of accounts could be more important for these types of scores.
How Often Is Your Credit Score Updated?
Your credit scores are always based on an analysis of one of your credit reports. Rather than being updated at specific intervals, a credit score is created when you (or someone else) checks your credit report. New information could be added to your credit report at any time, which means the resulting score could change.
You may also see different scores if you're checking credit reports from different credit bureaus, as it's not uncommon for there to be differences between your credit reports. Or, even if you're checking the same report at the exact same time, you could get different scores depending on which scoring model analyzes the report.
Check Your Credit Score for Free
FICO® and VantageScore create the most widely used credit scoring models in the U.S., and each company creates multiple scoring models. Fortunately, consumer credit scores tend to move together, as they're using the same underlying information to try and predict similar outcomes.
If you have a good credit score generated by FICO® and based on your Experian credit report, you're unlikely to then have a bad score generated by another scoring model based on a credit report from one of the other bureaus. With Experian, you can check your FICO® Score☉ 8 for free, track it over time and get a breakdown of the factors that are most impacting your score.