At Experian, one of our priorities is consumer credit and finance education. This post may contain links and references to one or more of our partners, but we provide an objective view to help you make the best decisions. For more information, see our Editorial Policy.
Some of the best cards for people with bad or poor credit are unsecured and secured cards with low annual fees. Often, these cards can serve as stepping stones, giving you access to credit now and—with responsible use—helping you improve your credit scores. You may be able to upgrade or move onto better cards later.
AvantCard
The AvantCard is an unsecured credit card for people who are new to credit or rebuilding their credit. The card isn't available to residents of Colorado, Iowa, Vermont, West Virginia or Wisconsin. But it could be a good option if you can qualify.
One of the biggest benefits of the AvantCard is that you can use it to build credit without having to pay a security deposit. You also won't have to pay foreign transaction fees when using the card, which can save you money if you're outside the country or ordering items from other countries online. There is a $39 annual fee, but this is lower than many competing cards' annual fees.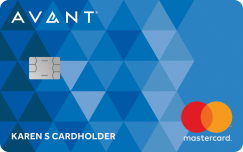 Apply
on Avant's website
Recommended FICO® Score*
Poor - Good, Rebuilding
Card Details
No deposit required
Reports to all three major credit bureaus
No hidden fees
We may periodically review your account for credit line increases
Fast and easy application process
Help strengthen your credit history with responsible use
Zero fraud liability for unauthorized charges
Conveniently pay your card through our online portal, 24/7
Avant branded credit products are issued by WebBank, member FDIC
Disclosure: If you are charged interest, the charge will be no less than $1.00. Cash Advance Fee: 3%, Min: $10.
The OpenSky® Secured Visa® Credit Card
The OpenSky® Secured Visa® Credit Card is a secured card with a minimum $200 refundable security deposit (which becomes your credit line) and $35 annual fee. The card doesn't offer any rewards and it won't be a good fit for everyone. There's no credit check required, however, which means it could be a good option if you're having trouble getting approved for other cards. And it reports payments to all three credit bureaus (Experian, TransUnion and Equifax), helping you build credit on all three credit reports.
The OpenSky® Secured Visa® Credit Card is also one of the few secured cards available to people who don't have or want a bank account. Instead of making an electronic transfer, you can choose to send the deposit with a Western Union wire transfer, or mail a check or money order.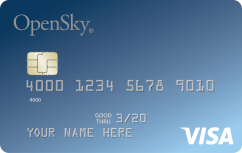 The OpenSky® Secured Visa® Credit Card
Apply
on Capital Bank N.A.'s website
Recommended FICO® Score*
Poor, New to Credit, Rebuilding
The OpenSky® Secured Visa® Credit Card
Card Details
No credit check necessary to apply. OpenSky believes in giving an opportunity to everyone.
The refundable*** deposit you provide becomes your credit line limit on your Visa card. Choose it yourself, from as low as $200.
Build credit quickly. OpenSky reports to all 3 major credit bureaus.
99% of our customers who started without a credit score earned a credit score record with the credit bureaus in as little as 6 months
We have a Facebook community of people just like you; there is a forum for shared experiences, and insights from others on our Facebook Fan page (search "OpenSky Card" in Facebook).
OpenSky provides credit tips and a dedicated credit education page on our website to support you along the way
***View our Cardholder Agreement located at the bottom of the application page for details of the card
Secured Mastercard® from Capital One
As a secured card, the Secured Mastercard® from Capital One stands out because you may qualify to receive a $200 credit limit with just a $49 or $99 security deposit (you can also deposit more than $200 to get a higher credit line). There's also no annual fee or foreign transaction fee, which could make this an inexpensive option for building credit.
Capital One will also automatically consider raising your credit limit after you've made your first six payments on time. And, you may qualify to have your security deposit refunded as a statement credit if you use your card responsibly.
How to Decide Which Card Is Right for You
Picking the right card depends on which cards you'll likely be able to get and why you want to get a credit card.
If you primarily want a credit card to improve your credit, the exact card doesn't matter as much as how you use it. Credit scores don't distinguish between secured and unsecured credit cards, and cards' rewards programs, fees and interest rates don't impact credit scores.
Make sure that the card issuer reports your account to all three major credit bureaus—most major issuers do—and then only make a small purchase each month before paying the bill in full. Also, make at least your minimum payment on time to avoid late payments, which can lead to fees and hurt your credit.
Credit building aside, if you want a card for everyday use and will likely be able to pay the bill in full, a card with a rewards program could be a good fit. But if you want a card for emergency expenses that will likely take some time to pay down, a low interest rate or promotional offer may be more important than rewards.

What Is the Difference Between a Secured and Unsecured Card?
In terms of how you use the card, secured and unsecured cards are identical in many ways. The main difference is that you need to provide the card issuer a security deposit to get a secured card; unsecured cards don't require a security deposit.
There's generally a minimum deposit requirement for secured cards, such as $200, and your card's credit limit will often be based on your security deposit. You may be able to provide a larger deposit if you want a higher limit. Just keep in mind that you might not get the security deposit back until you close the account or the card issuer upgrades you to an unsecured card (not all cards have this option).
Secured cards are sometimes a good option for people who have bad credit. Whichever type of card you choose, make sure it reports payments to the credit bureaus to help you build credit. And with either type of card, avoid using a large portion of your card's credit limit if possible and always pay your bill on time. Paying your bill in full each month will also help you avoid paying interest.

How to Improve Your Credit Before Applying for a Credit Card
There are different steps you can take to improve your credit before applying for a new credit card. Depending on why you have bad or poor credit in the first place, it could take some time to move into a new credit score range (such as fair or good). However, here are some actions that can help:
Pay down current credit card debt.
Get a new credit card, only use a small portion of its credit limit and make at least the minimum payment on time.
Open a credit-builder loan and make on-time monthly payments.
Rehabilitate defaulted federal student loans.
Use Experian Boost™† to add on-time phone, utility and streaming service payments to your Experian credit report.
You may also want to review your credit reports for erroneous negative marks. Disputing errors could get the negative marks corrected or deleted, which could help your credit scores.

What to Do if You're Denied for a Credit Card
If your credit card application is denied, the card issuer will send you an adverse action letter explaining why. You have the right to get a free copy of your credit report to get a better understanding of why you were denied.
You may also want to call the issuer and ask why your application was denied. In some cases, the decision can be reversed. But often, you may need to improve your creditworthiness before trying again later—or try to get a different credit card if you want one now.
A few card issuers might let you apply with a cosigner, which could help your chances. Or, if you initially tried for an unsecured card, you could apply for a secured card instead. You can also try to get prequalified for a credit card, which will tell you if you're likely to get approved or denied without impacting your credit scores.

Get Matched With Credit Cards
Finding your next credit card could be difficult, particularly when a low credit score limits your options. We've highlighted some of the top picks above for people with bad or poor credit. You can also use Experian CreditMatchTM credit card marketplace to get matched with our partners' cards and offers, filter options based on your preferences and create a side-by-side comparison of your top picks.