VantageScore* is one of many scoring models that look at the information in your credit reports and generate a number designed to communicate the likelihood you're going to pay your bills on time. You may have seen your VantageScore delivered through educational websites or on your credit card statement. According to VantageScore Solutions, more than 1 billion VantageScore credit scores were provided directly to consumers between July 2016 and July 2017.
VantageScore Solutions LLC is a consumer credit scoring company based in Stamford, Conn. The company was created in 2006 and is jointly owned by the three major consumer credit reporting companies: Equifax, Transunion, and Experian, the publisher of this blog.
How Does the VantageScore Credit Model Work?
Before credit scores were created, a lender would have to read through a borrower's credit history and make an individual determination of an applicant's likelihood of repaying a loan. This took not just a lot of time, but also a significant amount of training and skill. Credit scores streamline this process by summarizing a person's entire credit history to a single number, and therefore lenders are able to automate a portion of the process of approving a loan while ensuring a consistent, objective formula is always being used to make these decisions.
What Is a Good VantageScore?
A score from 750 to 850 is considered to be excellent or super prime, while scores between 700 to 749 are considered to be good. Scores between 650 and 699 are viewed as fair, scores in the 550 to 649 range are poor, and 300-549 are very poor scores.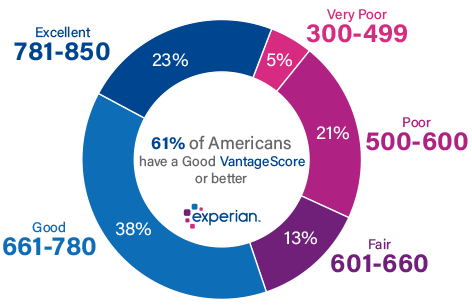 VantageScore 4.0
Since its creation, there have been four VantageScore credit score models, VantageScore versions 1.0 and 2.0 used a scale from 501 to 900, which corresponded with letter grades from A to F. However, the VantageScore 3.0 model introduced in 2013 adopted the 300 to 850 range. VantageScore 4.0 was released in April, 2017 and also uses a range of 300 to 850.
The VantageScore formulas have always used data from your credit history, including your payment history, the average length of time accounts have been open, types of credit, credit usage, and recent inquiries. However, VantageScore 4.0 also employs a concept known as trend data, which looks at patterns of behavior rather than just a snapshot in time. For example, when consumers are paying down their debt over time, it can be reflected positively on their credit score.
VantageScore formulas do not include medical debt in collections—unpaid or paid in full—when calculating your VantageScore.
Note: All three credit reporting companies—Experian, Equifax and TransUnion—hold reporting of any medical debt for one year, and will not report unpaid medical debt accounts under $500. Paid medical collection accounts will not appear on any of your credit reports.
Why Your VantageScore Can Vary
Like any credit score, your VantageScore credit score is based on your credit reports. The three major consumer credit bureaus receive information from your creditors, such as if you are paying your bill on time. But the data at each credit reporting company may be slightly different because not all financial institutions report to all three credit reporting agencies. Furthermore, there are four versions of the VantageScore formula, and it's possible that some credit score providers could be using different versions.
Finally, the score generated will be highly dependent on what is on your credit report when your credit score is generated. For example, if you recently paid down a large amount of debt, it may not be reported to your credit history until the next billing cycle. Only then will VantageScore, or any other credit scoring model, be calculated using your most up-to-date account balance.
Bottom Line
Credit scores and the models that determine them are a critical part of obtaining a loan. By understanding what VantageScore is, and how it works, you'll be better informed as you work to earn the best credit score that you can.
*VantageScore 4.0, with scores ranging from 300 to 850, is a user-friendly credit score model developed by the three major nationwide credit reporting agencies, Experian®, TransUnion®, and Equifax®. VantageScore 4.0 is used by some but not all lenders. Higher scores represent a greater likelihood that you'll pay back your debts so you are viewed as being a lower credit risk to lenders. A lower score indicates to lenders that you may be a higher credit risk.
There are three different major credit reporting agencies, Experian, TransUnion, and Equifax that maintain a record of your credit history known as your credit file. Credit scores are based on the information in your credit file at the time it is requested. Your credit file information can vary from agency to agency because some lenders report your credit history to only one or two of the agencies. So your credit scores can vary if the information they have on file for you is different. Since the information in your file can change over time, your credit scores also may be different from day-to-day. Different credit scoring models can also give a different assessment of the credit risk (risk of default) for the same consumer and same credit file.
There are different credit scoring models which may be used by lenders and insurers. Your lender may not use VantageScore 4.0, so don't be surprised if your lender gives you a score that's different from your VantageScore. (And your VantageScore 4.0 may differ from your score under other types of VantageScores). Just remember that your associated risk level is often the same even if the number is not. For some consumers, however, the risk assessment of VantageScore 4.0 could vary, sometimes substantially, from a lender's score. If the lender's score is lower than your VantageScore 4.0, it is possible that this difference can lead to higher interest rates and sometimes credit denial.