At Experian, one of our priorities is consumer credit and finance education. This post may contain links and references to one or more of our partners, but we provide an objective view to help you make the best decisions. For more information, see our Editorial Policy.
OppLoans is a fintech online loan platform specializing in installment loans. Unlike some of its competitors, it doesn't require a hard credit check to get a loan, and you'll never be asked to secure your loan with a vehicle.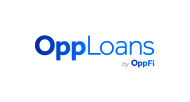 See if you're eligible
Recommended FICO® Score*
Poor - Fair
Available loan amounts: $500 to $4,000
Est. monthly payment: $99 to $789
Grace period: 10 days
Application fee: $0
Loan Details
Direct deposit required
Easy application
$500 to $4,000 personal loans4
If approved, you may receive funds in your account as soon as the same business day!1
Applying does not affect your FICO&reg Score2
Reports payment history to all 3 credit bureaus6
9 to 18 months repayment terms
No prepayment fees
Disclosure
| Pros | Cons |
| --- | --- |
| Doesn't require good credit | High interest rates |
| Applying does not affect your FICO ® credit score | May require frequent payments |
| Fast funding | Not available in all states |
OppLoans Customer Service800-990-9130
130 E. Randolph St., Suite 3400
Chicago, IL 60601
info@opploans.com
Experian Review
OppLoans offers a less expensive alternative to borrowers who may otherwise find themselves taking out payday loans. While they may be less expensive, however, the loans' high rates and the potential that you'd have to make unusually frequent payments may make them difficult to repay.
An Alternative to Payday Loans
If you need to borrow money and aren't able to get approved for a low-rate loan, get relief from creditors or find another way to make ends meet, you may find yourself considering a payday loan. But payday loans' high fees and short repayment periods can lead to the equivalent of a nearly 400% annual percentage rate (APR) or higher. They can also land borrowers into a debt trap if they're unable to repay the original loan and repeatedly have to borrow money to pay off the loan.
As an alternative to payday loans, OppLoans offers high-rate installment loans with longer repayment terms to borrowers who don't have good credit. This type of loan may be one of the few sources of credit you can qualify for, particularly if you need to borrow a few thousand dollars and don't want to use a vehicle as collateral. And, the long repayment period can lead to more manageable payment amounts.
In many states, OppLoans may offer loans with a fixed 160% APR—which is still an exceptionally high rate.
Loan repayment terms stretch from nine to 18 months, and your payment will be due weekly, bi-weekly or monthly depending on how often you get your paycheck. If you work multiple jobs, your payment schedule will be based on the schedule from your highest-paying job.
Considering the high APR and potentially frequent repayment schedule, you'll want to shop around before taking out one of these loans. But in an emergency, it could be one of your better options.
No Hard Credit Check Required
When you apply for an OppLoans personal loan, you don't need to agree to a hard credit check—the type that may hurt your credit scores—because OppLoans won't review your Experian, TransUnion or Equifax credit reports.
However, OppLoans will review a report and credit score from Clarity Services, a specialty consumer reporting company that's owned by Experian. Clarity Services focuses on nontraditional data, including loans and financial services for lower-income and subprime lenders.
OppLoans will also consider your employment status, income, bank records and financial history when deciding whether to offer you a loan. OppLoans reports your loan to the three major credit bureaus, which can help you build credit if you make your payments on time. Missing a payment could hurt your credit and, in some states, lead to a late payment fee.
Who Is Eligible for an OppLoans Personal Loan?
To meet the minimum requirements for an OppLoans personal loan, you'll need to:
Be 18 years old or older
Minimum 30 days with current employer
Cannot be self-employed
U.S. Citizen or permanent resident
Minimum Gross Income of $1,500 per month
Get paid via direct deposit
Even if you meet those requirements, your application could still be denied or you may not receive as large of a loan as you want.
How to Apply for an OppLoans Personal Loan
You can apply for an OppLoans personal loan online with a quick and easy application.
You'll then need to connect and verify your bank account, which you can do online or by uploading bank statements that cover at least the past 90 days. Some applicants must also share a copy of a government-issued ID to confirm their identity.
Your banking records may be enough to verify your income. If not, you could have to send a copy of a government benefits award letter, such as a letter verifying your Social Security benefits. Illinois and Nevada residents will need to share copies of their pay stubs regardless of what's in their banking records.
Fast Funding Can Get You Money When You Need It
If you are approved for a loan, you'll receive an email and could get the funds electronically deposited into your account as soon as the same business day.
In order to receive the money by the same business day, your application needs to be verified and approved before 12 p.m. central time on a business day. If it's approved after that time or on a non-business day, you may get the money as soon as the next business day.
Also, keep in mind that the money might not be in your account early in the day—availability of the funds is dependent on how quickly your bank processes the transaction.
†The information provided is for educational purposes only and should not be construed as financial advice. Experian cannot guarantee the accuracy of the results provided. Your lender may charge other fees which have not been factored in this calculation. These results, based on the information provided by you, represent an estimate and you should consult your own financial advisor regarding your particular needs.
When to Consider OppLoans
If you have poor credit and can't qualify for a loan elsewhere, OppLoans may give you the ability to take out a loan without putting up collateral. However, taking out a high-rate loan with frequent payments should be a last resort for most people.