At Experian, one of our priorities is consumer credit and finance education. This post may contain links and references to one or more of our partners, but we provide an objective view to help you make the best decisions. For more information, see our Editorial Policy.
Applying for a credit card is usually pretty easy—you typically submit a form online or complete an application through the mail. But knowing how to apply for a credit card to increase your likelihood of being approved requires a bit more work.
| What You'll Likely Need to Include to Apply for a Credit Card | What Lenders Usually Consider in a Credit Card Application |
| --- | --- |
| Personal Information (Name, SSN, Address, Phone Number) | Payment History (shown on your credit reports) |
| Financial Information | Credit Scores |
| Checking or Savings Account | Annual Household Income |
| Occupation and Employer Information | Monthly Housing Payment |
Credit Card Application Basics
When you apply for a credit card, you are requesting a line of credit that you can use to make purchases with your card. The charges you make are a loan from the card issuer to you. And like any loan, the lender will want to some indication that you will pay it back.
Your credit history (shown on your credit reports) and your credit scores are the primary ways that card issuers judge your creditworthiness. The better your credit history and credit scores, the more likely you are to be approved for a new credit card account.
Your credit history and credit scores will also determine the size of the line of credit you receive and may determine your account's interest rate.
Choosing the Right Credit Card
There are hundreds of credit cards available from dozens of credit card issuers, so choosing the right card isn't always an easy task. To find the right credit card for you, start by checking your credit score to find out what credit range you fall in. This will help you determine which cards you are likely to qualify for.
Next, think about your needs. Are you trying to earn rewards? Do you need to finance a big purchase over time? Or are you trying to repair or build up your credit? This will help you pinpoint the types of cards you want to research and apply for.
To eliminate the guesswork of which card is might be best for you, check out Experian CreditMatch. This free service applies your FICO® Score☉ and offers you a list of cards that you are most likely to get approved for. You can also narrow the list by specifying your needs, like if you are looking for a rewards card or want to make a balance transfer.

Filling Out the Credit Card Application
A credit card application will usually require the following information:
1. Personal Information
All credit card applications begin with personal information including your name, date of birth and Social Security number. You'll also need to provide your mailing address, email address and phone number so that the card issuer can contact you.
2. Employment Status
Typically, you can choose from options including employed, self-employed, retired, student and unemployed. It's a common myth that you have to have a full-time job to be approved for a credit card.
In fact, all you have to do is show that you have sufficient household income to repay a loan, regardless of your employment status.
3. Total Annual Income
The next thing the credit card application will ask for is your total annual income. You are able to include nearly all forms of income including alimony, child support, investment income and government benefits, but you don't have to include anything you don't want to.
You can also include income from other household members, as long as you have a reasonable expectation of access to these funds to repay your loan. For example, a non-working spouse could include the income of a working spouse if he or she can use that income to make credit card payments.
4. Housing Costs, Bank Accounts, Authorized Users, Balance Transfers and Cash Advances
Most applications will also ask you for your rent or mortgage payment to gauge your monthly expenses. Some credit card applications will ask if you have a checking or savings account, and how much you plan on spending on your credit card each month.
Finally, some applications will ask you if you would like to add any additional authorized cardholders, if you would like to transfer an existing balance, and if you would like blank checks to be used for cash advances.
Your answers to these questions aren't likely to affect the status of your application; they will just allow the issuer to better serve you if the card is approved.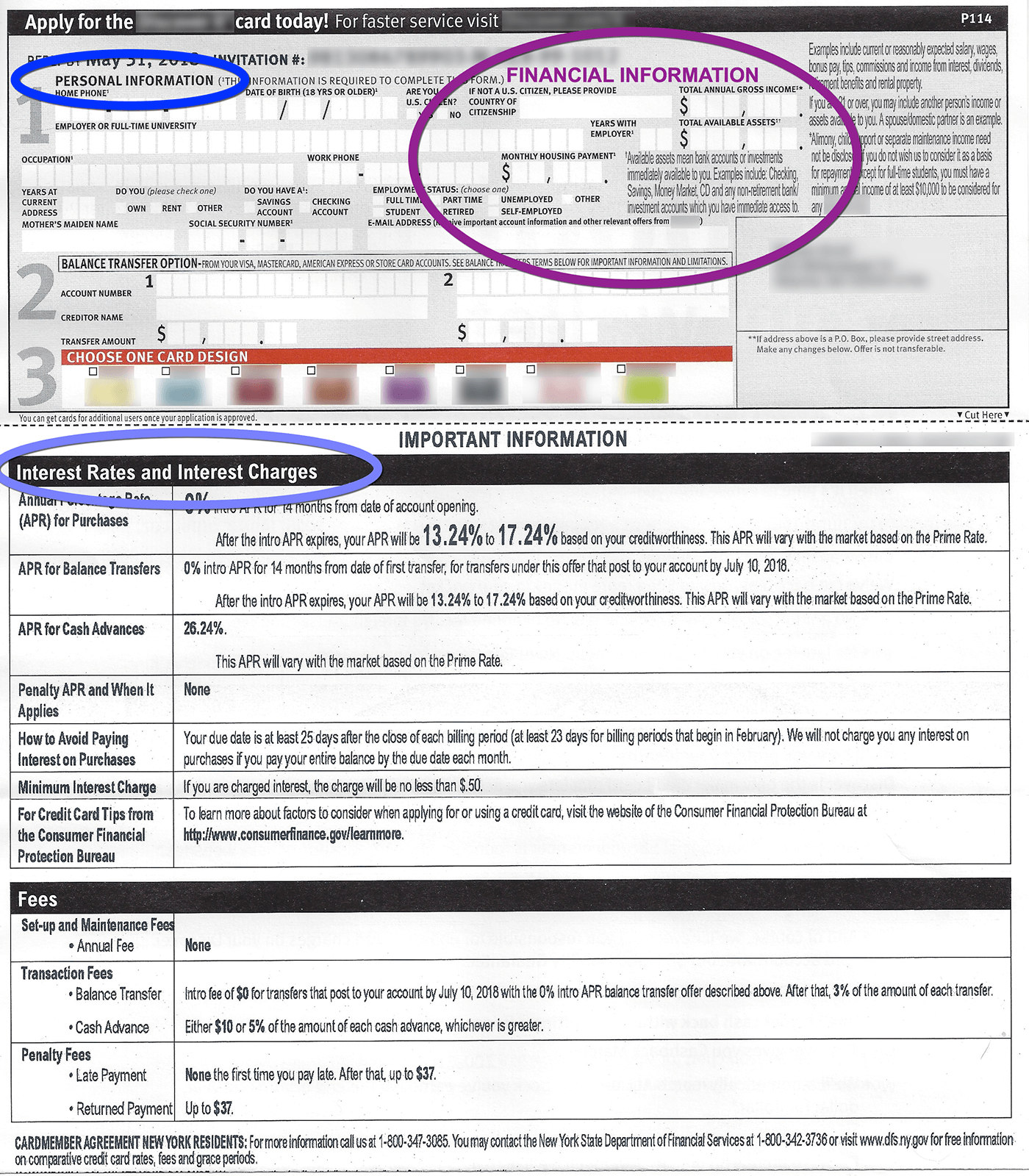 Submitting Your Credit Card Application
Once you've filled out the application as best you can, you'll submit it for approval from the card issuer. In many cases, they may be able to instantly approve your new account, or you may be asked to wait for a decision to arrive in the mail.
If your application isn't immediately approved, you could still be approved eventually. And if your application is ultimately declined, the card issuer is required to provide a reason along with a copy of the credit report and credit score(s) they pulled.
It's a good idea to review that credit report and the reasons your application was rejected in case there are errors or issues you weren't aware of.
Finally, you can always contact the card issuer by phone and ask to have your application reconsidered, which will sometimes result in it being approved. By understanding how the application process works, you can take the steps necessary to be approved for your next credit card.