At Experian, one of our priorities is consumer credit and finance education. This post may contain links and references to one or more of our partners, but we provide an objective view to help you make the best decisions. For more information, see our Editorial Policy.
Using a credit card responsibly can help build—or rebuild—your credit. But if you have poor credit or no credit history, getting a credit card may be difficult. Secured credit cards may solve the problem. To get a secured credit card, you put down a refundable security deposit, which then serves as collateral for your account. The deposit ensures the credit card issuer gets paid even if you can't pay your bill. Here are some of the best secured credit cards on the market.
Our Picks for the Best Secured Credit Cards

The OpenSky® Secured Visa® Credit Card

20.39% APR (variable)
$200 minimum refundable deposit
$35 annual fee

Platinum Select Mastercard® Secured Credit Card

17.74% Variable APR
$200 minimum refundable deposit
$39 annual fee
The OpenSky® Secured Visa® Credit Card
You don't need a credit history or even a bank account to qualify for The OpenSky® Secured Visa® Credit Card from Capital Bank. Since most secured cards require a bank account, this is a big plus. Capital Bank provides credit education tools to help cardholders build credit, and claims that 99% of customers who start with no credit score earn one in as little as six months. The card reports to all three major credit bureaus (Experian, TransUnion and Equifax). On the downside, there's no opportunity to upgrade to an unsecured card.
Your deposit becomes your credit limit with The OpenSky® Secured Visa® Credit Card, with a $200 minimum and $3,000 max limit. The card comes with a 20.39% variable APR on purchases. The annual fee is $35.
Read full review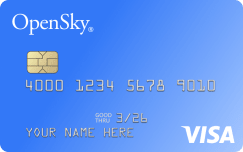 The OpenSky® Secured Visa® Credit Card
Apply
on Capital Bank N.A.'s website
Recommended FICO® Score*
Poor, New to Credit, Rebuilding
The OpenSky® Secured Visa® Credit Card
Card Details
No credit check to apply and find out instantly if you are approved
NEW! For a limited time only, apply and open a new OpenSky account to receive an automatic $50 unsecured credit line increase after 3 on-time payments; up to $200 in your first year—no additional deposit required. Click "apply now" to see additional terms.
OpenSky gives everyone an opportunity to improve their credit with an 85% average approval rate for the past 5 years
You could be eligible for the OpenSky Gold Unsecured Card after as few as 6 months
Reports to all 3 major credit bureaus monthly, unlike a prepaid or debit card
Nearly half of OpenSky cardholders who make on-time payments improve their FICO score 30+ points in the first 3 months
Your refundable*** deposit, as low as $200, becomes your OpenSky Visa credit limit
Easy application, apply in less than 5 minutes right from your mobile device
Offer flexible payment due dates which allow you to choose any available due date that fits your payment schedule
***View the cardholder agreement
Platinum Select Mastercard® Secured Credit Card
No credit check or credit history is needed to apply for the Platinum Select Mastercard® Secured Credit Card, so you may qualify even if you have derogatory items on your credit report or are new to credit.
First Progress offers three secured credit cards with similar features but different annual fees: The higher the fee, the lower the card's APR. The Platinum Select Mastercard® Secured Credit Card is the mid-range card, with a $39 annual fee and a 17.74% variable APR on purchases, which is lower than many other cards in this category.
This card reports to all three major credit bureaus and offers a credit limit of $200 to $2,000 with a refundable deposit of equal amount. However, it's not available to residents of Arkansas, Iowa, New York or Wisconsin.
Read full review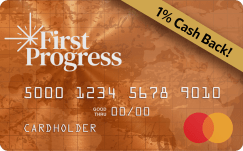 Platinum Select Mastercard® Secured Credit Card
Apply
on First Progress's website
Recommended FICO® Score*
Poor - Good
Platinum Select Mastercard® Secured Credit Card
Card Details
Have $200? Break Down Credit Barriers with the First Progress Secured Card Today!
No Credit History or Minimum Credit Score Required for Approval!
Pay a Deposit and Start Establishing Credit With Just $200!
Receive Your Card More Quickly with New Expedited Processing Option
Quick and Complete Online Application; No credit inquiry required!
Good for Car Rental, Hotels; Anywhere Credit Cards are Accepted!
Monthly Reporting to all 3 Major Credit Bureaus to Establish Credit History
Credit Line Secured by Your Fully-Refundable Deposit of $200 -- $2,000 Submitted with Application
Get a Fresh Start! A Discharged Bankruptcy in Your Credit File Will Not Cause You to Be Declined.
Apply to Add a First Digital Mastercard to your wallet after 6-months of on-time payments!
How Does the Deposit on a Secured Credit Card Work?
Most credit cards are unsecured, meaning no deposit is required. The issuer checks your credit score, income and other factors to decide whether to approve your application. For those who have less-than-perfect credit or very little credit history, secured cards offer a way to reduce risk to lenders by requiring a deposit to secure the credit line.
Your deposit generally determines the card's credit limit. However, you can't skip your payment and expect the security deposit to cover it. The issuer uses the deposit only as a last resort, in the event a cardholder stops paying their bill entirely and defaults on the account.
Some secured credit cards let you choose your credit limit during the application process. Credit limits generally start at $200 but may go as high as $3,000. When you apply for a secured card, you pay the deposit and any other fees using debit or electronic transfer.
If you eventually pay off and close your account or upgrade your secured card to an unsecured credit card, you'll get the security deposit back, less any outstanding balance and fees.
Is Getting a Secured Credit Card Worth It?
Unsecured credit cards for people with poor credit exist, but they typically impose high interest rates and fees. Becoming an authorized user on a family member's or close friend's credit card can help improve your credit score, but isn't always possible. A secured credit card is generally a better option when building credit is your primary goal.
Secured credit cards have several benefits:
Secured credit cards can be used in any situation where you'd use an unsecured credit card; no one will know the card is secured.
You'll have more flexibility in how you pay for purchases, including the ability to pay over time.
Credit cards provide more protection from fraudulent purchases than debit cards and may offer purchase protections as well.
Perhaps the biggest benefit of a secured card is that it can help improve your credit. If you show responsible payment habits, you could get approved for a higher credit limit, which can reduce your credit utilization ratio and further boost your credit score. As your credit score improves, you're more likely to qualify for an unsecured credit card, either from your secured card issuer or another company.
How Fast Will a Secured Credit Card Build Credit?
There's no hard-and-fast rule for how quickly you can build credit with a secured credit card. The best approach is to use your card for small purchases and pay off your balance every month. A history of on-time payments will do the most to help your credit score, so take care not to miss a due date.
Before you apply for a secured credit card, check that the card issuer reports your payment history to at least one consumer credit bureau—Experian, TransUnion or Equifax—but better yet, all three. Unless your payment history gets reported, it won't help build your credit score.
Assuming you make all your payments on time, some secured credit card issuers will raise your credit limit after a certain period. Others will offer the option to upgrade to an unsecured credit card.
Once you graduate to an unsecured card, don't rush to close your secured credit card. Closing an account reduces both your available credit and the average age of your credit accounts. This can negatively affect your credit score, so it's best to keep the account open even if you don't plan to use it. You can put a regular, small purchase on the card and pay it off each month to keep it active.
Can You Get Denied From a Secured Credit Card?
Your application for a secured credit card could be denied for several reasons.
Very low credit score: Even with secured credit cards, some issuers require a certain minimum credit score, which varies depending on the card. To find cards you're likely to qualify for, check your credit score and use a source such as the Experian CreditMatch™ marketplace.
Negative items on your credit report: Even if your credit score passes muster, you might be denied if your credit report reveals major derogatory items such as bankruptcy, repossessions or accounts in collections.
Insufficient income or unverified income: Evidence of your income may be required; if you can't provide it or the card issuer believes you have too little income to handle your debt, you could be denied.
Insufficient funds for the security deposit: Before applying for a secured card, make sure you have enough funds in your bank account to cover the deposit and any fees required.
If your credit card application is denied, the lender will send you a letter explaining why. Applying for additional credit cards after being denied can hurt your credit score by generating hard inquiries into your credit. Instead, take steps to remedy the reasons you were denied and apply for another card once you're confident you'll be approved.
Building Credit With a Secured Credit Card
Secured credit cards are useful tools for building or rebuilding credit: They set limits and provide safeguards that can help you manage credit. As you use your secured card, monitor your credit to track your progress and see how your card is helping you build credit.