At Experian, one of our priorities is consumer credit and finance education. This post may contain links and references to one or more of our partners, but we provide an objective view to help you make the best decisions. For more information, see our Editorial Policy.
Using a credit card can help teens build a credit history, making adult tasks such as renting an apartment easier. People under 21 are restricted from opening their own credit card accounts without sufficient income or a cosigner, which can complicate things for teens looking to get started with credit. The good news: Teens can access credit via student credit cards, secured cards and even some unsecured cards (if they have a steady income), as well as cosigned credit cards and authorized-user accounts.
Credit cards may help teens learn to manage money. In a 2019 survey, 8% of parents with children under 18 said at least one of their kids has a credit card. Among recently graduated high school students, 30% have at least one credit card; 23% have two or more, according to educational technology company Everfi. Here are some of the best teen credit cards today.
Our Top Picks for the Best Credit Cards for Teens of 2022

Petal® 1 "No Annual Fee" Visa® Credit Card

2% - 10% cash back at select merchants

No annual fee

Issued by WebBank

The OpenSky® Secured Visa® Credit Card

$200 minimum security deposit

$35 annual fee
Petal® 1 "No Annual Fee" Visa® Credit Card
The Petal® 1 "No Annual Fee" Visa® Credit Card issued by WebBank does not require a credit history or credit score to apply. If eligible, your Cash Score will be created instead. WebBank assesses the income, savings and spending history reflected in that account, as well as credit history and credit score if available.
Credit limits range from $300 to $5,000; the variable APR ranges from 24.74% to a steep 34.24%. Cardholders can earn between 2% and 10% cash back from select merchants.
Petal reports to all three major credit bureaus—Experian, TransUnion and Equifax—and SageStream, a smaller credit bureau some creditors use. The Petal mobile app helps users budget, calculate payments, monitor subscriptions and find nearby merchants that offer cash back when using the card. There are no annual fees or foreign transaction fees, though late and bounced payment fees apply.
Read full review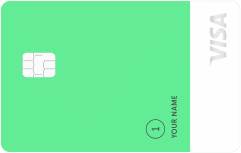 Petal® 1 "No Annual Fee" Visa® Credit Card
Apply
on Petal's website
Issued by WebBank
Recommended FICO® Score*
Fair, New to Credit, Rebuilding
Petal® 1 "No Annual Fee" Visa® Credit Card
Card Details
$0 Annual Fee
Variable APRs range from 24.74% - 34.24%
$300 - $5,000 credit limits
Earn a credit limit increase in as little as 6 months. Terms and conditions apply.
No credit score? No problem. If eligible, we'll create your Cash Score instead.
2% - 10% cash back at select merchants
See if you're pre-approved within minutes without impacting your credit score
No annual or foreign transaction fees
Build credit alongside hundreds of thousands of Petal card members
Petal's mobile app makes it easy to manage your money, track your spending, and automate payments
Petal reports to all 3 major credit bureaus
No deposits required
Card issued by WebBank
The OpenSky® Secured Visa® Credit Card
You say your teen has no credit history or bank account? They don't need either to apply for The OpenSky® Secured Visa® Credit Card. Instead, applicants make a refundable security deposit of at least $200, which generally becomes their credit limit. If the cardholder stops making payments, the card issuer can keep the deposit to cover the card's outstanding balance. The annual fee is $35; the ongoing variable APR is 22.14%.
The OpenSky® Secured Visa® Credit Card reports to all three major credit bureaus and offers education tools to help cardholders build credit. However, there's no option to upgrade to an unsecured card. If your teen has a bank account, you may want to consider a secured credit card with rewards, no annual fee and the option to upgrade.
Read full review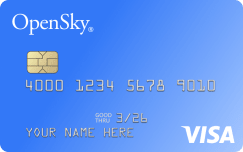 The OpenSky® Secured Visa® Credit Card
Apply
on Capital Bank N.A.'s website
Recommended FICO® Score*
Poor, New to Credit, Rebuilding
The OpenSky® Secured Visa® Credit Card
Card Details
No credit check to apply. Zero credit risk to apply!
Looking to build or rebuild your credit? 2/3 of cardholders receive a 48+ point improvement after making 3 on-time payments
With an 87% average approval rate for the past 6 months, OpenSky gives everyone an opportunity to improve their credit
Extend your $200 credit line by getting considered for an unsecured credit line increase after 6 months - no additional deposit required!
Get free monthly access to your FICO score in our mobile application
Build your credit history across 3 major credit reporting agencies: Experian, Equifax, and Transunion
Fund your card with a low $200 refundable security deposit to get a $200 credit line
Choose the due date that fits your schedule with flexible payment dates
Fund your security deposit over 60 days with the option to make partial payments
Join over 1.2 million cardholders who've used OpenSky to build their credit
What Are the Rules for Teenagers and Credit Cards?
The Credit Card Accountability Responsibility and Disclosure (CARD) Act of 2009 prohibits credit card issuers from granting new accounts to anyone under age 21 unless they have an adult cosigner or demonstrate sufficient income to repay debt.
That income may come from a job, if the teen works, or other means such as scholarships, grants or a trust fund. Without an income, it's still possible to get a cosigned credit card where the teen is the primary cardholder and responsible for paying the credit card bills. If the teen can't pay, responsibility shifts to the cosigner. Debt on the cosigned card is included in the cosigner's debt-to-income ratio, possibly making it harder for them to get approved for credit.
But few credit card issuers today allow credit card cosigners, and teens under age 18 can't get cards in their own name, even with a cosigner or proof of income. However, many credit card companies allow minors to be on an adult's account as authorized users.
Becoming an Authorized User on a Parent's Card
A 2019 Sallie Mae study found 25% of teens with credit cards were authorized users on a parent's card, rather than having their own account. The primary cardholder on an authorized-user account is responsible for the bill, although the authorized user may be able to make payments. Being added as an authorized user on a credit account typically means the account is then added to your credit reports, which can help build credit.
The status of the account can affect the potential benefit it has, however. For instance, an account with a low credit utilization ratio, a long history and a record of on-time payments will have the most positive effect.
Before adding a teen as an authorized user, ask if the card issuer reports authorized-user accounts to credit bureaus and if there are any age restrictions. Some card issuers require authorized users to be 13, 15 or 16; others have no age requirements.
What if I Can't Be an Authorized User?
Young people 18 years of age and older who can't become an authorized user on a credit card may qualify for two other options in their own names:
Student credit cards are designed for college students just starting to build credit. A credit check and earned income are required to qualify for student cards; most (though not all) also require college enrollment. Student cards may offer benefits such as low introductory APRs, travel rewards or cash back.
Secured credit cards

(such as The OpenSky® Secured Visa® Credit Card above)

require a refundable security deposit, which typically establishes the card's credit limit. The issuer keeps the deposit if the cardholder stops making payments, making card issuers more willing to extend credit to those with no credit history. Aside from the deposit, secured credit cards work just like any other credit card. Used responsibly, secured credit cards can help you build your credit history.
What About Prepaid Cards?
Prepaid credit cards look like regular credit cards, but function more like debit cards. You put money into a prepaid card account and use the card to make purchases up to the amount in the account. As the balance shrinks, you can usually "reload" the card with more money.
Regular credit cards are revolving credit; users borrow money from the card issuer for purchases and pay it back. These payments are reported to credit bureaus, helping to build a credit history. But because you aren't borrowing any money when using a prepaid card, there are no payments to report to credit bureaus, so using the card won't help build credit.
Help Your Teen Learn to Use Credit
Getting a credit card can help teens build credit and learn financial responsibility. Before your teen starts searching for a credit card, have them check their credit report and credit score, if they have one. Knowing what (if anything) is in their credit history will help your teen determine what credit card is best for them.