There's an endless sea of sad stories—elderly victims, sending money across the Internet, their faith in love or luck turned against them in a cruel way. Knowing the risks—and the signs—of elder abuse can help you and the seniors in your life avoid becoming victims of this rising form of financial crime.
A check for $750 sent from the Bronx to an address in Montego Bay, Fla., in November 2015. Then another $750 check, sent one day later. Two checks from Lake Mills, Wisc. each for $1,000. Two more from Fort Atkinson, Wisc., for $1,000.
But that was only the beginning.
Shashana Stacyann Smith, 34, was sentenced to 24 months in prison this September for acting as a money mule in a vast Jamaican-based lottery scam. A single page of Smith's indictment tells a half-dozen tragic tales, including those above. They get worse as the pages fly by.
Smith's real money came from California. In April 2016, a victim with the initials "MR" sent two cashier's checks to Smith worth $11,500. Then, on Aug. 3 of that year, the same victim sent one huge check for $30,000.
The victims are anonymous, but we know from materials accompanying Smith's guilty plea that her arrest was part of an ongoing effort by federal authorities to round up criminals targeting elderly Americans. There are piles of similar indictments on the Department of Justice website.
Earlier this year, in an investigation dubbed "Operation Hard Copy," federal authorities arrested eight suspects who allegedly stole $5.7 million from at least 90 mostly elderly U.S. residents. That investigation began after a North Dakota woman was scammed out of $300,000.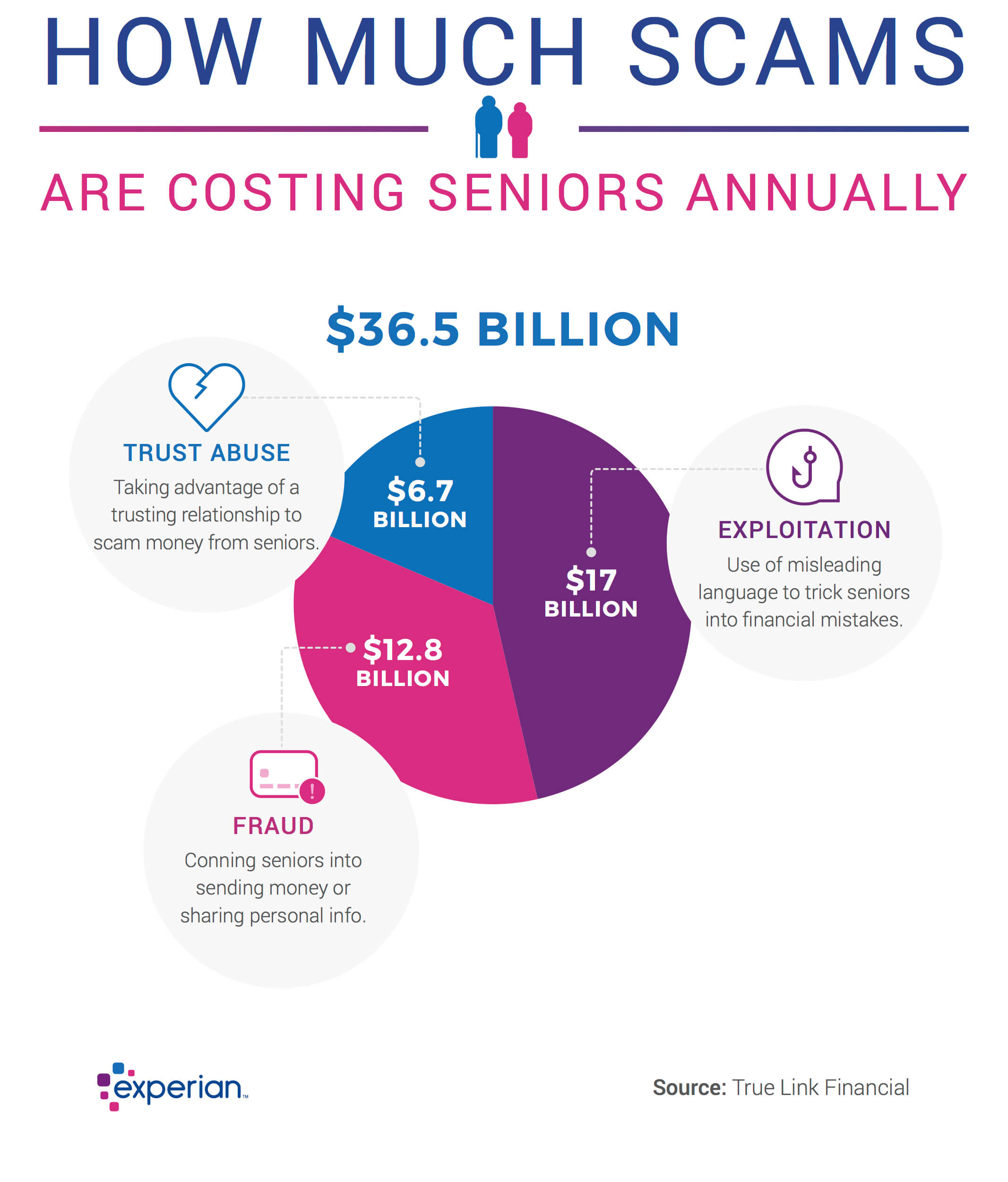 How many elderly Americans are getting scammed?
Still, the arrests are likely just a drop in the bucket. Financial crimes against the elderly range from Internet-based sweetheart and lottery scams to frauds committed by family members and financial advisers. A seminal national study by the MetLife Mature Market Institute in 2011 found that victims lose $2.9 billion a year, but that amount is almost certainly undercounted:
Internet-based scams are growing fast. Counting lottery scams only, Steve Baker, a retired Federal Trade Commission investigator who publishes The Baker Fraud Report, estimates that as much as $1 billion is sent annually by Americans to Jamaican scammers—two-thirds of it sent by victims over 70. And those who become victims often end up on "suckers lists," passed around by criminals as easy targets. (See also: Scams Targeting Seniors)
Victims can lose more than money. FBI Victim Specialist Debbie Deem says victims end up depressed, destitute, and even suicidal after discovering their life savings has been stolen by a fake Internet lover or lottery scam artist. The scams can turn violent, too. Retired teacher Heidi Ann Muth, a 68-year-old woman from the Los Angeles area, was murdered after traveling to Jamaica in September. She was found face dead in a pile of mud, stab wounds in her head and back. Friends told local media the widow had gone to Jamaica after getting involved in a lottery scam.
Listen here for more on senior scams and what you can do to protect them in this podcast with Bob Sullivan.
Why are the elderly easy marks?
There's one easy answer: there's a lot of them. By 2050, people age 65 and older will make up 20% of the total U.S. population. The fastest-growing segment of America's population consists of those 85 and older.
The second big reason: elderly can sometimes be naive, and new neurobiology research explains why. Research funded by the National Institute on Aging found in 2012 that the part of the brain which picks up on "untrustworthy" clues tends to atrophy as we get older. MRI brain scans show the anterior insula of the brain, which head researcher Shelley Taylor says is used for assessing risk, is less active in older adults.
Problems begin earlier than you might think, however. Another groundbreaking study by Boston College's Center for Retirement Research found that after age 60, financial decision-making skills decline about 1% each year. Significantly, most people don't adjust accordingly.
"Participants who suffer cognitive decline experience a reduction in their financial literacy but no change in their confidence in managing their money," the study found.
There is another, more subtle and more insidious reason that the elderly are easy targets, says the FBI's Deem: They are lonely. They have no one to talk with. Criminals are filling that void. Many spend weeks or months "grooming" potential victims, waiting for just the right moment to ask for money.
"Recently, I saw a 96-year old woman. Her life is on her tablet. There's no way she's going to a senior center. These contacts give her hope. When she talks to them, I can see a sparkle in her eye," Deem says. "She thought she had two or three lovers."
What can you do to help the seniors in your life?
If you fear a family member or friend is the victim of an ongoing elder scam, it's important to intervene with care. It's likely the victim will trust the criminal more than you, so you'll have to approach the topic gently. Deem stresses that it's critical not to be judgmental—don't let any "that's stupid" tones slip into your voice—lest the victim shut down communication. Also, understand what the victim is getting out of the interaction. Criminals often contact victims several times each day. You might have to call as often, at least at first, to replace the human connection the victim was getting via contact with the criminal.
In the indictment above, several victims sent multiple checks to criminals. That's common. Victims are tricked again and again by the same scammer. Deem, a trained social worker, says elder scam victims bear many characteristics of addicts, so family and friends should expect this kind of backsliding, even after a successful intervention. Deem suggests making a "Safety Plan."
If a victim starts to get the urge to communicate with a scammer again, or to pull out a checkbook, the Safety Plan suggests steps to take instead: it can be as simple as a "hotline" number or phone tree to call and get a relative's help immediately. Deem also thinks added account security, such as two-factor authentication, can provide just enough of a speed bump to stop victims from making bad decisions.
In extreme cases, family and friends might seek legal means to take financial control away from victims. It's critical that victims report the crime to proper authorities, in part because elder fraud is under-counted by federal statistics, so it doesn't get the attention it deserves.
How can you get protection and support from elder fraud?
Call your state Adult Protective Services agency and ask if there's a financial fraud expert. The U.S. Department of Justice has links to state offices, and plenty of other resources, at elderjustice.gov.
Some state's attorney's general offices have staff devoted to elder fraud; contact yours and ask.
Go to the local police station and insist that it take a crime report.
Separately, report at the Internet Crime Complaint Center at IC3.gov.
Finally, some local organizations that offer domestic violence victim support are beginning to add elder fraud to their slate of services. Your local police department should be able to help you find one; or call and ask.
Click here to read the podcast transcript:
Ellen Sirull: Hi everyone, I'm Ellen Sirull with Experian.
Susie Henson: And I'm Susie Henson with Experian.
Ellen Sirull: We are excited today, we are at FenCon in Dallas and we have an amazing guest joining us, Bob Sullivan. Welcome to our show Bob.
Bob Sullivan: Hi, thank you for having me.
Ellen Sirull:
Yeah, so for those who may not be familiar with you, why don't you just introduce yourself. Tell our listeners a little bit about who you are and what you do.
Bob Sullivan:
Sure, I'm an independent journalist and a consumer advocate. I worked for MSNBC.com for almost 20 years, and now I work for myself at bobsullivan.net and I write books. I wrote a couple of best-selling books, one was called Gotcha Capitalism and the other one was called Stop Getting Ripped off, and they're both about all of the small, really frustrating ways that companies mislead and rip-off consumers, and on a micro-basis that's annoying to you, but on a macro-basis it's really bad for the economy. So I try to provide some clarity in a world of confusion.
Ellen Sirull:
Yeah a lot of great resources for anybody listening to check out, and today we wanted to talk about something that it's really important to talk about. It can be a little sad and scary, but I think it's a really important topic, and talking about seniors and elder fraud. And I know we've been covering this a little bit and you've been writing some about this I know, and so just wanted to kind of chat about that, and maybe we can just start with ... I know you were telling us a story about someone recently, I dunno if you wanna share that about the woman who went to Jamaica.
Bob Sullivan: Well sure, elder fraud has been a problem for forever.
Ellen Sirull: Yeah.
Bob Sullivan:
But the internet has created this incredible circumstance where the second that you give mom, grandpa, an iPad or a computer; billions of people around the earth are connected to them. So there's this doorway through which people can reach in and grab their money, grab their emotions, really tear people apart. And while the Federal Trade Commission estimates that now billions of dollars are actually sent by elderly people overseas right now, you know it's always the individual stories that get you. So just recently, a woman who lived in the Los Angeles suburbs, Ruth Ann Muth.
She was a cancer survivor and her husband had died of cancer not long ago, 68, and she was involved in one of these lottery scams from Jamaica. And we don't know all the details yet because authorities are still investigating, but what we do know is that a couple of weeks ago she was found dead in a pile of mud in Jamaica, and her friends say that she went there to try and get her money back from a lottery scam.
This is a woman who had spent her entire life teaching children, coaching, and she came to this horrible end. She was stabbed in the head and in the back all because she fell for a scam. And so I think it's really important for people to realize that while scams are everywhere and you hear about them, and the stories kind of come and go, these things are very serious and the older that you are the more that you need protection.
Ellen Sirull: Yeah.
Susie Henson: So what particular advice do you give elderly people about protecting their identities?
Bob Sullivan:
Well, so the good news is there's one woman who works for the FBI, her name is Debbie Deam, she's a victim specialist, and she is a one-woman wrecking crew against this crime. And so I wanna talk quite a bit about what she does and her techniques for helping the elderly, but the first thing that she would tell you is, "You just can't say 'stop that' to an older person, because they're in these very, very challenging circumstances."For the large part, this is a crime that's much more about loneliness than it is about money. Older people are really bored and feel neglected, and the word that she uses is, "they don't feel important to anyone anymore."
So you're sitting at home or in a nursing home and all you're doing is hoping that one of the grandkids calls and talks to you on the phone for five minutes, that's your life. And so suddenly this person seems to express interest in you. A lot of these scams are romance based, so it might be somebody seducing someone long-distance, but it can be lottery based, or it can just be the connection. So what I think a lot of folks don't understand is that the criminals will spend sometimes months, sometimes longer, grooming these victims, and they call them two, three, four times a day. And again, they make them feel important, and the ask for money doesn't come for a long time.
So the first thing that Debbie says is, "You can't just say stop it. You have to replace whatever it is that they're getting out of the interaction with the criminal." So she uses a model, it's very similar to addiction models, and so in order to get the person out of this frame of mind where they might fall for something like an ask for wiring money, you have to replace what it is that they're getting out of the conversations with the scammer.
She told me the story of one woman who was in her early 90s, and who thought that she had three different active lovers who were paying attention to her. And you know, she would spend all day on her iPad communicating with these folks, and you can't just go in one day and say, "Oh grandma, stop this" and leave. You then have to be the person that she's talking to several times a day to make up for what she's missing. It's too much of a shock to withdraw this source of friendship and connection.
Ellen Sirull: Yeah they're getting that value, yeah.
Bob Sullivan:
Absolutely, unless you replace it with something else. So it really is a matter of family and friends getting actively involved on an ongoing basis to pull them out of this hole that they're in.
Ellen Sirull:
Yeah, and I mean it also I think is important, you touching on that, it's like even those of us who have parents, grandparents, at that age it becomes really important not only what do you tell the older individual who may be a potential victim of this, but yeah, what people can do to help. And I think that's a really important thing, is thinking about how we can help protect our family members and loved ones, you know.
Bob Sullivan:
Yeah, it's very important. Anytime I have a chance to say this, so anybody who's listening, if you have a parent, a grandparent, an elderly relative; a lot of older people talking about money was very, very kibosh for the older generation. No one talked about salaries, no one talked about income, and so, in general, you're gonna find older people are very reticent to talk about their money and you just have to blow right past that.
Ellen Sirull: Mm-hmm.
Bob Sullivan: Don't be embarrassed.
Ellen Sirull: Yeah.
Bob Sullivan:
Just say, "Hey how's it going", ask to see their checking account. On a regular basis you have to open up this regular dialogue and ultimately a lot of people find out as time goes on, they have to take financial control away from their elderly relatives.
Ellen Sirull: Mm-hmm.
Bob Sullivan:
Maybe give it power attorney or whatnot, but you know even Debbie talks about not having to go that far necessarily.
Ellen Sirull: Mm-hmm.
Bob Sullivan:
If someone still has all their faculties but they're engaged in one of these situations, but you do have to see their finances. So open the dialogue, have it on a regular basis, have these dialogues before you get to this point so that you've already got this established trust relationship. "How much are you getting from social security? What's the pension like? How's it going with your utilities?" You know and once you open up an older person it's usually not that hard to get them to talk about how frustrated they are-
Ellen Sirull: Yeah.
Bob Sullivan:
By those sorts of issues like all of us. But you gotta open up that dialogue and don't be satisfied if at first blush they say, "No I don't wanna talk about money!" Well, you have to talk to them about money.
Ellen Sirull:
Yeah, no I remember my grandmother before she passed away, my aunt was a joint account holder on her checking account so that she could help with any things like that.
Bob Sullivan: Yeah, that's a really great idea.
Ellen Sirull: Yeah.
Bob Sullivan:
And so you can see right away any kind of mysterious transactions that occur. And you should be aware of course that this can happen, but be aware of some of these scammers' techniques. I mean a lot of them will ask for small sums of money and just a couple of things, they'll ask folks to buy gift cards for example, for smaller amounts, and just send them the gift card data just to groom them again. To get them into the idea that it's okay to send money and you might not notice that.
Ellen Sirull: Yeah.
Bob Sullivan:
And then one day there's the bust out, where they suddenly ask for a withdrawal from their 401K or something, but it's important again if you have joint access to a checking account that's great, and use it. Look at it often.
Ellen Sirull: Yeah.
Susie Henson:
And I'm sure for many of these people they're on a fixed income so they don't have any other source of income, so I'm sure it can be devastating to them.
Bob Sullivan:
That's the worst part of this crime. Again, if you fall for something like this when you're young, you'll have time to recover in life. And the stories that Debbie tells me, you know people take out mortgages in order to send money to scammers. They rack their entire retirements, they send money that they're supposed to be using to buy their own drugs, and they're sending it overseas, and as a result, there absolutely are murders, and suicides, and other clinical depression that are a result of these things.
Another point that Debbie makes, which I'd really like to bring up, is that lots of factors can contribute to someone being ripe for being a victim, including drug interactions for example. So it's really important to actually also talk to an elderly person's doctor, especially if you find they're in the middle of a situation like this, 'cause it may very well be that something about the drugs they're taking is helping put them in a frame of mind where they can be a victim.
And we know of course people of declining faculties are more likely to be a victim, but there's something even more subtle than that. The brain scientists have learned that the part of the brain that makes us skeptical, it's one of the first parts of the brains to atrophy as you get older. So there is actually a good reason why a lot of elderly people seem naïve to us, it's because they are.
Susie Henson: That's interesting.
Ellen Sirull: Mm-hmm.
Bob Sullivan: And this is another reason that people who are older are so susceptible to being victims.
Ellen Sirull:
Yeah and these stories that you're telling, I mean it's awful how common it is. And you know it's interesting as you're talking about beloved ones helping out, I think what's awful to hear about too, is when you hear about a lot of times elderly folks, I mean they can get scammed by people they don't know, but also there's caretakers or people who take advantage. Which is awful, you know?
Bob Sullivan:
Yeah, yeah that's a whole other side to the problem, which is something that I haven't been covering as much lately, but I have written about it in the past. And you know often of course, just like with identity theft in general, it's family members who have access to all the things they would need to commit the crime that are committing the crime. And any of that runs the whole spectrum from outright fraud by a caretaker to the kids fighting over the estate and everything kind of in the middle. That can be very, very ugly too, but almost every state has some kind of elder abuse office and they often get contacted more in these situations.
Ellen Sirull: Mm-hmm.
Bob Sullivan:
Cause so many people are unaware of these internet scams, but it's important for people to know that there are resources out there if you don't know how to handle it yourself. Debbie offers her cell phone to almost anyone who contacts her.
Ellen Sirull: Oh wow, yeah.
Bob Sullivan:
Part of her ritual, she's an amazing person, I just did a feature story for her on CNBC, and part of her ritual is she has a cell phone full of phone numbers of people that she checks in on-
Susie Henson: That's so awesome, oh my gosh.
Ellen Sirull: Wow.
Bob Sullivan:
On weekly, or bi-weekly basis, she has to see if people have fallen off the wagon or not. And another one of her strategies called the safety plan, as if she knows somebody's in real danger, this happens all the time. You leave them, they're fine, and then a couple days go by and now they're getting contacted again.
Ellen Sirull: Starting to slip.
Bob Sullivan:
Starting to slip. So they have her cell phone number so she says, "Before you call the scammer in Jamaica, call me." And she says the other really important thing is to be non-judgemental. Cause if that person calls and Debbie says, "What are you doing again?" What's gonna happen? They're not gonna call the next time.
Ellen Sirull: Mm-hmm.
Susie Henson: Right.
Bob Sullivan:
So as a family member, you have to feel the same way. Don't yell at them, make them want to call you. "Oh, so let's talk it through, why are you thinking about doing this? Remember we discussed that this person probably isn't real. This person probably isn't a beautiful 40-year-old woman, this person is probably something else." And accept that conversation and be the person they wanna talk to when they're in danger of slipping.
Ellen Sirull:
Yeah. It's so interesting cause yeah it's almost like, you know, like any other kind of alcohol or drug addiction, it's like an AA, someone who's a recovering alcoholic has a sponsor.
Bob Sullivan: Absolutely.
Ellen Sirull: So it's almost she's like their sponsor.
Bob Sullivan: She's like a sponsor, now I can tell you she's busy. (laughs)
Ellen Sirull: Yeah. (laughs) I'm sure.
Bob Sullivan:
But she'll tell these great stories. She told me a story the other day about an older gentleman who was in a house and was in California, and adult protective services had been kicked out of the house. The guy just didn't, "Get out of here!" And he was sending money on a regular basis overseas and they called her and said, "We don't know what to do with this guy." So she goes to the house, she knocks on the door, he won't let her in. So she just talks to him through the door for about an hour.
Ellen Sirull: Wow.
Bob Sullivan:
Trying to slowly just build a relationship with him and eventually he lets her in just to see, so he can show her his extensive video movie collection. And she doesn't bring up anything about the crime, nothing about, and you know weeks go by before she finally gets the trust level to where she can start to talk to him about what he's going through.
Ellen Sirull: Wow.
Bob Sullivan:
One of the techniques that the scammers use, and you may be familiar with this in all these sweetheart scams that occur, is among the first things they do is they say, "Don't tell your family, keep this between us and if your family finds out, well they're gonna try to cut us off. You know why? Because they don't want you to be happy. They don't wanna know the truth. They've been ignoring you all this time. I'm your friend now, I love you, so whatever they tell you, don't believe you." And a lot of people fall for that, so you have to break down that level of trust, just to kind of pull them back from this dark place.
Ellen Sirull:
Yeah, no I mean I feel that we could talk for hours about this right? But we really appreciate you joining us to talk about this and it is so important, and hopefully, we can talk more about it and cover this a lot more with you.
Bob Sullivan: Sure.
Ellen Sirull: Because I think it's so important to-
Bob Sullivan:
Well, I will tell you that Debbie tells me, she uses the word, "tsunami" about this crime. There are so many older people who have decent sized retirement accounts, it's a very target rich environment for the criminals. So I could do a story about this every week for the rest of my career and it wouldn't be enough, so really glad you guys have helped bring attention to it.
Ellen Sirull:
Yeah. So you know, it's interesting we were talking about older folks being victims, we were wondering if... we were kind of talking about this as a team. What, like one tip if we say, "Okay if I could go back and I wish I knew this when I was younger" we're kind of switching it up a little bit but, is there one tip, whether it's identity or just personal finance in general, or just consumer protection topic, that you would say oh you wish you knew that when you were younger.
Bob Sullivan:
I'll try to give this answer as succinctly as I can but it's a little bit of a concept, so big fan of behavioral economics. I think understanding just how your brain works and how your habits work is far more effective than learning what an interest rate is, or the mechanics of a loan, and I think the most powerful thing that you can do is imagine your future self at some time, and try to justify to your future self the decisions that you're making today.
So when you're 25 and you're trying to pick between going on vacation or saving money, talk to the 35 year old you who's starting a family, and say like, "How would I feel if at 35 I look back and make this decision instead of that one?" In fact, you can literally write a letter to yourself at 30, at 40, at 50 and then imagine opening it, and there actually have been some great studies showing that you will make much better decisions.
Ellen Sirull: I love that.
Bob Sullivan: The more that you have a relationship with your future self.
Ellen Sirull: Mm-hmm.
Bob Sullivan:
In fact, there's one behavioral economist who sits people down in front of computers and ages them visually, and then gives them financial tests, and they perform better just because they have been able to see themselves in the future.
Ellen Sirull: Interesting.
Bob Sullivan: So you make far better decisions that way if you're able to think about your future self.
Ellen Sirull: Very cool.
Susie Henson:
We often give people that kind of credit advice as well. Just make sure that you're thinking not just about that instant gratification, but always think long term. What are the goals? What are you trying to achieve? And make sure that those decisions reflect that ultimate goal in the long run.
Ellen Sirull: Yeah that can be hard when you're young. (laughs)
Susie Henson: It can be.
Bob Sullivan: Of course, of course, yeah.
Ellen Sirull: Well, thank you so much for joining us, we really enjoyed it and we will chat with you again soon.
Bob Sullivan: Sure thank you for having me.
Susie Henson: Thank you, Bob.