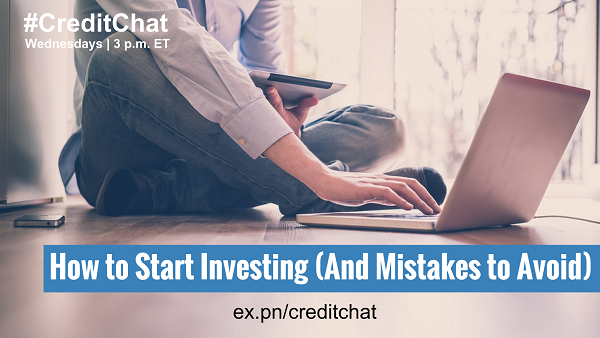 Join our #CreditChat on Twitter and YouTube every Wednesday at 3 p.m. ET. This week, we're going to talk about how to get started with investing (and mistakes to avoid).
Topic: How to Start Investing (And Mistakes to Avoid)

When: Wednesday, February 4 at 3 p.m. ET.
Easy ways to chat with us on Twitter: Twubs or Tchat
Join us on Twitter by using the #CreditChat hashtag – and tune in to the discussion on YouTube. The video panel will include: Christine Benz – Director of Personal Finance at Morningstar,  Rod Griffin - Director of Public Education at Experian,  Mike Delgado – Social Media Community Manager at Experian, and others.
We will embed the live streaming video on this page during the chat. If you have suggestions for future topics or guests, please tweet @mikedelgado.
If you've never heard about #CreditChat, here is a brief overview:
Upcoming Chats
Check Out Past Chats:
Check out all the tweetchats storified here.
Featured In: