How to Manage Our Finances & Credit During This Coronavirus Pandemic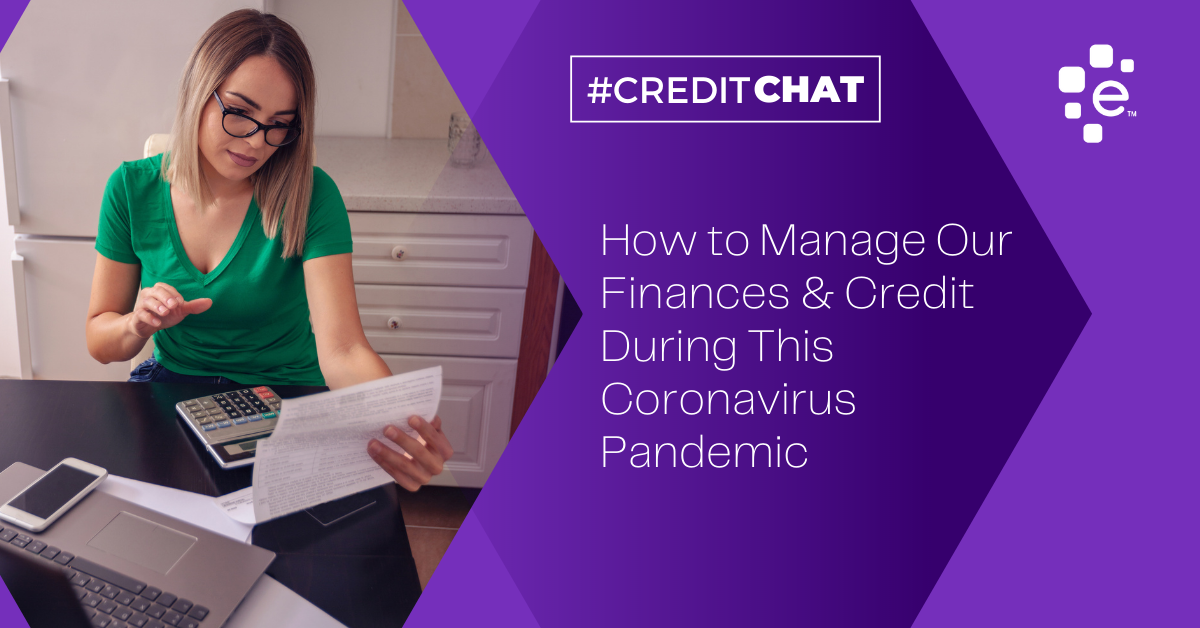 The panel included Rod Griffin: Director of Consumer Education and Awareness at Experian; James Jones: Head of Consumer Affairs at Experian; American Consumer Credit Counseling; SaverLife; Jordanne Wells: Founder of Wise Money Women; Beverly Harzog: Credit Card Expert and Consumer Finance Analyst for U.S. News; Todd Christensen: Education Manager at Money Fit by DRS; Sean Gillespie: Financial Advisor; Andrew Chen: Founder, HackYourWealth.com; American Consumer Credit Counseling; Take Charge America; Centsable Chat; Naseema McElroy: Founder of Financially Intentional; Courtney Richardson: Founder of The Ivy Investor; Tremaine Wills: Financial Adviser; Angel Radcliffe: Financial Educator & Business Strategist; Kayse Kress: Director of Financial Planning at Physician Wealth Services; Emily Guy Birken: Freelance Writer Specializing in Personal Finance and Retirement; Sha'Kreshia Terrell: Founder of Humble Hustle Finance; Kimberly Hamilton: Founder of Beworth Finance; Alicia R. Hudnett Reiss: CERTIFIED FINANCIAL PLANNER™; Athena Lent: Latina Personal Finance Expert; Navicore; Leslie H. Tayne, Esq: Founder and Managing Director of Tayne Law Group, P.C. (f/k/a The Law Offices of Leslie H. Tayne, P.C.); Jeff Rose: Founder, Wealth Hacker Labs and Good Financial Cents; Patrina Dixon: Certified Financial Educator; Sarah Brady: financial consultant, workshop facilitator, and writer; Molly Ford-Coates: Founder, Ford Financial Management; Roger Ma: Financial Planner at LifeLaidOut and author of Work Your Money, Not Your Life; Alexandria White: Credit Cards Reporter at CNBC Select; Marybeth Hamilton: Owner of BabySavers.com; and Gerri Detweiler: Director of Education at Nav Inc..
Questions We Discussed:
Q1: How is everyone doing during this coronavirus pandemic?

Q2: What are your thoughts on panic buying?

Q3: What are some ways we can help those around us during this financially-straining time?

Q4: What are some ways to manage our budgets with many unexpected expenses?

Q5: Many people will have larger credit card bills in 30 days. What tips do you have for repayment?

Q6: How can families still have fun without spending money while social distancing?

Q7: As the outbreak grows, more people are working from home. What are some challenges with remote working?

Q8: What are some smart ways to cut back on expenses?

Q9: What are some ways to keep your credit reports and credit scores strong during the coronavirus outbreak?

Q10: Any final tips on coping with the coronavirus pandemic?
Retweet these insights from our community: