Financial Advice for Veterans
Join our #CreditChat on Periscope, YouTube Live and Twitter on Wednesday, November 7th, at 3 p.m ET. This week, we're giving back to the Veteran community by hosting a special Veteran's Day #CreditChat. Join us and share your best financial advice for our Veterans.
Topic: Financial Advice for Veterans         
When: November 7, 2018 at 3 p.m. ET.  
Easy ways to chat with us on Twitter: Tchat
The panel will include: Rod Griffin: Director of Public Education at Experian; Christine M. Maxwell: Personal Finance Writer; Chris Cline: Media Relations Specialist; Daniel Kopp: Founder of Military Life Planning; Ryan Guina: Founder of The Military Wallet; Sonya Smith-Valentine: Financial Confidence Expert; AmeriForce; Kate Horrell; Alecia Blair: Accredited Financial Counselor and Director of Military Saves; Lacey Langford: Founder of MilMoney Movement; and DJ and Dannie. 
Questions We'll Discuss:
Q1: Are veterans benefits taxable?
Q2: Why are veterans suffering financially more than civilians?
Q3: What's the best way for veterans to invest for retirement?
Q4: What is a VA loan and how does it work?
Q5: Is there a minimum credit score needed for a VA loan?
Q6: Can you get a VA loan with having a bankruptcy?
Q7: What are some tips to avoid veteran benefits scams?
Q8: Is there financial assistance for families of veterans?
Q9: Does the GI Bill affect financial aid eligibility?
Q10: Any final tips for those in the process of transitioning into civilian life?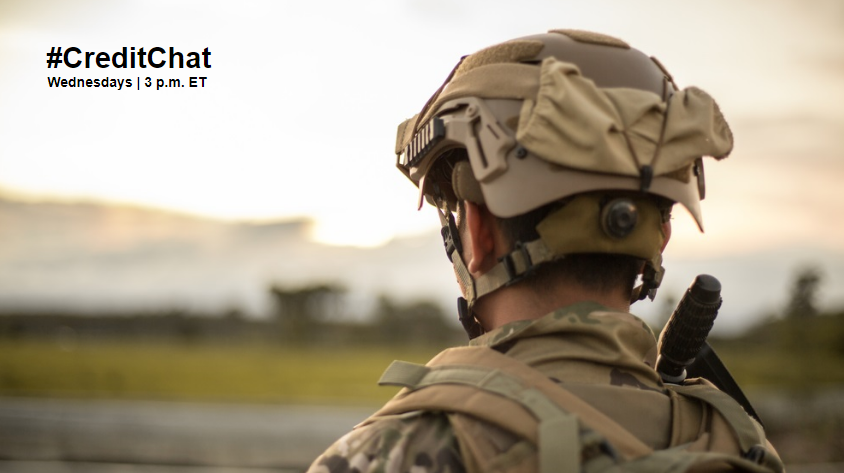 If you've never heard about #CreditChat, here is a brief overview:
Relevant chats on YouTube: