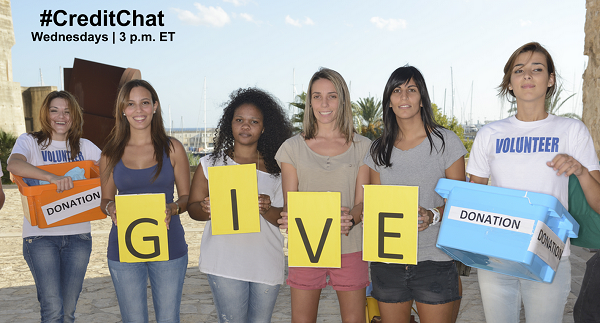 Join our #CreditChat on Twitter and YouTube every Wednesday at 3 p.m. ET.
Since it's the holiday season — and we're about to start a new year — we thought it would be a great time to discuss practical ways to give back with our time and resources.
We're excited to have Talaat and Tai from His & Her Money and Melody Smith Jones from HerOwn.net join us in this chat as we discuss  the importance of generosity with them. Make sure to follow them @HisAndHerMoney.
Topic: Easy Ways to Give Back (And Help Others)

When: Wednesday, December 24 at 3 p.m. ET.
Easy ways to chat with us on Twitter: Twubs or Tchat
We will not have a video chat during this hour – but we'll be back next week.If you're interested in being a guest on Twitter or YouTube for an upcoming chat, please tweet @mikedelgado.
Upcoming Chats
Check Out Past Chats:
Check out all the tweetchats storified here.
Featured In: