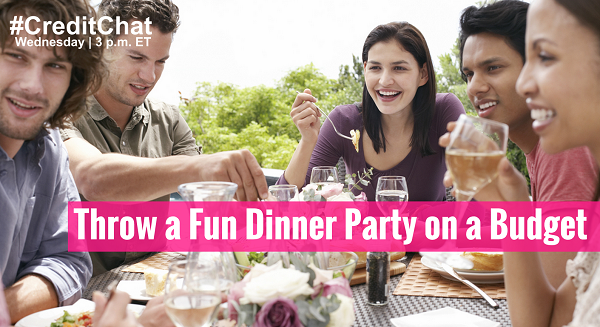 Join our #CreditChat on Twitter and YouTube every Wednesday at 3 p.m. ET. This week, we're excited to talk about ways to throw a fun dinner party on a budget.
Topic: How to Throw a Fun Dinner Party on a Budget

When: Wednesday, September 24 at 3 p.m. ET.
Easy ways to chat with us on Twitter: Twubs or Tchat
Join us on Twitter by using the #CreditChat hashtag – and tune in to the discussion on YouTube. We'll be featuring favorite tweets during the video hangout. The video panel will include: Brian Worley – YourBASH!, Annette Joseph – Author of Picture Perfect Parties, Cameron Huddleston – Kiplinger, Claire Murdough - ReadyForZero,  Rod Griffin – Director of Public Education at Experian, Mike Delgado – Experian and more.

We will embed the live streaming video on this page during the chat. If you'd like to join the video chat, please let us know by emailing Mike Delgado. We would love to meet you.
Upcoming Chats
Check Out Past Chats:
Do you have a great idea for an upcoming tweetchat?
Send #CreditChat topics and guest suggestions to @MikeDelgado
Featured In: