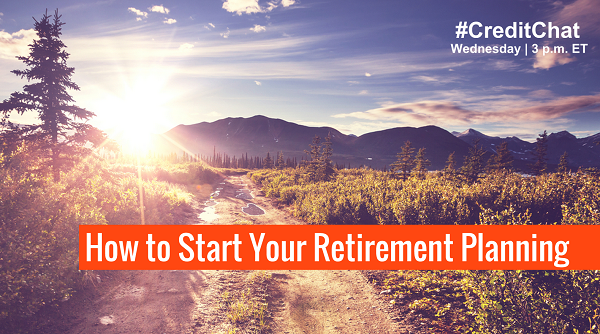 Join our #CreditChat on Twitter and YouTube every Wednesday at 3 p.m. ET. This week, we're excited to talk about retirement and investing for the future.
Topic: How (And When) to Start Your Retirement Planning

When: Wednesday, November 5 at 3 p.m. ET.
Easy ways to chat with us on Twitter: Twubs or Tchat
Join us on Twitter by using the #CreditChat hashtag – and tune in to the discussion on YouTube.  
We will be joined on Twitter with Sylvia Flores, Producer of Broken Eggs – A film About the Looming Retirement Crisis.The video panel will include: Todd Tresidder – Founder of FinancialMentor.com,  Andrew Meadows, Producer of Broken Eggs,  Shannon McNay - Writer & Podcaster at ReadyForZero,  Rod Griffin – Director of Public Education at Experian, Mike Delgado – Social Media Community Builder at Experian, and others.
We will embed the live streaming video on this page during the chat.
Upcoming Chats
If you're interested in being a guest on Twitter or YouTube for an upcoming show, please tweet @mikedelgado.
Check Out Past Chats:
Do you have a great idea for an upcoming tweetchat?
Send #CreditChat topics and guest suggestions to @MikeDelgado
Check out all the tweetchats storified here.
Featured In: