Join our #CreditChat on Twitter every Wednesday at 3 p.m. ET.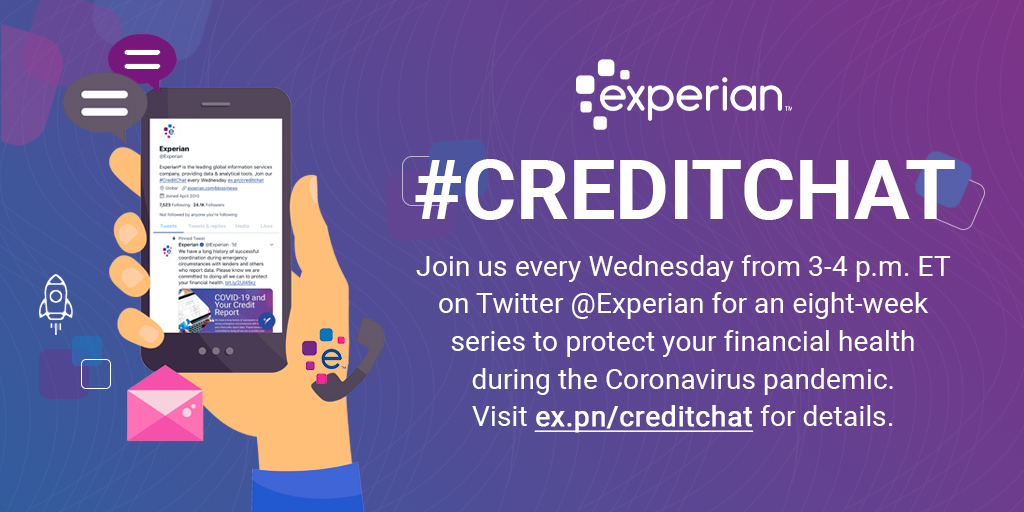 Our weekly #CreditChat started in 2012 to help our community learn about credit and important personal finance topics (e.g. saving money, paying down debt, improving credit scores).
We're hosting an eight-week series focused on ways to protect your financial health during the Coronavirus (Covid-19) pandemic.
Here's how to join our next chat:
Topic: How to Handle Higher Bills, Unexpected Expenses & Debt Shame During the Pandemic
When: Wednesday, April 1, 2020, at 3 p.m. ET.
Where: Twitter chatroom or join the live hashtag discussion.
If you have questions, please DM us on Twitter.
Add these upcoming coronavirus-themed chats to your calendar:
Personal Finance & Credit Discussions:
May 20: Building an Emergency Fund to Reduce Anxiety
May 27: Financial Fears and How to Overcome Them
June 3: How to Pay Off Debt Quickly & Stay Motivated
June 10: Frugal Ways to Enjoy the Great Outdoors
June 17: Personal Financial Planning for Life's Transitions
June 24: Mid-Year Financial Resolution Check-In
July 1: Money Management Strategies for Couples
July 8: Essential Money Tips for New Graduates
July 15: Eating Healthy & Getting Fit on a Budget
July 22: Budget-Friendly Summer Vacation Ideas
Check Out Our Previous Chats:
Topics include: