Reviewing and monitoring your credit reports is an important part of managing your personal finances. Your credit reports contain a lot of information, and it may feel overwhelming at first. To help clear things up, we'll go over what you should focus on during your review.
What to Review on Your Credit Report
Your credit report will be broken into several sections, and their exact order and names can vary depending on where you got the copy of your credit report. Each section is important in its own way, even if the information in the section doesn't directly affect your credit scores.
If you monitor your Experian credit report with an Experian account—which you can do for free—we'll automatically note recent changes in your credit report.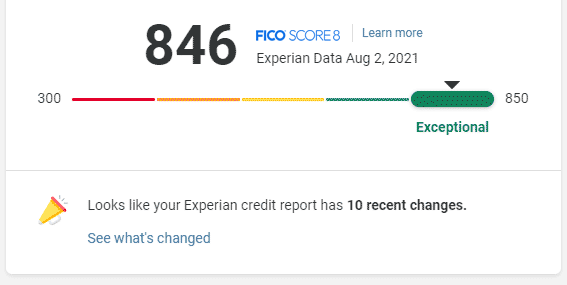 You'll also receive a FICO® Score☉ 8 and score tracking for free. And, we'll explain how the recent changes may impact your credit score.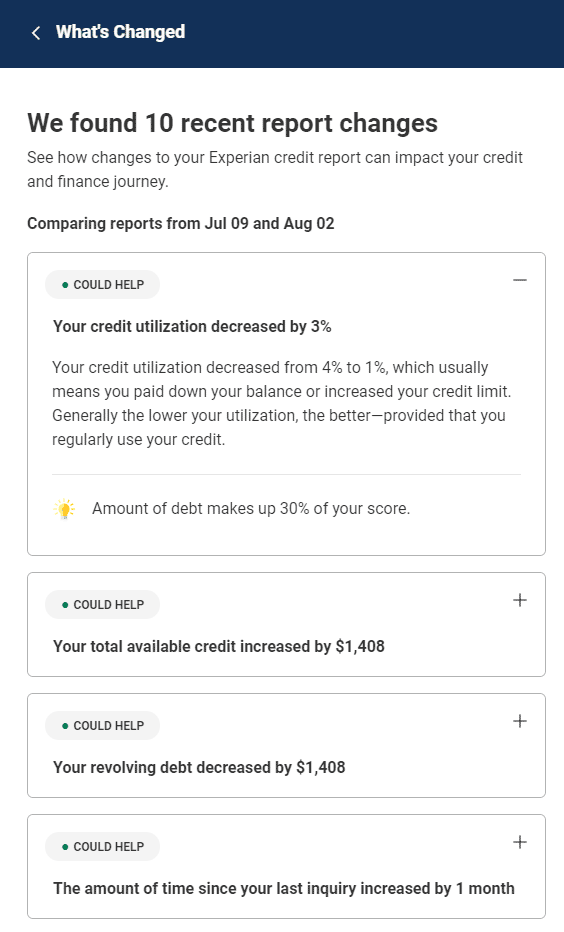 Changes in your credit report are often the result of normal credit usage, such as changes in account balances and paying your bills on time. However, unexpected changes, such as a name being added that you don't recognize or a new account appearing when you didn't apply for one, could indicate an error or fraud.
When you review your Experian credit report online, you may find a summary at the top. Below this, your information will be separated into four categories.
Personal Information
Look for incorrect information that isn't clearly the result of a typo.
Your personal information can include your:
Name, including any nicknames or names you've used in the past
Year of birth
Addresses and any address variations
Phone numbers
Employers that have been reported to Experian
A spouse or co-applicant name
A personal statement
Experian doesn't list your actual Social Security number on your credit report for security reasons, but any variations reported to us by your lenders will appear.
Credit bureaus receive personal information from creditors, including those with whom you've applied for credit. Personal information that's just slightly off (transposed letters, for instance) might be the result of a typo, and you could contact the creditor that reported it to have it corrected. It's also common to find old addresses on your credit reports and common name variations that you may have used, such as Rob if your legal name is Robert. Experian includes this information to ensure you have a complete record of the information reported as belonging to you.
If you want to update your personal information, such as when you move or change your name, simply contact your lenders to provide them with the new information. The creditor will pass on the updates to the credit bureaus the next time it reports your account information—which may happen once every month. If you don't have any open accounts, you can submit documentation showing your new address or name directly to Experian and request that it be added.
Completely unfamiliar names or addresses may be a sign that you've been victimized by identity theft or credit fraud. You can contact Experian to dispute the incorrect information. You may also want to add a fraud alert to your credit reports.
Inquiries
Look for hard inquiries that aren't the result of any application you've made for credit or services.
An inquiry is a record of when your credit report is accessed by a person or organization (yourself included) that's legally authorized to do so.
Hard inquiries: Generally the result of a business checking your credit report because you submitted a new application for credit or services.
Soft inquiries: These can occur when you check your own credit or when a lender obtains your information as part of their preapproval screening. They may also be the result of companies you already do business with conducting periodic account reviews on their customers.
Soft inquiries don't impact your credit scores, and they generally aren't a cause for concern. Even if there's a soft inquiry from a company you don't recognize, that may indicate that the company has prescreened you for a credit offer in order to send you an invitation to apply.
Hard inquiries can impact your credit scores and may stay on your credit reports for about two years. Pay attention to new hard inquiries, as they're often the first step in opening a new credit account. An unrecognized or unexpected hard inquiry might indicate someone used your information to apply for a new account.
However, a hard inquiry could be legitimate even if you don't recognize the creditor's name. For example, if you apply for an auto loan at a dealership, the dealer may submit multiple applications to different lenders to find the best offer—leading to new hard inquiries from each individual lender. Most credit score models will count these as one inquiry, so you don't need to worry about being penalized for shopping for the best rates and terms.
The name of a creditor may also be unfamiliar to you if the creditor's parent company or abbreviated name gets listed on your credit report instead of the name you are used to seeing.
Public Records
Look for information regarding any bankruptcy filings.
Bankruptcy is now the only public record that appears in a credit report. The most common bankruptcies filed by consumers are Chapter 7 and Chapter 13. These can stay on your credit reports for up to 10 or seven years from the filing date, respectively.
If you believe there is incorrect information listed in your public records section, you can file a dispute with Experian.
Accounts
Look for accounts you didn't open, incorrectly reported late payments and other errors in account details.
The accounts or tradelines category may be the longest part of your credit report. It's where you'll find your open credit accounts, including credit cards, loans and lines of credit. Closed accounts can also stay on your credit report for up to 10 years. Collection accounts appear in a separate section and may be removed seven years after the original delinquency that led to the account going into collections.
Each entry in the accounts category can contain a variety of details, including when the account was opened, the account type, its current status, credit limit, required monthly payment and a payment history record that includes on-time and late payments.
Review your accounts carefully to ensure that they are accurate and up-to-date. Keep in mind that the balances reflected on your report may not reflect the current balance on your accounts, as most lenders only update balance information every month or two with their normal reporting cycle. If you see information you feel is incorrect, you can submit a dispute directly with Experian. You can also contact the lender who is reporting the information and ask them to correct and update their account with Experian.
Benefits of Checking Your Credit Report
Checking your credit reports can be important for several reasons:
It shows you an overview of your open accounts and a summary of how you've managed them.
You can look for factors such as late payments that may be hurting your credit scores.
You can look for information you don't recognize that could indicate identity theft and fraud.
Your credit scores depend entirely on the information in your credit reports. If you're trying to improve your credit scores, knowing where you currently stand and what's impacting your scores is a great first step. You can then make changes based on what you find in your unique credit file.
Be Proactive with Credit Monitoring
A credit monitoring service can also help you keep an eye on your credit report. For example, Experian's free credit monitoring can send you alerts about changes to your personal information, new inquiries, new accounts and suspicious activity. If you want more robust protection, the Experian IdentityWorksSM subscription service includes dark web surveillance, identity theft insurance and the ability to lock and unlock your Experian credit file.