Around the time I file my taxes, I try to do some other financial maintenance as well. It's my personal spring financial cleaning: I rebalance my retirement accounts, evaluate my credit cards to determine whether I have the right ones, and review my budget to make sure I'm on track.
This year, I've added one more item to my checklist: go through my credit reports to make sure they are accurate and address any errors.
One of the most important things you can do to maintain healthy credit is to confirm that all the information on your credit reports is correct. That's because even a small error can result in a substantial change in your credit scores, especially if it's a late payment or something that increases your credit usage substantially. Other errors such as an incorrect address have no impact on your credit scores but are worth checking into to ensure they're not an indicator of fraud.
The Fair Credit Reporting Act gives consumers the right to contest the accuracy of information on your credit reports, and the credit bureaus are required to investigate a dispute if you do. But the actual idea of poring over my credit report, highlighting it for mistakes, and then contacting the credit bureau to get any errors fixed is about as appealing as spending a Saturday afternoon getting my wisdom teeth pulled. So naturally, I've put it off as long as possible.
But I was pleasantly surprised by how easy the process has been with Experian's dispute center, which offers a new, intuitive online and mobile interface that makes it shockingly easy to file a dispute and get it corrected quickly.
It's available to everyone, whether you are a member of Experian's products or not although you have access to your credit reports and scores as well as alerts when something new is added to your credit report with an Experian CreditWorks membership. (Full disclosure: I'm an Experian employee.)
How to File a Dispute at Experian
If you're not an Experian CreditWorks or Experian IdentityWorks member, you can log into the dispute center at experian.com/disputes. You'll be required to authenticate your identity with your Social Security number and other personal information to access your credit report. If you are a member, you can find the "Dispute Center" link on the bottom left of the page once you are logged into your Experian member account.
Once there, you can click on the "Start a new dispute" button to initiate the process. The interface flags "potentially negative" items that you may especially want to review to make sure they are accurate. You can also click through to look at every single account on your report and initiate disputes from there.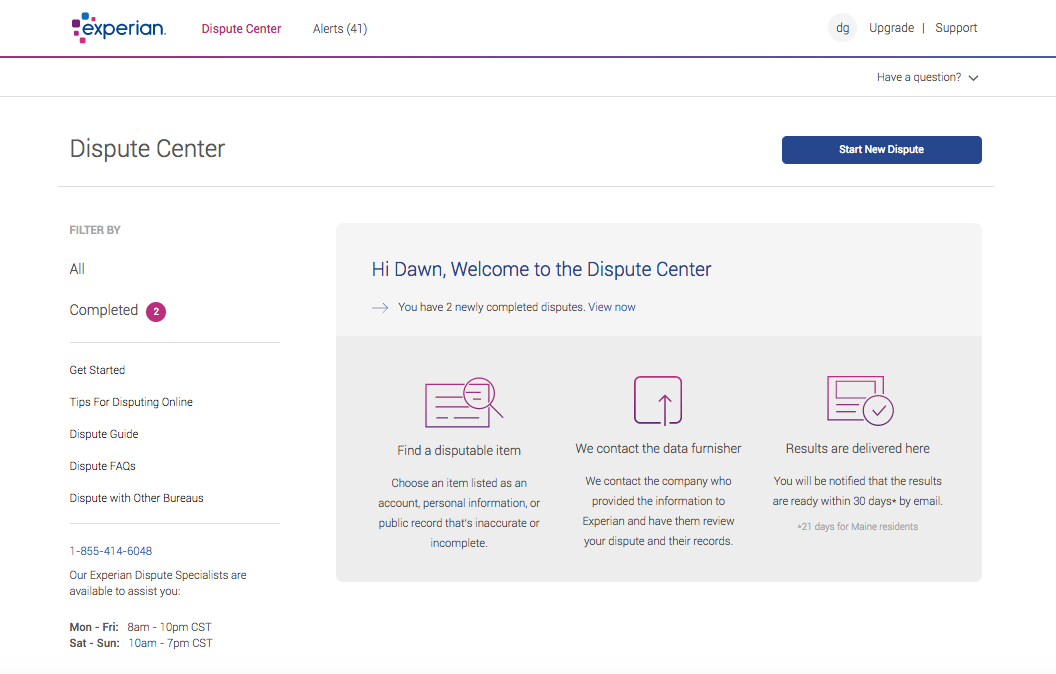 I'm embarrassed to admit I had a couple of late payments under the "potentially negative" tab, including one that I don't think I was actually late on. Once I clicked it, I was asked to choose from a drop-down menu why I was disputing that item.
I chose "payment never late," clicked through to the next screen where I included a comment with details about my situation, reviewed the dispute on the next screen and clicked submit. It took me about five minutes total. Experian confirmed that my dispute had been submitted and gave me an expected resolution date, as well. I can also expect to receive alerts about the status of my dispute.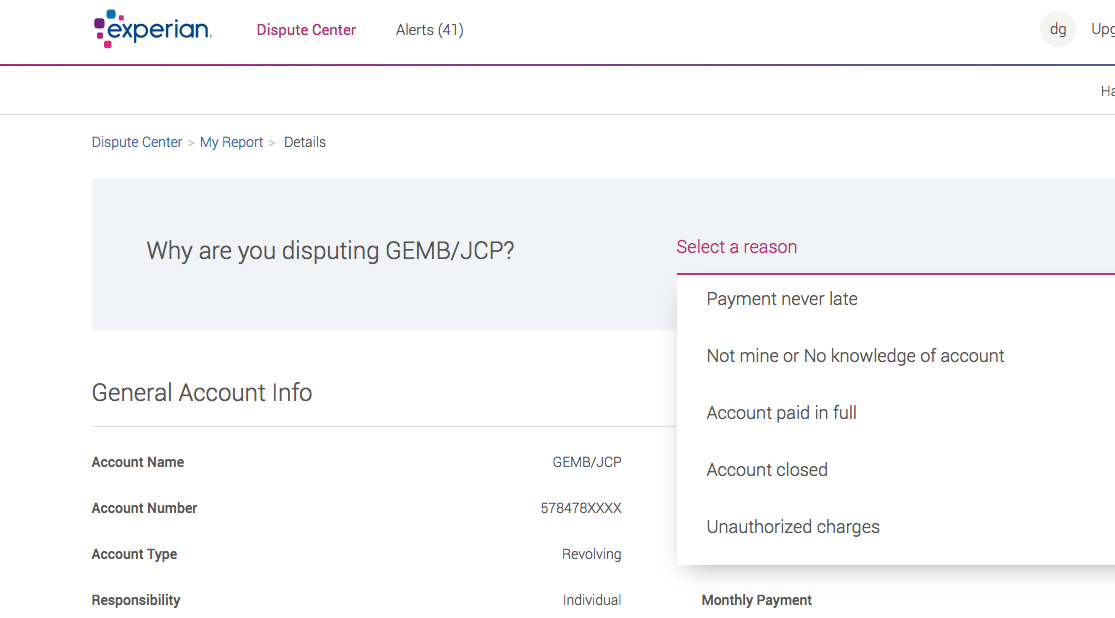 What I really loved about the process was that I could securely submit supporting documents directly online on the next screen. I could even do it through my mobile phone by simply snapping a picture of the document and submitting it that way. No scanning or faxing required.
What to Do When You Can't Dispute Online
Not all disputes can be handled online, however. If you have been a victim of fraud or need to make a correction to your name, for example, you will have to speak with one of Experian dispute specialists to get it corrected. But you can start the process at the dispute center, and if it needs to be escalated to a representative, you will be provided with the appropriate contact information.
Michelle Felice-Steele, senior director of product management at Experian, told me the improvements in the dispute center are a result of consumer feedback.
"We listened to their feedback and made changes to the dispute center, such as designing a better dispute experience on mobile devices," she said. "In addition to being mobile-optimized, the online credit report is easier to read and understand. Individuals can just scroll through their information and click an item on their credit report to start the dispute process—all from the same screen."