Through April 20, 2021, Experian, TransUnion and Equifax will offer all U.S. consumers free weekly credit reports through AnnualCreditReport.com to help you protect your financial health during the sudden and unprecedented hardship caused by COVID-19.
You check your credit and bank statements regularly, don't give out your Social Security number to anyone, and are scrupulous about avoiding phishing emails and online scams. But have you checked your doctor's bill lately?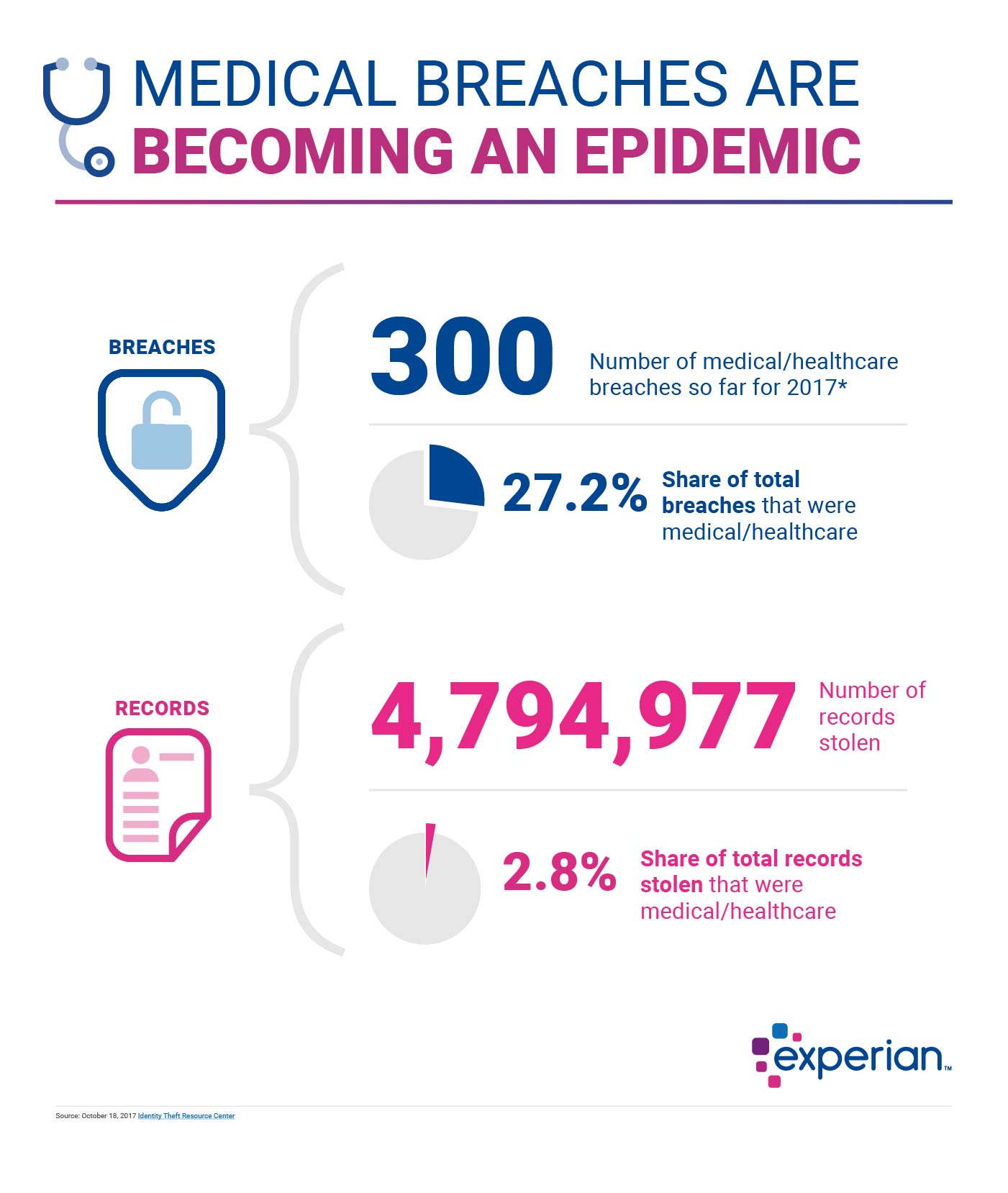 Source: October 18, 2017 Identity Theft Resource Center
What is medical identity theft?
Identity theft for the purpose of obtaining medical treatment, equipment and drugs is on the rise, frequently surprising victims who can find themselves fraudulently owing tens of thousands of dollars in medical debt and even be accused of crimes. According to the Identity Theft Resource Center, more than 171 million Americans have had their personal records exposed to hackers between January and mid-October this year. And while run-of-the-mill ID theft is a huge hassle to deal with, most ID theft victims shelled out just $55 in 2015 to deal with the problem, according to Javelin Strategy & Research. On the other hand, the Ponemon survey found that medical ID theft victims spent nearly $13,500, including paying off fraudulent medical bills.
The damaging impact of medical identity theft
But the damage from medical identity theft doesn't stop there. In 3% of the cases Ponemon examined, medical ID theft victims lost their jobs, 19% said they lost out on potential jobs, and the vast majority of respondents said they ended up embarrassed by the disclosure of sensitive healthcare information. In some cases, medical ID theft victims found themselves in trouble with the law over charges that they'd illegally procured prescription drugs.
Victims also miss out on medical care or reimbursement by seeing their medical claims denied, losing access to their health insurance, being forced to pay to restore their insurance coverage, or being unable to access their own medical records. That's in addition to the damage to credit scores and the loss of time and productivity victims experience as they work to straighten out their credit histories and files.
How can you protect yourself?
The first step is to closely watch your medical records, medical bills/ statements, and any communications or notices you get from benefits providers, health plans, doctors, medical labs and other healthcare providers. The three most common ways that medical ID theft victims discovered they'd been ripped-off was from errors on medical bills or collection letters, discovering mistakes in their health records from treatments given to someone else, or mistakes in their health insurer's explanation of benefits.
The bulk of medical ID theft happens when the thieves use your information to obtain medical services of some kind, either for themselves or someone else, or as part of a scam to inflate medical bills for an unscrupulous medical provider. While many of those thieves obtain the victim's medical information in the typical ID theft pattern of hacking, phishing, stealing mail or copying your records at a clinic or other facility, about half of all medical identity theft happens among family members. The Ponemon survey results found that 24% of medical identity theft victims said a family member took their medical credentials and used them without permission—but another 23% said they willingly shared their healthcare information to help a family member or friend obtain medical care.
The reasons for what's called "friend fraud" were pretty basic — in the bulk of cases, the person with health coverage was helping out someone who either didn't have coverage, couldn't afford treatment, or needed treatment in an emergency. And while most of the people who shared medical info considered it no crime, or a minor one, it's still considered fraud against your medical insurers and providers. Sharing Medicare or Medicaid information with someone else to help them obtain coverage is a state and federal crime.
The Federal Trade Commission and other experts have several tips to prevent medical ID theft:
Secure any paper and electronic copies of your medical and health insurance records in a safe place.
Shred or burn health forms, statements for insurance, prescriptions and medical care, along with the labels from prescription bottles.
Don't share any personal or medical information over the phone, in person or over the Web unless you initiate the conversation. When entering information online, make sure it's necessary and required, and that the site shows up as "secure" (with a lock icon) in your browser and that the website URL starts with https — the "s" stands for "secure."
If you're offered "free" medical quotes, services or products, be suspicious, especially if the person needs detailed medical information. "Medical identity thieves may pretend to work for an insurance company, doctors' offices, clinic, or pharmacy to try to trick you into revealing sensitive information," The FTC warns. Call your medical provider if you are in doubt.
Monitor your insurance records, benefits statements and medical records. Ask your insurer for a list of benefits paid in your name if you suspect fraud has happened, and get copies from your medical providers and pharmacist.
Review your credit history. Most medical ID theft is first detected when a victim gets a collection notice for an unpaid medical bill. Checking your free annual credit report from the big three credit bureaus — Equifax, Experian and TransUnion — will show any unpaid bills. You can get your free annual reports at https://www.annualcreditreport.com/. Beware other sites that might try to charge you or steal your information.
One area where protecting your identity is getting easier is with your Medicare cards. Security experts warn against carrying around your Social Security card or anything that lists that number, because obtaining those nine digits makes identity fraud much, much easier. Medicare also uses Social Security numbers as Medicare ID numbers and has printed the entire thing on Medicare ID cards that need to be presented at doctor's offices, clinics and pharmacies.
Starting in April 2018, however, Medicare cards will get a makeover that includes a separate, randomized ID code and will no longer list Social Security numbers. But, of course, a mass mailing of new cards also is an opportunity for more identity theft, so be wary of con artists calling to "confirm" your new card, send you a replacement card, collect a fee or issuing a new card, or any similar request.
What to do if you're a victim
If you've been a victim of medical identity theft:
File a police report, which is important to protect you if an ID theft starts using your information to commit crimes. Get copies and send them to your insurer, medical providers and all credit bureaus.
File a medical identify theft complaint with the Federal Trade Commission online or call the FTC's toll free hotline at 1-877-IDTHEFT (438-4338).
Consider placing a freeze or fraud alert on your credit reports.
Notify your insurer and medical providers, get copies of your medical files and ask to have them corrected (while it can be time consuming, it's an important process). If you can't get access to your files, you can appeal any refusal as described under your health plan's "notice of privacy practices" policy. If that doesn't work, consider filing a health-privacy complaint with the U.S. Department of Health & Human Services online or call 1-800-368-1019.