If you're one of the more than 44 million Americans with student loan debt, you know that managing the repayment of those loans often feels like an exercise in cat herding. Chances are, you're juggling multiple loans taken out in different years or semesters. On average, student loan borrowers have between three and four student loans on their financial plate. And that mix of debt might include both federal loans backed by the U.S. government, and private loans from a bank or credit union.
Staying on top of all that is no small or easy task. As of 2017, the average student loan balance is $34,144, and tripping up can bleed into other parts of your financial life, as your track record repaying student loans impacts your credit scores.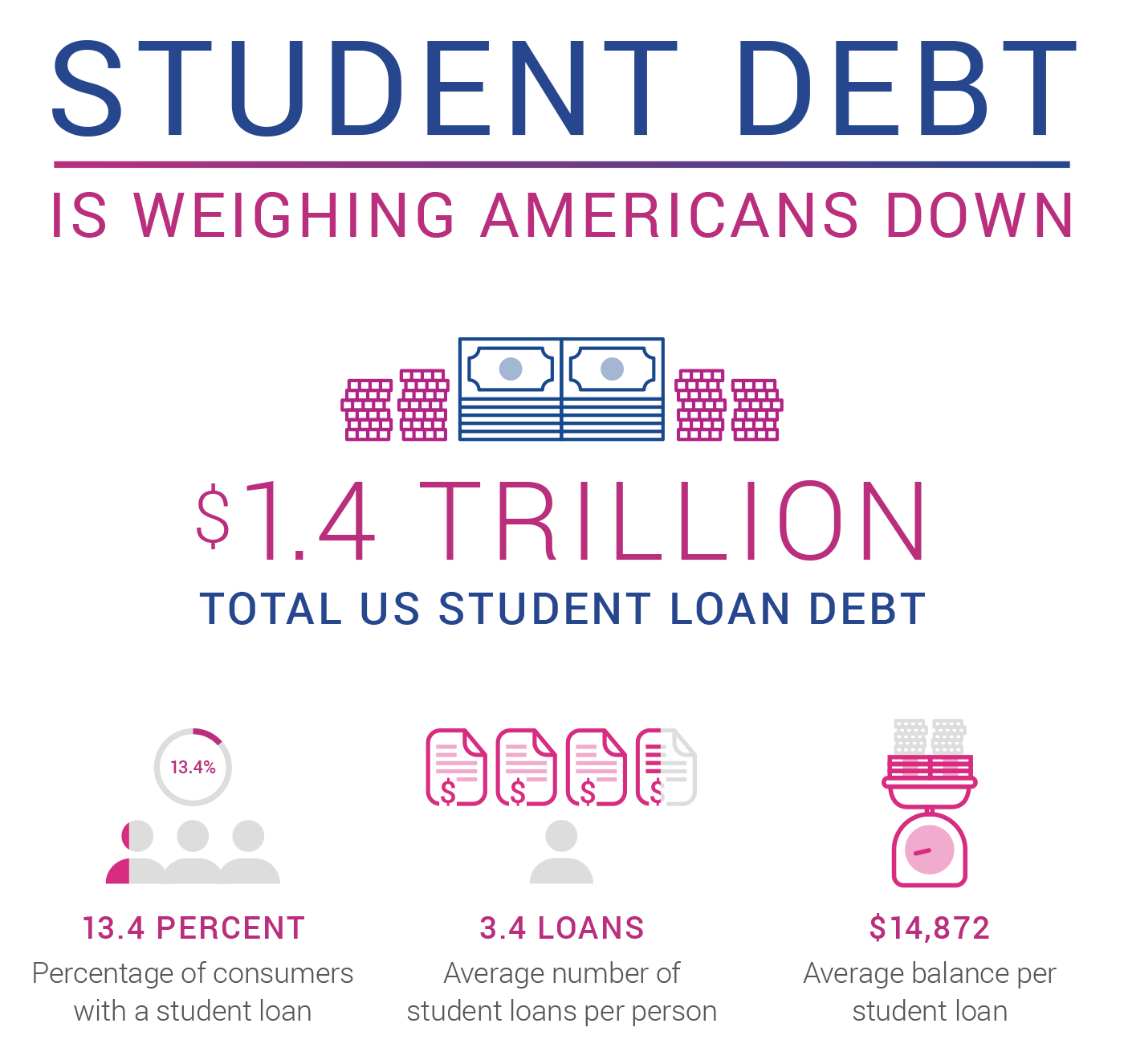 Student Loan Consolidation Can Help You Manage Repaying Your Loans
With student loan consolidation you roll your multiple loans into one larger loan. No longer having to juggle multiple payments is a valuable time saver and stress reducer. It might also help you build stronger credit scores, as on-time debt payments, including student loans, is a significant part of determining your credit scores. You may also be able to benefit from lower loan payments through student loan consolidation, though there are tradeoffs to consider when seeking a lower monthly payment.
Student loan consolidation, which is also called student loan refinancing, comes in two main flavors:
Federal loan consolidation
Private loan consolidation
Getting schooled on the differences of each option will help you choose the student loan consolidation that makes the most sense for you.
Federal Student Loan Consolidation
Student loans backed by the U.S. government, such as Stafford loans, Perkins loans and parent PLUS loans can be consolidated into a Federal Direct Consolidation Loan. You are not permitted to add any private student loans you obtained from a bank or credit union into loans you want to consolidate through the Federal Direct Consolidation Loan program.
You can get a complete list of all your outstanding federal loans through the free National Student Loan Data System website.
There is no fee to use the Federal Direct Consolidation Loan Program. You can apply directly online.
The interest rate on a Federal consolidation loan is a fixed rate, meaning it will not fluctuate from month to month or year to year. The fixed rate is based on the interest rates on the loans you are combining. The bigger the balance for a given loan, the more impact its interest rate will play in determining your consolidated loan rate.
Federal Student Loan Consolidation Key Considerations
No Qualifying Hoops to Jump Through. Anyone with one or more federal student loans is eligible for the Federal Direct Consolidation Loan Program. As long as you are up to date on your payments, you will be able to consolidate. Your credit scores are not used to determine your eligibility.
Flexible Payback Options. Federal student loan borrowers can choose among different repayment programs. The standard payback period is 10 years, but there are other programs where you can extend payment to 20 years or more. With some plans, if you stay on time with your payments, any remaining debt after 20 or 25 years may be forgiven. Certain public service workers may qualify for loan forgiveness in just 10 years.
Extending your payback period can be tempting, as it will reduce your monthly payment. But keep in mind that the longer you take to pay off a loan, the more interest you will pay over the life of the loan. And the sooner you get your student loans paid off, the sooner you can divert more of your savings to other key financial goals, such as retirement, a home down payment, or perhaps a 529 College Savings fund for your children.
If you are already enrolled in a federal loan forgiveness plan, consolidating loans may wipe out any credits you have already earned.
Ability to Hit the Pause Button. Sometimes life gets in the way of staying on pace with monthly loan payments. A layoff, a serious illness or maybe you decide to go back to school and your reduced income makes it hard to keep paying back your existing loans. A federal consolidated loan is eligible for the government's forbearance and deferment programs that can help you navigate around any speed bumps that may arise.
Moreover, if a borrower dies before paying off a federal student loan, the government does not require that the estate or heirs continue paying back the debt.
Private Student Loan Consolidation
Banks, credit unions and online lenders also offer student loan consolidation. Loans offered outside of the federal loan program are called "private" student loans. You can use a private consolidation loan to streamline existing private loans, existing federal loans or a combination of federal and private loans.
Private Consolidation Loan Key Considerations
Credit Scores Come into Play
Unlike the federal consolidation program, your finances will be pored over by a lender to determine if you qualify for a consolidation loan and what sort of deal you might be offered. The best private loan consolidation deals are typically reserved for borrowers with high credit scores.
Checking your credit reports and credit scores before you apply for a private student loan will help you size up whether you will be a strong candidate for private student loan consolidation. (Click here to see tip: What is a Good Credit Score?)
Consider Adding a Co-signer
Adding a co-signer with a strong credit history to your loan application may help you snag a better deal. That said, care is needed in considering this move. You are asking someone-Mom, Dad, your favorite aunt or uncle—to put their money on the line. A co-signer is legally responsible for making loan payments if you fall behind.
Take Careful Interest
Many private student consolidation loans charge a variable interest rate. If you have strong credit scores, you may qualify for an initial variable rate that is less than the permanent fixed rate you would pay on a Federal loan consolidation (if you have federal loans). That's undeniably enticing.
But be mindful that a variable rate may ratchet higher based on changing economic conditions, or if you fall behind on your payments. A low variable rate today may not stay low over a 10-year repayment. A higher interest rate will increase your monthly payment. If you don't want to take that risk, ask private lenders what sort of consolidation deal you might qualify for that has a fixed interest rate.
Grab an Automatic Discount
If you opt for a private student loan, many lenders will shave 1/8th to 1/4th of a percentage point from your interest rate if you sign up to have your payments automatically debited from a checking or savings account.
Be Careful When Considering Private Loan Consolidation of Federal loans
You are allowed to consolidate federal loans into a private loan. You can't do the reverse. If you have good credit scores, you might qualify for a private loan with an interest rate that is less than what you would pay on a Federal student loan consolidation. And the prospect of bunching a motley crew of federal and private loans into one private consolidation loan can be a big sanity boost.
Just weigh the tradeoffs when you move federal loans into a private consolidated loan. Loan features on federal loans, such as forbearance and deferment are not standard with private student loans, and you typically will not have the same range of repayment plans as offered with federal loans. If you value having more repayment flexibility, a Federal Student Consolidation loan may be the better option.
---