At Experian, one of our priorities is consumer credit and finance education. This post may contain links and references to one or more of our partners, but we provide an objective view to help you make the best decisions. For more information, see our Editorial Policy.
A credit card issuer is a bank or credit union that provides a credit card directly to the end user, such as a consumer or small business owner. If you take a look at a credit card, you're likely to find a lot of different company names on it, in addition to the card issuer.
Major banks that are credit card issuers in the U.S. include American Express, Bank of America, Barclaycard, Capital One, Chase, Citi, Discover and US Bank. However, there are also several large credit unions that are major credit card issuers such as Navy Federal and Penfed Federal Credit Union.
Finally, there are hundreds of local and regional banks and credit unions that issue credit cards directly to consumers and small business owners.
Let's take a look at who credit card issuers are, what they do and who all those other names on the card are.
How Card Issuers Work
A credit card issuer is responsible for the relationship between a cardholder and their accounts. This includes reviewing applications, mailing and activating credit cards, issuing statements, and processing payments.
A card issuer can also offer rewards and benefits, as well as report your payment history and other information to the credit bureaus.
By approving or declining applications, and setting the cardholder's credit limit, the card issuer is the company that accepts the risk of default. It also sets the credit card's interest rates and fees and stands to profit from its relationship with consumers.
Card issuers also receive merchant fees, which are a percentage of the sale price that stores are charged when they accept credit cards for payment.
How Credit Card Issuers Differ From Co-Branded Partners
Many credit cards are marketed with co-branded partners, such as retailers, airlines or hotels. Often, the name of the co-branded partner will appear more prominently than that of the actual card issuer, leading many credit card users to confuse the two.
To be clear, airlines, hotels, and stores don't issue credit card themselves—it will always be issued by a bank or credit union. This is true even if the credit card issuer's name only appears in small print on the back of the card.
If you have a problem with your card or its benefits, you'll need to contact the credit card issuer, not the co-branded partner that appears on the card.
When you have a co-branded rewards card, the card issuer will purchase reward points or miles from the co-branded partner and distribute these rewards to the cardholder's account with the partner. And should you have a question or problem with one of these rewards programs, then you'll need to contact the co-branded partner that operates the rewards program.
Understanding the Payment Network
Another name that you'll find on your credit card is that of the payment network, such as Visa, Mastercard, American Express or Discover. This company acts as the middleman responsible for processing the payments made to the merchant. They manage the connection between the card issuer, and the merchant processor, which is the company that stores partner with to accept credit card payments.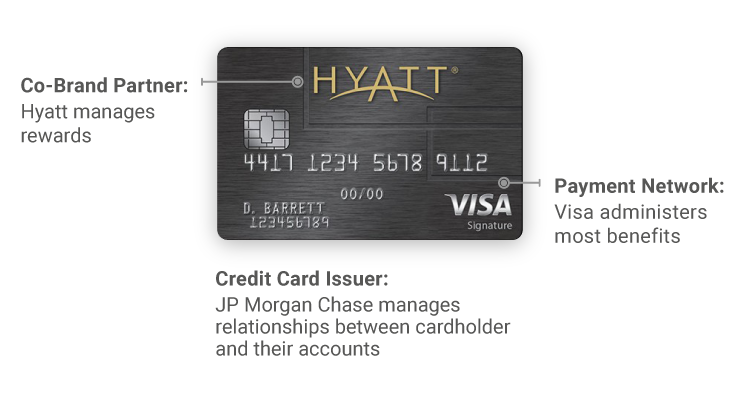 Payment networks can also play a role in administering cardholder benefits on behalf of the card issuers. For example, your card issuer might offer rental car insurance, extended warranty coverage or a price protection policy.
These benefits will likely be administered by the payment network. And while you may need to interact with a designated benefits administrator, there's really no reason why you would ever need to contact a company that is just acting as a payment network, such as Visa or Mastercard.
However, two of the major payment networks, American Express and Discover, are also card issuers. Furthermore, it's also possible that a card can be part of the American Express payment network, but be issued by another bank, not American Express. For example, the PenFed credit union recently introduced its Pathfinder Rewards card, which is part of the American Express payment network.
By learning who card issuers are, and what they do, you'll better understand the relationship between you, them and everyone else. This will make it a lot easier to get the most from your credit card accounts.