At Experian, one of our priorities is consumer credit and finance education. This post may contain links and references to one or more of our partners, but we provide an objective view to help you make the best decisions. For more information, see our Editorial Policy.
A secured credit card can be a good option if you're trying to build credit for the first time, or rebuild your credit and improve your scores. The OpenSky® Secured Visa® Credit Card offers two main benefits over some other secured cards—it doesn't require a credit check, and you don't need a bank account.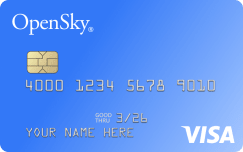 The OpenSky® Secured Visa® Credit Card
Apply
on Capital Bank N.A.'s website
Recommended FICO® Score*
Poor, New to Credit, Rebuilding
The OpenSky® Secured Visa® Credit Card
Card Details
No credit check to apply. Zero credit risk to apply!
Looking to build or rebuild your credit? 2/3 of cardholders receive a 48+ point improvement after making 3 on-time payments
With an 87% average approval rate for the past 6 months, OpenSky gives everyone an opportunity to improve their credit
Extend your $200 credit line by getting considered for an unsecured credit line increase after 6 months - no additional deposit required!
Get free monthly access to your FICO score in our mobile application
Build your credit history across 3 major credit reporting agencies: Experian, Equifax, and Transunion
Fund your card with a low $200 refundable security deposit to get a $200 credit line
Choose the due date that fits your schedule with flexible payment dates
Fund your security deposit over 60 days with the option to make partial payments
Join over 1.2 million cardholders who've used OpenSky to build their credit
| Pros | Cons |
| --- | --- |
| No credit check | Annual fee |
| No bank account required | No upgrade option |
| Reports to all three consumer credit bureaus | Few cardholder benefits |
Customer service contact info for OpenSky
OpenSky® Card Services
800-859-6412
P.O. Box 9224
Old Bethpage, NY 11804-9224
Experian Review
The OpenSky® Secured Visa® Credit Card can help you build credit by reporting your account to all three major consumer credit bureaus—Experian, TransUnion and Equifax. There's no credit check to apply, but the card has an annual fee and few ongoing benefits. Like other secured credit cards, it requires a security deposit (at least $200 in this case) that becomes your credit limit.
Build Credit With No Credit Check
Often, when you apply for a credit card, the credit card company will review your credit report, and a hard inquiry will be added to your credit history. Although the impact may dissipate within a few months, a hard inquiry can hurt your credit scores a little.
No credit check is required when you apply for The OpenSky® Secured Visa® Credit Card, meaning there won't be a hard inquiry. This also means you won't be denied if you have a poor credit history.
There are, however, a few minimum requirements you must meet. You need to:
Be at least 18 years old.
Have a valid Social Security number or individual taxpayer identification number.
Be a U.S. citizen or permanent resident.
Be able to prove you have more income than expenses each month, and enough income to afford your monthly payment on the new credit card.
Not already have two or more credit cards with Capital Bank (the bank that offers The OpenSky® Secured Visa® Credit Card). You also can't have applied four or more times in the past 60 days, and all your current or previous accounts with Capital Bank must be in good standing.
Once you open your card, OpenSky will report your account to the credit bureaus. Building credit with the three bureaus is important because you don't know which credit report future creditors will want to check.
No Bank Account Required
Secured cards require a refundable security deposit—that's what "secures" the credit line. Often, the security deposit amount will determine your card's credit limit, and you can get the security deposit back if your account is in good standing and closed. But the card issuer can keep the money if you stop making payments and default on your card.
Some secured credit cards require you to send your security deposit by linking your bank account or using a debit card. However, this can be an issue for people who don't have bank accounts.
When you open The OpenSky® Secured Visa® Credit Card, you can choose to use a debit card, which is the fastest option. Or, if you don't have a checking account, you can wire money through Western Union or mail a check or money order.
At a minimum, you'll need to send a $200 security deposit. You may be able to send up to $3,000 if you want a higher credit limit and you're approved for one. OpenSky will mail your card after it receives and processes your security deposit, which may take two to three weeks.
A Reasonable Annual Fee
The OpenSky® Secured Visa® Credit Card's $35 annual fee is in line with what you'd expect from other secured cards. However, there are secured cards that don't have an annual fee, and a card with an annual fee won't help you build credit any better or faster than a card without one.
Even if you need to agree to a hard inquiry and have a bank account to fund your security deposit, you may want to save money by prioritizing secured cards that don't charge an annual fee.
If you open a card that does have an annual fee, set a calendar reminder for yourself a year from when you open your card. As your cardholder anniversary approaches, decide if it makes more sense to close the card or pay the fee to keep it for another year.
Few Cardholder Benefits
The OpenSky® Secured Visa® Credit Card's core offering is that it can help you build credit. You can use the card like an unsecured card to make purchases online or in stores. Your card is also eligible for offers and benefits from Visa, such as zero liability for fraudulent purchases and discounts at certain retailers—but there aren't many other perks.
For example, the card doesn't offer any rewards (something several other secured cards do), and there's no opportunity to upgrade to an unsecured card. If you want to switch later, you'll need to close this card and get an unsecured card from a different company.
You can set up a few basic alerts, such as email reminders about upcoming bill due dates. And there are iOS and Android apps, although users give them mixed reviews.
Authorized-User Policy
You can add an authorized user for free once your account is open. Once you do, you will be responsible for all of the authorized user's transactions, such as the purchases they make with their card. If you change your mind later, you will have to get their card back or OpenSky may allow the authorized user to continue using their card.
Is This Card Right for You?
The OpenSky® Secured Visa® Credit Card is a good option for building credit if you have poor credit, or you don't have a bank account for sending a security deposit. However, the annual fee and lack of cardholder benefits make it less appealing than some other secured cards.