At Experian, one of our priorities is consumer credit and finance education. This post may contain links and references to one or more of our partners, but we provide an objective view to help you make the best decisions. For more information, see our Editorial Policy.
If you're new to credit or are working to rebuild your credit, it can be difficult to get approved for an unsecured credit card. The First Digital NextGen Platinum Mastercard® Credit Card could be tempting, but you'd likely be better off with a card that has fewer and lower fees.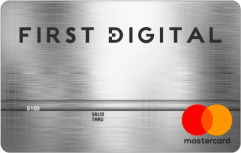 NextGen Platinum Mastercard® Credit Card
Apply
on First Digital's website
Recommended FICO® Score*
Poor - Fair, Rebuilding
NextGen Platinum Mastercard® Credit Card
$75 Annual Fee for first year; after that $48 annually
Card Details
Unsecured Mastercard designed to help with credit issues; we may approve you even if you've been declined elsewhere
Get the security and convenience of a full-feature, unsecured Mastercard® Credit Card – accepted at millions of merchant and ATM locations worldwide and online
Build up your credit with a card that reports to all three major credit bureaus every month
You may be eligible for a Credit Line Increase after 12 months
Perfect credit not required for approval; we may approve you when others won't
Easy and secure online application – It takes just moments to apply
Receive your card more quickly with optional Expedited Processing (additional fee applies)
Get a result in as little as 60 seconds upon completion of the online application
Issued by Synovus Bank, Member FDIC
Checking account required
| Pros | Cons |
| --- | --- |
| An unsecured credit card | High application fee |
| Reports to all three credit bureaus | High annual fee |
| | Monthly servicing fee after the first year |
| | High interest rate |
Customer service contact info
844-358-0074
First Digital Card
P.O. Box 85650
Sioux Falls, SD 57118
Experian Review
The First Digital NextGen Platinum Mastercard® Credit Card is an unsecured card for those with poor or fair credit. But it's also loaded with unusual fees that can wind up costing you more than a secured card's security deposit. Plus, unlike a security deposit, you'll never get the fees back.
Consider the Fees
Many credit cards have fees, some of which you'll have to pay and others you can avoid depending on how you use your card.
Although there are many cards without one, annual fees are the most common required fee. You can find them on some of the best secured cards and on high-end luxury rewards cards alike. Most cards don't charge mandatory fees beyond the annual fee, but the First Digital NextGen Platinum Mastercard® Credit Card tacks them on.
During the first year, you'll pay:
A $95 program fee to open your account
A $75 annual fee, which is in addition to the application fee
For the second and subsequent years:
A $48 annual fee
A $6.25 monthly servicing fee, which adds up to $75 a year
Overall, if you keep the card for two years, you'll pay $293 in fees. In contrast, there are several secured cards that are easy to get and either have no annual fee or a $35 to $39 annual fee. While you might have to provide a $200 security deposit to open your account, your total cost over two years will be lower, and you can get the deposit back when you close your account.
First Digital NextGen Platinum Mastercard® Credit Card also has a few usage-based fees that aren't common on other cards:
Credit limit increase fee: Each time you get a credit limit increase on your card, you'll have to pay a fee that's 25% of the amount your credit limit increased by.
Express delivery fee: There's a $35 fee if you want express delivery for your card.
Expedited telephone payment fee: If you're paying your bill by phone, you have to pay an additional $10 fee.
Additional card fee: A $29 annual fee for each additional card.
You can avoid these fees based on which services you use. However, many credit cards don't charge these fees at all.

A High Interest Rate
Credit cards have an annual percentage rate (APR), which impacts how much interest you're charged when you carry a balance from one month to the next.
The rate may be variable, meaning it will rise or fall depending on benchmark interest rates, or fixed. Many cards also have an initial APR range, and your rate could depend on your creditworthiness. Those with poor credit tend to get approved for rates on the higher end of that range.
According to the Federal Reserve, the average interest rate on all credit cards assessed interest in the first quarter of 2020 was 16.61%. Cards for people with poor credit may have a higher rate, though. In April 2020, U.S. News and World Report found the average interest rate range for "bad credit" credit cards was 18.62% to 21.42%.
The First Digital NextGen Platinum Mastercard® Credit Card has a fixed 35.99% APR on purchases and cash advances for all cardholders. It's more than double the average rate on credit cards, and can lead to large interest charges if you revolve a balance or use the card for a cash advance.
Restrictions on Card Use
One reason people want a credit card is to use it when they're traveling. Even after accounting for a potential foreign transaction fee, it can be safer than carrying cash and cheaper than paying to withdraw foreign currencies from an ATM.
However, according to the card's terms, you can't use the First Digital NextGen Platinum Mastercard® Credit Card outside the U.S. or for purchases in a foreign currency.
You also can't use the card at an automated fuel pump, which limits its usefulness if you drive.

The Good—It Reports to All Three Credit Bureaus
The one silver lining with the First Digital NextGen Platinum Mastercard® Credit Card is that your credit card account and usage will be reported to all three major credit bureaus: Experian, Equifax and TransUnion. It can, therefore, help you establish and build your credit with them.

Additional Info
| | |
| --- | --- |
| Purchase APR: 35.99% | Grace period: 21 days |
| Transfer APR: N/A | Annual fee: $75 first year; $48 after that, plus a $6.25 monthly servicing fee |
| Cash advance APR: 35.99% | Balance transfer fee: N/A |
| Minimum interest charge: $0.50 | Cash advance fee: 3% ($10 minimum) |
| | Foreign transaction fee: You can't use this card to make purchases outside the U.S. or in another currency |
| | Late payment fee: Up to $40 |
| | Returned payment fee: Up to $40 |
Authorized-User Policy
You can add or remove an authorized user from your account at any time. The authorized user will receive a credit card tied to your account, and you'll be responsible for all the transactions and fees from both of your cards. The $29 annual additional card fee will be prorated the first year if you add an authorized user after opening your account.
Is This Card Right for You?
If you're looking for a credit card and have poor or no credit, you may have few options. The First Digital NextGen Platinum Mastercard® Credit Card is one of one card to consider, but also look into cards that don't require good credit and have lower fees. In some cases, a secured card might even cost you less in the long run.