At Experian, one of our priorities is consumer credit and finance education. This post may contain links and references to one or more of our partners, but we provide an objective view to help you make the best decisions. For more information, see our Editorial Policy.
Are you trying to rebuild your credit? If you have a poor credit score, the Secured Mastercard® from Capital One could be a smart alternative to unsecured credit cards with high interest rates and annual fees. This secured credit card charges no annual fee, reports to the three major credit bureaus, and has a low initial credit limit that can help keep your spending manageable.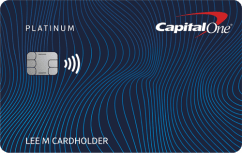 Secured Mastercard® from Capital One
Apply
on Capital One's website
Recommended FICO® Score*
Poor, New to Credit, Rebuilding
Secured Mastercard® from Capital One
Card Details
No annual fee
Unlike a prepaid card, there is regular reporting to the 3 major credit bureaus
Accepted at millions of locations worldwide
Make the minimum required security deposit and you'll get an initial credit line of $200. Plus, deposit more money before your account opens to get a higher credit line
Access to an authorized bank account is required to make your $49, $99 or $200 refundable security deposit
Be automatically considered for a higher credit line in as little as 6 months with no additional deposit needed
We will monitor your account, and as you use it responsibly by doing things like making on-time payments, you may be able to earn back your deposit as a statement credit
Easily manage your account 24/7 with online access, by phone or using our mobile app
Customer service contact info for Capital One
1 (877) 383-4802Capital One
Attn: General Correspondence
P.O. Box 30285
Salt Lake City, UT 84130-0287
| Pros | Cons |
| --- | --- |
| Available to applicants who are rebuilding their credit | Refundable security deposit required |
| No annual fee | Low initial line of credit |
| Potential for a higher credit limit increase after as little as six months | High APR |
| | No rewards |
Experian Review
If you have a poor credit score or no credit history, it can be difficult to get approved for a credit card. That's where the Secured Mastercard® from Capital One comes in. Pay a refundable security deposit to open your account, use the card responsibly, and you can start to build a positive credit score. That's because unlike prepaid cards, the Secured Mastercard® from Capital One reports your payment history to the three major credit bureaus (Experian, TransUnion and Equifax).
Access to a Higher Credit Line With On-Time Payments
In most cases, credit card issuers don't consider credit history when it comes to secured credit cards. That's what makes the Secured Mastercard® from Capital One different. Capital One actually looks at your credit score to determine your deposit, which is either $49, $99 or $200. If your credit score is high enough, your deposit may be lower than your credit limit. (You'll get the deposit back if you close your account and pay the balance in full.) You can make your security deposit online or over the phone, and you can even pay the deposit over time in increments as low as $20—good news for those on a really tight budget.
Once you've paid your deposit and your credit application is approved, your account will open with a $200 initial line of credit. Capital One may give you access to a higher credit limit if you make your first six monthly payments on time. Or, if you want a higher credit limit to start with, make a bigger security deposit, up to the maximum credit limit of $1,000. (If you're seeking a credit limit higher than that, you may want to look for a different secured card.)
To be eligible for the Secured Mastercard® from Capital One, your monthly income must exceed your monthly rent or mortgage payment by at least $425. You must be over 18, have a checking or savings account, and have a valid Social Security number or Taxpayer ID Number.
Enjoy Capital One Cardholder Benefits
The Secured Mastercard® from Capital One comes with plenty of benefits designed to help you manage your money, stay on top of your spending, and protect your financial data and credit score. All of these features make this card a good option for someone who is trying to rebuild their credit or establish credit for the first time. Here's a closer look.
Benefits to Easily Manage Your Account and Spending
Use the personalized payment option to customize your payment date to the best time of the month for you. You can select the monthly due date you prefer and choose your payment method—online, by check or at a local branch.
Making your credit card payments on time is key to improving your credit score. Just set up the AutoPay feature, and your Secured Mastercard® from Capital One payments will be made automatically every month from your chosen bank account—no need to keep an eye on the calendar.
Monthly recurring charges, such as streaming subscriptions, gym memberships or utility bills, can quickly add up. Capital One gives you 24/7 access to a list of merchants that charge your card monthly, making it easy to keep tabs on those expenses.
Use the Capital One® mobile app (available for iOS, Android and Apple Watch) to check account balances, pay bills, view payment activity and transaction details, set up notifications or report fraud. The app lets you choose from Face ID, Touch ID or SureSwipe to quickly access your account securely.
Benefits to Protect Your Data and Credit Score
Proactive account monitoring is a useful feature of this card. You can receive alerts if Capital One detects a potential mistake or unexpected charge, as well as email or text reminders to help you stay on top of your account. Use the Secured Mastercard® from Capital One mobile app to check and monitor your credit score for free with CreditWise, which sends you alerts when your TransUnion or Experian credit score changes.
If your card is lost or stolen, you can instantly lock it using the Capital One mobile app. There's 0% fraud liability, so you don't have to worry about unauthorized charges.
Eno, your virtual assistant, is one of the most useful features of this card. Just download the Capital One app and you can use Eno to keep an eagle eye on your card. Text Eno to get up-to-the-minute account information, such as your current balance and recent transactions—but that's just the beginning of what Eno can do. Get alerts about potential fraud, duplicate charges or unusual charges (did you really pump $485 worth of gas into your tank or leave a 200% tip at dinner last night?). You can also get alerts of unusually high recurring bills. Has your water bill tripled? Eno lets you know so you can find that leak.
You can even use Eno to shop or pay bills online. When you pay with Eno, you can generate merchant-specific virtual numbers linked to your card. Use the virtual numbers to pay for online purchases without having to share your actual card number. If there's ever a security breach, you can just lock or delete that virtual number without the hassles of canceling your credit card and waiting to get a new card. For even more purchasing peace of mind, an extended warranty feature gives you extended protection at no charge on eligible items purchased with the card.
Benefits for Travelers
Whether you're traveling across the country or around the world, the Secured Mastercard® from Capital One has features travelers will appreciate. To start with, the card does not charge foreign transaction fees on purchases made outside of the United States, making it ideal for overseas travel.
Additional Info
| | |
| --- | --- |
| Purchase APR: 26.99% (Variable) | Grace period: 25 days after close of billing cycle |
| Transfer APR: 26.99% (Variable) | Annual fee: $0 |
| Cash advance APR: 26.99% | Balance transfer fee: 3% of the amount transferred if a promotional APR applies; $0 at the transfer APR |
| Minimum interest charge: $.50 | Cash advance fee: $10 or 3% of the amount of the cash advance, whichever is greater |
| | Foreign transaction fee: $0 |
| | Late payment fee: Up to $40 |
| | Returned payment fee: None |
Authorized-User Policy
Are you trying to keep tabs on your family's spending, or give a teen or college student their first experience with managing credit? Then you'll appreciate the authorized-user benefits the Secured Mastercard® from Capital One offers. You can add an authorized user to your account with no need for a credit check. If you stay current with your payments, your authorized users will benefit from your improving credit score, which can help give them a head start on establishing their own good credit score.
As the primary cardholder, keep in mind that you're still responsible for making the monthly payment. Stay on top of it by tracking spending by user and setting up real-time purchase alerts to help you coordinate your family's spending. Run into a problem with an authorized user? You can instantly lock their card so they can't use it and turn it back on whenever you want.
Is the Secured Mastercard® from Capital One Right for You?
The Secured Mastercard® from Capital One could be the perfect choice if you're trying to improve your credit score or establish credit for the first time. On the downside, the card offers no rewards, and its 26.99% (Variable) interest rate is quite high. However, few secured credit cards offer rewards and if you make your payments on time and pay your balance in full each month, you won't have to pay any interest. (If the interest rate is a primary concern, check out other secured credit cards.)
The low credit limit of the Secured Mastercard® from Capital One makes it hard to get into too much financial trouble, while the host of features to keep you on top of your spending and payments offers the helping hand you may need to get back on track. Pay your bill on time, and Capital One may consider raising your credit limit as soon as six months after approval. Bonus: If you're planning a trip overseas in the near future, this card can help you manage your vacation spending without paying foreign transaction fees.