The Identity Theft Resource Center (ITRC) recently announced its 2017 Data Breach report and it's no surprise that breaches are up.Last year there were 1,579 data breaches exposing nearly 179 million records.That represents a 44% increase in the number of breaches and a 389% increase in records exposed.

The IRTC report also stated that the number of credit card numbers exposed in 2017 totaled 14.2 million, up 88% over 2016. In addition, nearly 158 million Social Security numbers were exposed in 2017, an increase of more than eight times the number in 2016.

Identity theft is one of the most common outcomes from data breaches. 31.7% of breach victims in 2016 later experienced identity fraud, compared to just 2.8% of individuals not notified of a data breach in 2016, according to Javelin.

The Federal Trade Commission's Consumer Sentinel Network Report stated that identity theft accounted for 13.87% of all consumer complaints in 2017.

Also, according to a survey conducted by Experian, as of August 2017 most Americans were worried their information could be stolen, as 73% said they are very or somewhat concerned their email, financial accounts or social media info could be hacked, up from 69% in a similar survey conducted in 2015.
Types of Identity Theft
Credit card fraud was the most common form of identity theft (133,015 reports), followed by employment or tax-related fraud (82,051 reports), phone or utilities fraud (55,045 reports), and bank fraud (50,517 reports) in 2017, according to the FTC.
Other significant categories of identity theft reported by victims were loan or lease fraud (30,034) and government documents or benefits fraud (25,849 reports). Credit card fraud also increased 23% over 2016, overtaking employment or tax-related fraud as the most common.
Fraud Statistics
Consumers reported $905 million in total fraud losses in 2017, a 21.6% increase over 2016. The with a median amount lost was $429.
Consumers reported $905 million in total fraud losses in 2017.
21% of the consumers who reported a fraud-related complaint lost money. The most common method money was paid out was via wire transfer.
64% of all fraud-related complaints reported the method of initial contact.

Of those complaints, 69.8% said the telephone and 9.7% said e-mail.
Only 5% of those consumers reported mail as the initial point of contact.
At-Risk Age Groups
When it comes to scams, children and seniors are at the biggest risk.
Child Identity Theft
There were 13,852 identity theft complaints to the Federal Trade Commission in 2017 affecting children and teens (age 19 and under), which represents 3.89% of all identity theft complaints for the year. This is a slight decrease since 2016, but it's still a huge issue as many times this can go unnoticed since children or their parents aren't often checking a child's credit.
In 2017, there were 13,852 complaints of child and teen identity theft.
Experian is alerted to 25,000-30,000 fraud cases reported each year and approximately 17% were targeted at children. Child identity fraud or theft will affect 25% of kids before turning 18.
Senior Identity Theft/Senior Scams
The FTC also reported that 35% of fraud complaints and 18.9% of ID theft complaints impacted seniors (Americans who are 60 years or older) in 2017. Seniors can fall victim to scammers if they trust the wrong person, who may develop a relationship over time by preying on them over the phone or via email.
Identity Theft Statistics by State
Michigan is the state with the highest per capita rate of reported identity theft complaints. Florida, California, Maryland and Nevada rounded out the top 5 states where ID theft complaints were made according to the FTC.
Identity Theft Complaint Report by State (2017)
Rank
Victim State
Complaints Per 100,000 Population
Complaint Reports
1
Michigan
151
15,027
2
Florida
149
31,167
3
California
140
55,418
4
Maryland
129
7,788
5
Nevada
128
3,828
6
Delaware
126
1,211
7
Illinois
124
15,841
8
Rhode Island
123
1,302
9
Georgia
120
12,548
10
Arizona
119
8,330
11
Texas
118
33,454
12
Connecticut
114
4,078
13
Colorado
108
6,051
14
New Jersey
106
9,533
15
New York
103
20,397
16
Washington
99
7,360
17
Pennsylvania
97
12,468
18
North Carolina
92
9,424
19
New Mexico
91
1,909
20
Virginia
90
7,656
21
South Carolina
90
4,509
22
Oregon
90
3,714
23
Massachusetts
88
6,016
24
Tennessee
83
5,586
25
New Hampshire
82
1,097
26
Missouri
82
4,994
27
Utah
79
2,452
28
Idaho
79
1,356
29
Ohio
78
9,121
30
Minnesota
78
4,324
31
Indiana
75
5,027
32
Alabama
74
3,609
33
Oklahoma
74
2,901
34
Kansas
72
2,100
35
Louisiana
71
3,340
36
Arkansas
69
2,084
37
Mississippi
69
2,064
38
Kentucky
69
3,060
39
Wyoming
67
389
40
Alaska
67
494
41
Wisconsin
64
3,731
42
Hawaii
62
890
43
North Dakota
62
467
44
Nebraska
61
1,170
45
Montana
61
638
46
Maine
60
806
47
Iowa
59
1,870
48
Vermont
57
354
49
West Virginia
55
1,000
50
South Dakota
46
403
Source: FTC Consumer Sentinel Network Data Book 2017
Fraud Statistics by State
Approximately 1.1 million complaints were fraud-related last year, and Florida is the state with the highest per capita rate of reported fraud and other types of complaints, followed by Georgia and Nevada. Consumers reported paying over $744 million in those fraud complaints with the median amount paid at $450.
Fraud and Other Complaint Reports by State (2017)
Rank
Consumer State
Complaint Reports Per 100,000 Population
Complaint Reports
1
Florida
993
208,443
2
Georgia
924
96,316
3
Nevada
770
23,071
4
Delaware
758
7,290
5
Michigan
750
74,689
6
Texas
729
206,305
7
Maryland
694
42,032
8
Alabama
687
33,467
9
South Carolina
660
33,137
10
Tennessee
649
43,579
11
Arizona
644
45,158
12
Missouri
640
39,148
13
Virginia
613
51,932
14
Ohio
598
69,764
15
New Mexico
590
12,326
16
North Carolina
587
60,261
17
Louisiana
582
27,266
18
California
570
225,296
19
Colorado
568
31,833
20
Rhode Island
561
5,947
21
Pennsylvania
560
71,771
22
New Jersey
556
50,085
23
Connecticut
541
19,402
24
Indiana
521
34,765
25
Washington
521
38,549
26
Illinois
518
66,353
27
Mississippi
514
15,339
28
Oregon
512
21,225
29
New York
510
101,265
30
New Hampshire
509
6,832
31
Kentucky
502
22,371
32
Kansas
501
14,586
33
West Virginia
493
8,953
34
Massachusetts
481
33,006
35
Arkansas
481
14,438
36
Oklahoma
478
18,770
37
Idaho
477
8,187
38
Montana
473
4,968
39
Wisconsin
452
26,196
40
Minnesota
434
24,200
41
Hawaii
428
6,116
42
Maine
423
5,647
43
Wyoming
414
2,396
44
Utah
413
12,817
45
Alaska
406
3,005
46
Nebraska
395
7,590
47
Vermont
388
2,417
48
Iowa
330
10,370
49
South Dakota
309
2,689
50
North Dakota
277
2,090
Source: Federal Trade Commission
The Financial and Emotional Impacts of Identity Theft
The ITRC's latest Aftermath study showed 27% of identity theft complainants reported they contacted law enforcement about the theft. Of those, 87% indicated a report was taken.
However, identity theft has consequences beyond the loss of data and personal information—it can take a lot of time and money to resolve and can bring emotional distress. The statistics from the study show:
26% of respondents had to borrow money from family or friends.
22% took time off work.
15.3% of respondents sold possessions to pay for expenses caused by their identity theft.
6.7% obtained a payday loan.
26% of survey respondents borrowed money from family or friends to deal with identity theft and 7% obtained a payday loan.
When it comes to the emotional impact of identity theft, many feel annoyance about the fact that they have to spend so many hours dealing with the problem, often taking time away from work. These statistics about the emotional impact of identity theft:
66% of respondents experienced fear regarding their personal financial security.
53% felt a sense of powerlessness or helplessness.
7% reported feeling suicidal. (If you're feeling suicidal for this or any other reason, please call the National Suicide Prevention Lifeline at 1-800-273-8255.)
75% of identity theft victims reported that they were severely distressed by the misuse of their information.
25% of respondents said they sought professional help to manage their identity theft experience—either going to a doctor for their physical symptoms, or seeking some kind of counseling (therapy, group therapy, or some kind of support in that manner for the emotional implications).
Fraud and Identity Theft Statistics by Type
Credit Card Fraud
More than 32% of Americans complained about credit card fraud in 2016, double the rate from 2015, according to the Federal Trade Commission. Javelin Strategy reported that criminals stole $16 billion via identity fraud in 2016 and ecommerce fraud increased more than 30% in the first six-months of 2017 according to Experian.
More than 32% of Americans complained about credit card fraud in 2016, according to the FTC.
Holiday Shopping Fraud
During the 2017 holiday season (Thanksgiving Day through December 31), online fraud attempts increased 22% over 2016, according to new benchmark data from ACI Worldwide. The number of eCommerce transactions grew by 19%.
Fraud attempts were highest on:
Thanksgiving Day: 1.94%, up from 1.26% in 2016
Christmas Eve: 1.78%, up from 1.48%
December 21 (the cutoff date for express shipments): 1.67%, up from 1.49%
During the 2017 holiday season, 1 out of every 85 transactions was a fraudulent attempt.
During the 2017 holiday season, 1 out of every 85 transactions was a fraudulent attempt, compared to 1 out of every 97 transactions in 2016 and 1 out of every 109 transactions in 2015.
Imposter Scams
Impostor Scams, when a scammer pretends to be someone you know and trust, moved up to be the number one complaint to the FTC in 2017. One in five people who were victims of an imposter scam lost money, totaling $328 million. For military consumers, imposter scams were the number one complaint category in the Consumer Sentinel Network Report, followed by telephone and mobile services at number two.
Mail Identity Theft
Mail identity theft is one of the oldest ways for a criminal to steal your personal information and according to the US Postal Service's Annual Report, it received over 60,000 complaints of mail theft in 2016, which resulted in over 2,000 convictions.
Medical Identity Theft
Medical identity theft can be harder to discover than other types of ID theft because it happens when someone steals another person's identity to obtain medical services. More than 27% of data breaches in 2017 were medical or healthcare related according to the Identity Theft Resource Center.
More than 27% of data breaches in 2017 were medical or healthcare related.
Mortgage Fraud
Mortgage fraud occurs when a borrower, broker or an appraiser lies about information on the application for a mortgage loan. During the mortgage crisis, Experian estimated that first-party fraud—like loan stacking—may have accounted for more than 25% of all consumer credit charge-offs at the time.
Online Shopping Fraud
Online shopping fraud, or ecommerce fraud, occurs when a criminal leverages stolen payment information or fraudulently acquired bank or credit card accounts to make retail transactions without the account owner's knowledge.
Ecommerce fraud increased more than 30% in the first six-months of 2017 compared to the same time in 2016, according to Experian. In 2017, Oregon was the top state for ecommerce fraud ranking #1 for both billing and shipping fraud.
The Growth of Online Shopping Fraud
Juniper Research's Online Payment Fraud white paper reports that the transactional value of card-not-present fraud (fraud that occurs when the card is not physically presented during the purchase, such as over the phone or online) is estimated to reach $19.3 billion in 2022.
Online payment fraud is anticipated to grow 13.7% annually from 2017 to 2022. Digital banking fraud should reach $7.9 billion by 2022. $50.9 billion is expected to be spent on fraud detection and prevention software between 2017 and 2022.
Synthetic ID Theft
Synthetic identity theft occurs when criminals create a fictitious identity using various pieces of real and fabricated information—such as a Social Security number, date of birth, address, phone number and email. The immediate victim is the bank or lender, but long-term, whoever's Social Security number is used (this can be a child or adult), will have to deal with the impact of any accounts or debts attached to them fraudulently.
The average synthetic identity theft loss is $6,000 according to data from Experian. While many industry analysts may not agree on the total amount of money lost from synthetic ID theft, estimated to be in the billions, Aite Group stated that synthetic ID theft would cause $800 million in losses for credit card issuers in 2017.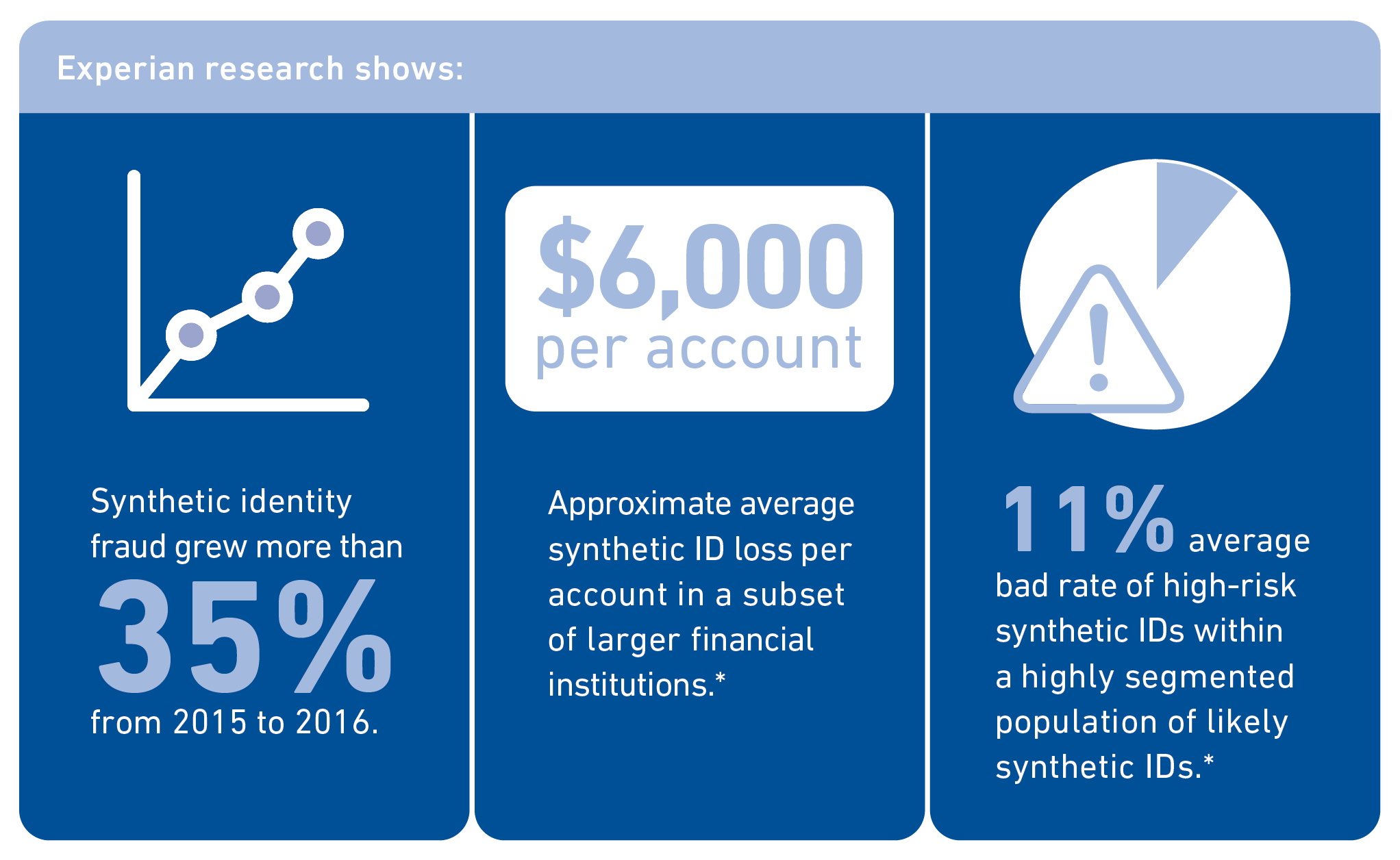 Source: Experian
Tax ID Theft
The IRS reported that in 2016, they stopped 883,000 confirmed identity theft tax returns, which is a 37% drop in confirmed identity theft tax returns compared to 2015. As of October 2017, the IRS had stopped 443,000 confirmed identity theft tax returns, a 30% decline from the same time last year.
Tax ID theft numbers fell substantially. The number of people reporting that they were victims of tax identity theft fell to 376,000 in 2016, a 46% decline from 699,000 in 2015. This year the strong trend line has continued through August: 189,000 taxpayers have reported themselves as victims of identity theft, which is down approximately 40% from the same time last year. While tax ID theft has decreased, the IRS still estimated that $14.5 billion in fraudulent returns were attempted in 2015.
W-2 Scams
The W-2 form scam has emerged as one of the most dangerous phishing emails in the tax community. During the last two tax seasons, cybercriminals have tricked payroll personnel or people with access to payroll information into disclosing sensitive information for entire workforces.
The scam affected all types of employers, from small and large businesses to public schools and universities, hospitals, tribal governments and charities. Incidents reported from victims and non-victims increased to 900 in 2017, compared to slightly over 100 in 2016. There are additional tax scams popping up constantly as well, including those targeting tax preparers.
How Soon Can You Tell if Your Identity Was Stolen?
It typically takes three months for the majority of people find out they have been victims of identity theft, according to the ITRC's Aftermath Study. However, according to the same report, 16% of people didn't find out for three years.
Being persistent by monitoring your accounts and reviewing your personal information is the best way to stay on top of potential threats. [You can also sign up for an identity theft protection product like Experian IdentityWorks to help protect yourself and your family.]