Through December 31, 2023, Experian, TransUnion and Equifax will offer all U.S. consumers free weekly credit reports through AnnualCreditReport.com to help you protect your financial health during the sudden and unprecedented hardship caused by COVID-19.
Once you've pored over your credit reports for the first time to make sure all the information is correct, the most important thing to look for in future checks is changes in information—a task Experian has simplified with its "See what's changed" feature on its smartphone app. Here's how to use the feature to learn about any new activity on your Experian credit report.
How Often Does My Credit Report Update?
The bulk of your credit reports consists of credit usage and payment information creditors furnish to the national credit bureaus (Experian, TransUnion and Equifax), typically on a monthly basis. Each lender updates the bureaus according to its own schedule: Some lenders may issue their updates at the beginning of the month, while others may wait until the end of the month. Additionally, each may update one credit bureau one day, and the others a few days later.
Depending on the number of loans and credit card accounts you have, and how your payments and card purchases sync with the lenders' update schedules, your credit reports at each credit bureau change continually. That means it's perfectly normal that your credit reports at each bureau are not exactly the same.
The best approach to tracking your credit reports is to obtain a report from each credit bureau, which you can for free at AnnualCreditReport.com. Study each carefully to make sure all the information it contains is accurate. In the unlikely event you discover information you believe to be inaccurate, such as a reported late payment that you remember making on time, go back to the lender on whose account the information appears and ask them to update it. You can also file a dispute with the relevant credit bureau, supply any backup information they may request, and give them a chance to investigate and update your report if necessary.
After this initial review, you should continue to check your credit regularly, focusing on the information that has changed. As new data is added between reporting periods, your credit reports maintain a true reflection of your credit activity. Credit scores calculated using those reports will give lenders an accurate picture of your ability to manage new credit in the future.

Check Credit Report Updates With Experian's "See What's Changed" Feature
Experian's free credit report service provides updates on your Experian credit report every 30 days. The "See what's changed" function on the app makes it easy to spot new information in your report. It's a more user-friendly option than the traditional practice of comparing your current credit report to the last one you checked to identify changes in your data.
To view the "See what's changed" information for your Experian credit report, click the Reports icon at the bottom of the Experian home screen on the app. Then click the "See what's changed" button marked with a yellow bell icon.
The "See what's changed" feature summarizes adjustments in your overall debt level, modifications to individual accounts, the opening or closing of new loans or credit card accounts, and any new inquiries or credit checks related to new applications for loans or other credit.
"See what's changed" also reports increases or reductions in your total debt levels, changes in your total credit card borrowing limit and, if applicable, the addition or removal of collections accounts, foreclosures and bankruptcy filings.
Each entry in the "See what's changed" list includes a notation of whether those changes "could help" your overall credit, "could harm" your credit, or "could help or harm" your credit standing. Click any entry to expand it for a more detailed explanation.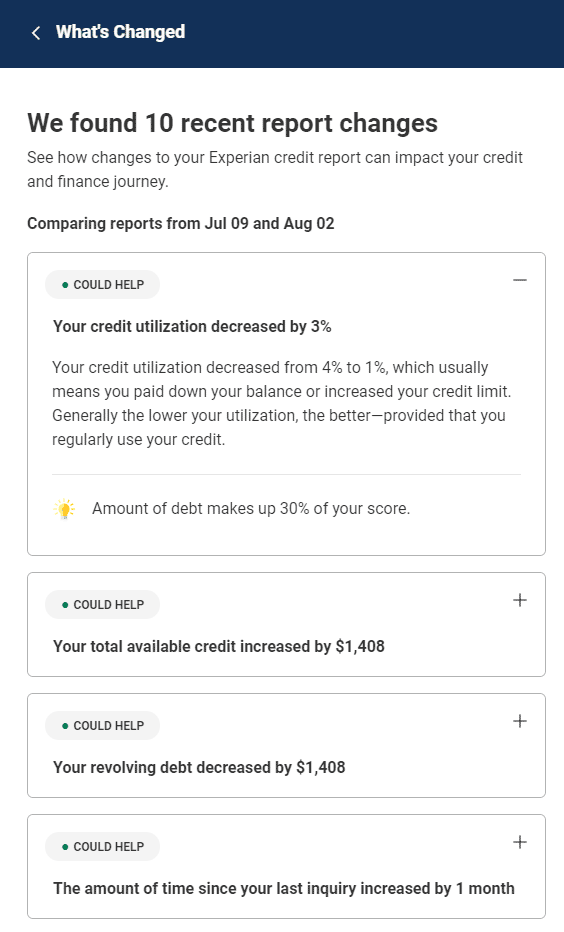 What to Look for When You Review Your Credit Report
When reviewing your "See what's changed" information, or comparing full credit reports the old-fashioned way, it's normal to see changes in account balances and updates to your payment history. Each month you make a payment on a mortgage or auto loan, for example, a change in balance on that loan will be duly noted. Fluctuations in your credit card balances are also normal, as long as they track with your purchase and payment history. The things to look out for are changes you don't understand, such as:
Credit inquiries from unfamiliar sources: If you haven't applied for a new loan, credit card or other credit (such as in-store financing on a new cellphone or laptop), or agreed to a background check or credit screen from a landlord, unexplained credit inquiries could indicate criminals are trying to obtain credit in your name.
New accounts you don't recognize: The appearance of a new loan or credit card you didn't open is an even more serious indicator of potential fraud. It could mean a criminal has successfully borrowed money using your personal information. If so, they won't be paying back that debt, and their missed payments could harm your credit score—at least until you notify the lender and the credit bureaus of the fraud.
Accounts in collection: When a creditor gives up on trying to get repayment on a debt and sells the debt to a collection agency, that's recorded as a serious negative event in your credit report—one that can cause a significant drop in your credit scores. Sometimes collections indicate nonpayment on accounts opened fraudulently in your name. Other times they may indicate debts, such as hospital bills unpaid by insurance, which you may not have even known you incurred. In any case, following up with the collection agent may help clear up the issue.
Routinely checking your credit scores and credit reports is a good habit for tracking improvements in your credit standing, flagging downturns in that standing, and detecting unauthorized activity that could indicate fraud or identity theft.