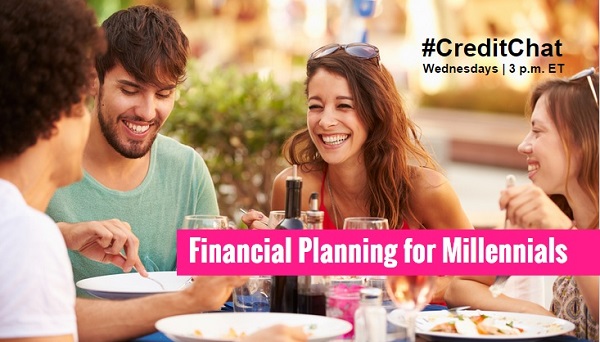 Join our #CreditChat on Twitter and YouTube every Wednesday at 3 p.m. ET.
This week, we're excited to talk about financial literacy and planning for millennials. Join us!
Topic: Financial Planning for Millennials

When: Wednesday, September 2 at 3 p.m. ET.
Easy ways to chat with us on Twitter: Twubs or Tchat
Join us on Twitter by using the #CreditChat hashtag – and tune in to the discussion on YouTube. The panel will include:  Douglas A. Boneparth- CFP Board Ambassador and Vice President at Life and Wealth Planning, Brad Sherman- Investment Advisory Rep, Wealth Manager – LFS Corp and President of Sherman Wealth Management, Kelby Green- Financial Services Veteran and 'Chief Frugality Officer' at TheFRUGALennial.com, Rod Griffin- Director of Public Education at Experian, and Mike Delgado- Social Media Community Manager at Experian. 
We will embed the live streaming video on this page during the chat.
If you have ideas for future topics and guests, please tweet @MikeDelgado.

If you've never heard about #CreditChat, here is a brief overview:
Recent Tweets
Listen to Past Chats:
You can download and/or stream our weekly #CreditChat podcast right here:
Upcoming Chats: 
Watch Our Previous Video Chats:
Check out all the tweetchats storified here.
Featured In: