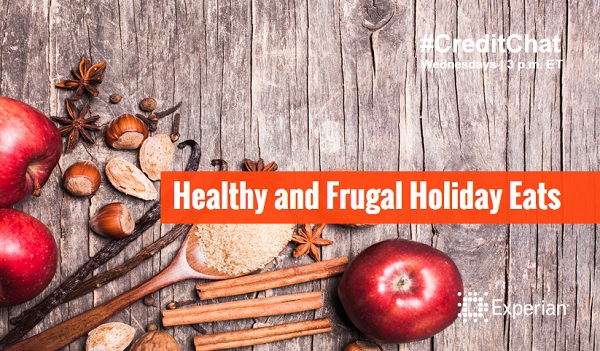 Are you trying to watch your waistline and your budget this holiday season? Join us for this week's chat about how to eat healthy this holiday season while staying on budget.
Topic: Healthy and Frugal Holiday Eats

When: Wednesday, December 2 at 3 p.m. ET.
Easy ways to chat with us on Twitter: Twubs or Tchat
The panel will include: Ben Edwards: Founder of MoneySmartLife, John Schneider & David Auten: Founders of Debt Free Guys,  Rod Griffin: Director of Public Education at Experian and Mike Delgado: Social Media Community Manager at Experian.
Join us on Twitter by using the #CreditChat hashtag – and tune in to the discussion on Blab.
If you have ideas for future topics and guests, please tweet @Teena_LaRo or email Christina.Roman@experian.com.
If you've never heard about #CreditChat, here is a brief overview:

Recent Tweets
Listen to Past Chats:
You can download and/or stream our weekly #CreditChat podcast right here:
Upcoming Chats:
Watch Our Previous Video Chats:
Check out all the tweetchats storified here.
Featured In: