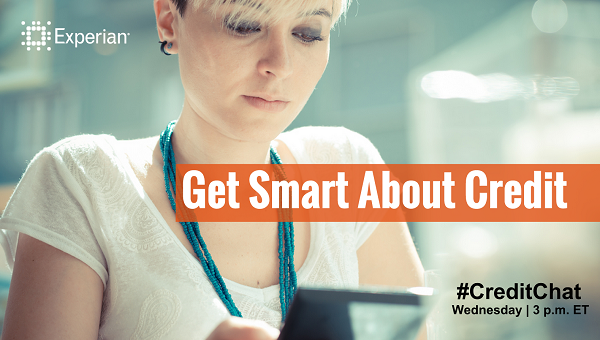 Join our #CreditChat on Twitter and YouTube every Wednesday at 3 p.m. ET. This week, we're excited to chat with Wells Fargo  about everything you should know about credit scores and credit reports.
Topic: Get Smart About Credit

When: Wednesday, October 29 at 3 p.m. ET.
Easy ways to chat with us on Twitter: Twubs or Tchat
Join us on Twitter by using the #CreditChat hashtag – and tune in to the discussion on YouTube. We'll be featuring favorite tweets during the video hangout. The video panel will include: Gigi Dixon – Head of National Partnerships for Wells Fargo, John Ulzheimer – Author and Credit Expert at CreditSesame.com, Shannon McNay – ReadyForZero,  Rod Griffin – Director of Public Education at Experian, and Mike Delgado – Social Media Community Manager at Experian.

We will embed the live streaming video on this page during the chat.
Upcoming Chats
If you're interested in being a guest on Twitter or YouTube for an upcoming show, please tweet @mikedelgado.
Check Out Past Chats:
Do you have a great idea for an upcoming tweetchat?
Send #CreditChat topics and guest suggestions to @MikeDelgado
Featured In: