At Experian, one of our priorities is consumer credit and finance education. This post may contain links and references to one or more of our partners, but we provide an objective view to help you make the best decisions. For more information, see our Editorial Policy.
While the Fingerhut Fetti Credit Account issued by WebBank may look like a credit card, it's not. Instead, it's a "credit account" that can only be used to buy merchandise through Fingerhut's website and through select partners.
Like a credit card, you'll get a credit limit. If you so choose, you can spend up to that credit limit, pay off the debt, and use the credit line again. For fans of the catalog retailer Fingerhut who regularly shop on its website, the account may be worth considering, and you can even use it to build credit.
But with limited opportunities to use the account and a high annual percentage rate (APR), you may be better off with a credit card, even if your credit isn't in great shape.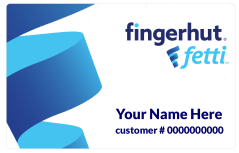 Fingerhut Fetti Credit Account issued by WebBank
Apply
on Fingerhut's website
Retail Account at Fingerhut.com
Recommended FICO® Score*
Poor - Fair, Rebuilding
Fingerhut Fetti Credit Account issued by WebBank
Card Details
For a limited time, get free standard shipping and $25 off your first order of $100 or more when you apply online and are approved for a Fingerhut Fetti Credit Account issued by WebBank.***Just use the promo code NCQ3J at checkout.
***Offer ends 11:59pm CT 7/31/22. See site disclaimer for full details.
Easy application! Get a credit decision in seconds.
Build your credit history - Fingerhut reports to all 3 major credit bureaus
Use your line of credit to shop thousands of items from great brands like Samsung, KitchenAid, and DeWalt
Enjoy payments as low as $9.99 per month if you apply and are accepted for a Fingerhut Credit Account issued by WebBank, Member FDIC, who determines eligibility and qualifications for the terms of credit
Not an access card
Fingerhut customer service:
(800) 208-2500
Fingerhut Customer Service
6250 Ridgewood Road
St. Cloud, MN 56303
| Pros | Cons |
| --- | --- |
| Reports to all three credit bureaus | Can only be used on Fingerhut's website |
| Provides a grace period on purchases | High annual percentage rate (APR) |
| No annual fee | Product prices may be lower elsewhere |
Experian Review
The Fingerhut Fetti Credit Account issued by WebBank can only be used to buy products from Fingerhut's website, such as furniture, appliances, electronics, holiday items and more.
You may also receive offers to use the account to make purchases with select partners, including online florists, insurance companies and others. But you can't use the account with any other merchant, making it similar to a closed-loop store credit card.
While you can use the account to build your credit history, you'll be subject to a high interest rate if you don't pay your bill in full by the end of every billing cycle. Also, the account doesn't allow you to shop around with other online retailers to find the lowest prices for the merchandise you purchase.
Credit Account, Not a Credit Card
The Fingerhut Fetti Credit Account issued by WebBank isn't part of a major payment network, so you can't use it the way you would a Visa, Mastercard, American Express or Discover card.
It's really more comparable to a store charge card, like the kind offered by major retailers.
You can use the account during the checkout process to pay for items you purchase on Fingerhut.com or with website partners. On your first purchase with the account, you may be required to make a down payment.
To avoid paying interest on your purchase, you'll have to pay it off before the due date. If you don't pay your balance in full, you'll be assessed an APR that's roughly double the average rate for the credit card industry as a whole.
Pay Off Your Bill Every Month to Avoid High Interest
Every product listed on Fingerhut's website is shown first as a monthly payment. So you'll need to dig in and determine what the product's total cost will be, including interest, if you don't pay it off before the billing cycle's due date.
For example, let's say you purchased a coat for $138.99 using the account. Your minimum monthly payment would be $14.99, and it would take you 11 months to pay off the balance, including $21.13 in interest, if you paid that minimum amount each month.
Also, keep in mind that how much of your credit limit you're using at any given time can affect your credit score. That's because your credit utilization rate, which is your account balance relative to your credit limit, is an important factor in your FICO® Score☉ . Utilization above 30% may start to harm your credit scores, so try to keep your rate as low as possible (think single digits).
Finally, if you miss a payment, not only will you be charged interest on the full account balance, but you'll also be assessed a late fee of up to $41. If you make a payment on time but it's returned for any reason, you'll be charged an additional fee of up to $41.
Use It to Build Credit
One of the benefits of using the Fingerhut Fetti Credit Account issued by WebBank is that your account activity is reported to the major credit bureaus (Experian, TransUnion and Equifax).
If you use the account responsibly and make on-time monthly payments, it can help you improve your credit score.
That feature can be especially appealing, considering you can qualify for the card even if you have poor to fair credit.
But there are plenty of credit cards, both secured and unsecured, that are available to consumers with lower scores. Most of them run on a major payment network, allowing you to use the card with a wide variety of retailers, and many of them may even charge lower interest rates.
Price-Shopping Isn't an Option
With modern technology, you can compare prices online in seconds. Because Fingerhut offers name-brand merchandise on everything from electronics and shoes to furniture and home decor, it's easy to compare its prices to other sites online. Oftentimes, Fingerhut may charge more than other retailers with certain items.
While you may be able to save on some items with Fingerhut, the lack of flexibility makes it less appealing.
Additional Info
| | |
| --- | --- |
| Purchase APR: 29.99% | Grace period: 24 days |
| Transfer APR: N/A | Annual fee: $0* |
| Cash advance APR: N/A | Balance transfer fee: N/A |
| Minimum interest charge: $1 | Cash advance fee: N/A |
| | Foreign transaction fee: N/A |
| | Late payment fee: Up to $41 |
| | Returned payment fee: Up to $41 |
Is This Account Right for Me?
While the Fingerhut Fetti Credit Account issued by WebBank offers a chance to finance purchases with the retailer and its partners and build credit along the way, the drawbacks outweigh the benefits for most people.
Even if you have poor or fair credit, there are credit cards you could qualify for that can provide the same features as this credit account plus more. Even if you regularly shop with Fingerhut, take some time to compare credit card options to see if you can find one that can offer more total value.