If you're looking for holiday-gift bargains, or perhaps considering selling some of your old stuff to fund a shopping spree, the Facebook Marketplace is an appealing alternative to yard sales and flea markets.
Like any other online exchange (and those in the real world as well), the Marketplace attracts its share of swindlers and scammers. So here are some guidelines for making Facebook's Marketplace a source of cheer, not cheats.
What is Facebook Marketplace?
Facebook introduced the Marketplace in October 2016, and by May 2017, more than 18 million items were listed for sale in the U.S. alone. The service has since expanded to other countries, and Facebook reports that search volume in the Marketplace tab has grown three times globally since the start of 2017, with more than 550 million people active in buy and sell groups on a monthly basis.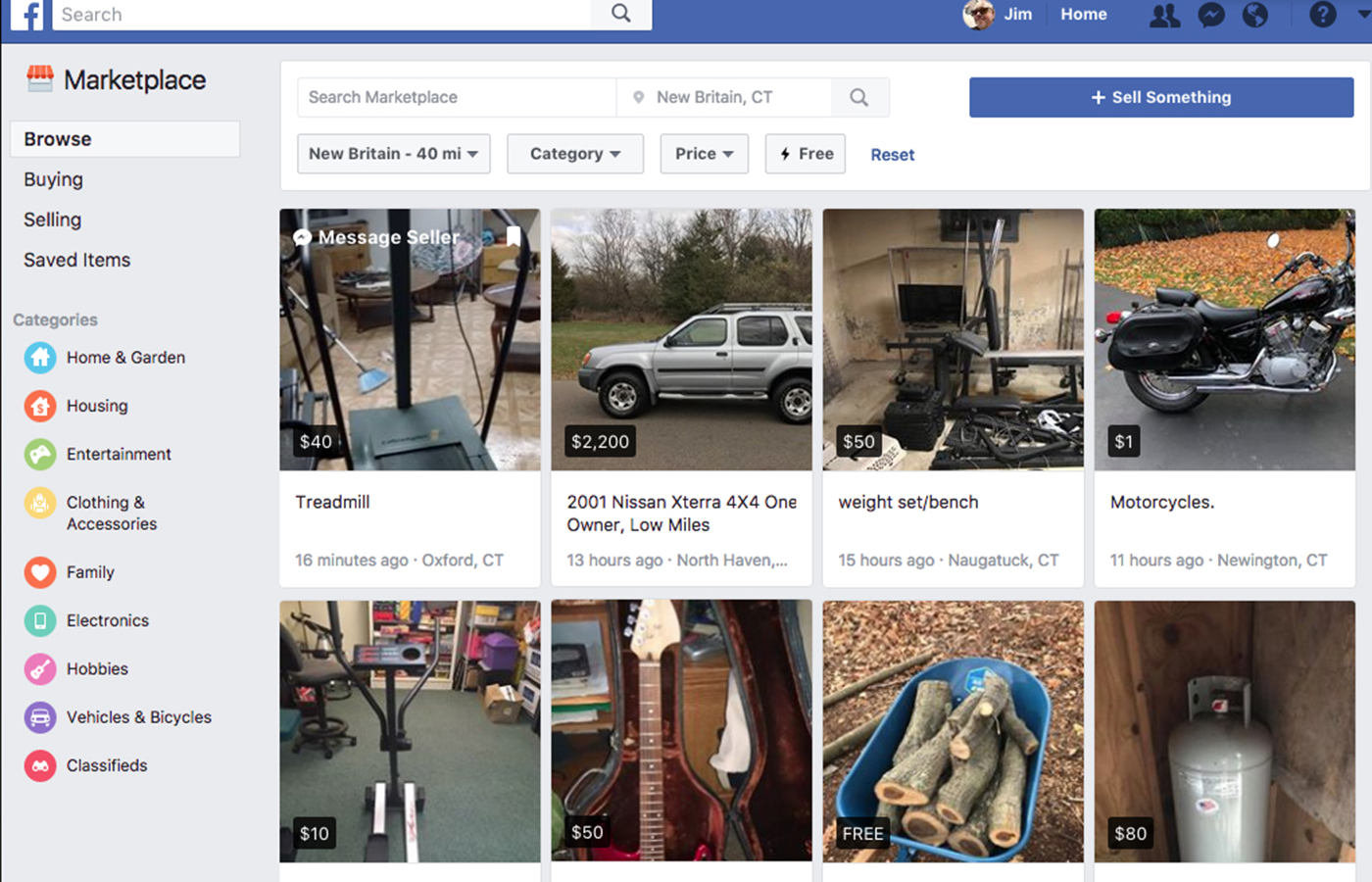 The concept is fairly simple: Using information from your profile to determine your location, Facebook shows you an array of items for sale in your area—and lets you list your own goods for sale as well. When a buyer spots an item they want to purchase, they contact the seller via Facebook Messenger and arrange to close the deal. Use of Messenger means traders can do business without exchanging addresses or phone numbers, and Facebook charges no fees for the service.
Using Marketplace is easy. Click the Marketplace button at the bottom of the Facebook smartphone app or in the left column of your Facebook homepage. You'll see an array of photos of items for sale, with prices attached. Browse away, or use the filters to narrow the search by item category, price, etc. If you have an item to sell, click the blue "Sell Something" button and fill in the form. Selling via the smartphone app can save you time by letting you snap a photo of your item and attach it to the listing without having to save and upload photos.
Be Smart in the Marketplace
Here are five suggestions for ensuring your Facebook Marketplace experience is a good and secure one:
Use a credit card or secure electronic payment service for all transactions. The Marketplace doesn't have any built-in payment mechanism, so you have to arrange payments directly with the other party in a transaction. Unscrupulous sellers may insist on cash, gift cards, or other untraceable payment methods, and shady buyers may offer gift cards that turn out to be worthless. Card issuers and payment processors such as PayPal—but not its sister app Venmo—will investigate fraud claims on your behalf as a buyer, and they also provide better transaction security for sellers. Reputable Marketplace traders will welcome the use of secure services; which benefits legit buyers and sellers alike.
Avoid transactions that don't involve local buyers/sellers. In theory, Facebook will only show you potential buyers and sellers within your area. (You can choose a radius as small as two miles or as wide 100 miles, but the default is 40 miles.) If a seller tells you they'll have an item shipped from a greater distance away, there's a possibility the order will never arrive, or that it won't be what was promised. And if a buyer asks you to ship an item long-distance, especially internationally, consider steering clear: The scam there is for the buyer to cancel the payment once the item is in transit and irretrievable by you.
Check out buyer/seller profiles. When you click on an item that's offered for sale, check the seller's profile under "seller information." Make sure they're located in your area and check Facebook to see if you have mutual friends. If they've only been on Facebook for a short time, or if they have very few friends, that could be a warning sign. Also, search on their name in Facebook; if you see more than one profile using the same name and photo, that should raise a red flag.
Inspect before making payment. If you're purchasing an item, make sure you can "see the goods" before you authorize payment. If the item is jewelry or collectible, bring along an expert who can verify its value. If it's electronic, plug it in or add batteries to make sure it works.
Meet the buyer/seller in a public place. Some police departments allow folks to meet in their station lobbies or parking lots to finalize exchanges; barring that, pick a public spot like a coffee shop or restaurant. Bring a friend, and if you feel uncomfortable, record a video or take a few snaps of the exchange, so you can identify the other party easily if there are any disputes afterward.
When something's not right
When you do business over Facebook Marketplace, you're no more (or less) likely to run into shady characters than you are in the real world, or when you buy and sell items over services such as eBay and Craigslist. Stay vigilant, and walk away if something doesn't feel right.
Should you nevertheless find yourself the victim of a scam, you can and should take action:
If you suspect a Facebook Marketplace scammer, report them to Facebook as explained here.
If you believe you've been scammed, notify law enforcement. Inform your local police agencies, and also consider filing a report with the FBI's Internet Crime Complaint Center (IC3). The FBI doesn't promise to follow up on all cases, but registering scams helps uncover fraud trends and patterns that can help thwart cyber-crooks.
Facebook Marketplace can be a fun, vibrant source of deals. If you're as vigilant for potential fraud as you are for bargains, you're likely to have a good Marketplace experience. Happy shopping!