With an average of three credit cards each, Americans use their cards to provide a cushion for emergencies, cash-free convenience, and great rewards. However, while they recognize the value of their credit cards, most still feel their relationship with them is less than ideal. Still, they haven't given up hope; the majority (64%) believe the perfect card for them is out there, and they just haven't found it yet.
AMERICANS LOVE THEIR CREDIT CARDS
---
459,000,000
CREDIT CARDS CURRENTLY IN CIRCULATION, ACCORDING TO THE NY FEDERAL RESERVE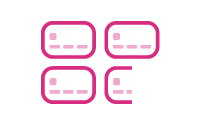 NEARLY FOUR
Average number of cards for every person who uses credit cards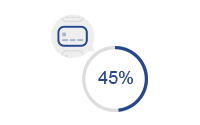 45 PERCENT
Percent of card holders paying balance off each month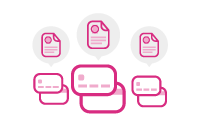 $784 BILLION
Amount in credit card loans outstanding
A recent Experian survey revealed these and other insights into how Americans feel about and use their credit cards. While respondents generally value their credit cards as important financial and credit tools, the majority aren't as satisfied with their credit cards as they feel they could be. Many also feel the process of finding and applying for a new card is difficult or overwhelming.
Additionally, one in three respondents are planning to apply for a new credit card within the next six months. When they do go looking for a new credit card, the majority welcome some help in finding the one that's best for them.
An Overview of the Survey
The nationwide survey, conducted by Edelman Intelligence on behalf of Experian, polled more than 1,000 people age 18 and older with different credit scores and number of cards. The survey covered topics such as:
Credit card behaviors and preferences
Satisfaction with current credit cards
How people find and choose credit cards
How card-holders feel about pre-qualified offers
The majority of respondents (62%) reported having one to five credit cards, with three being the average. Their average credit card debt was $2,326.71, with an average monthly charge of $779.83. They have different types of cards, including retail/store-specific credit cards (41%), other types of rewards credit cards (39%), secured credit cards (32%), balance transfer cards (18%), airline cards (16%), business/corporate cards (13%) and student credit cards (3%).
Perceived Benefits and Drawbacks of Credit Cards
Survey respondents also shared what they see as the benefits and drawbacks of credit cards. Having a cushion for emergencies is the greatest benefit of having credit cards, according to 42% of respondents. They also use their cards to avoid the inconvenience of carrying cash (38%), to get rewards (36%) and to build their credit (34%). Younger account-holders were more likely to emphasize the importance of building credit. Consumers also felt credit cards were helpful with keeping a single record of all transactions, protecting against fraud and managing their budgets.
When it comes to drawbacks, the majority (51%) said high interest rates were the most significant concern of credit card use. High interest rates can contribute to additional debt when carrying a balance from month to month. Additionally, more than a third (36%) said increasing their debt was a drawback when using credit cards.
They were also concerned by annual fees and the risk of identity theft (33% for both), and high-cost fees such as late fees (31%). People with excellent credit scores and those older than 55 worried more about identity theft risks, while younger people and those with lower credit scores were more concerned about high-cost fees.
A Difference in Priorities vs. Usage
Some people's perceptions of the benefits of credit card use didn't always match how they were actually using their cards. While an emergency cushion ranked as the top benefit, just 37% of card holders said that's how they were using their cards. Instead, the majority (68%) said they were actually using their credit cards for purchasing things they needed (that tendency was higher among those with excellent credit).
Credit Card Satisfaction and Challenges
While Americans of all ages and credit score levels have embraced credit card use, their relationships with credit cards still seem to have challenges. Consumers don't seem fully satisfied with how well their current cards work for them, believe there are probably better options they're not aware of, and dread the prospect of being turned down for a credit card application.
Slightly more than half of the respondents said they weren't completely satisfied with their current credit cards, and 62% agreed there was probably a better card for their needs. More than a third are willing to try again to find perfection, and expect to apply for a new credit card within the next six months.
Those intending to apply for new cards feel they face multiple challenges, including:
Respondents were so eager to find the right card, and so overwhelmed by their options, that 55% said they have used in the past or would use a tool that could help match them to their ideal credit card.
What They're Looking for in a Credit Card
They may be unsure where or how to hunt for the ideal card, but consumers have a pretty good idea of what they're looking for in a card:
Motivations varied among those who said they would likely apply for a new credit card in the next six months. While 23% said they wanted a new card to help build their credit, 15% just wanted to have another card. Another 14% were looking for better rewards, and 10% sought a lower interest rate. Even those who didn't think they would be in the market for a new card anytime soon said certain factors could sway them to apply. A lower interest rate or APR would grab the attention of 22% of those unlikely to get a new card, while better rewards and assurance of approval appealed to 13% and 11%, respectively.
Those respondents who said they were in the market for a new card shared how they think credit cards can better meet their needs. They cited lower interest rates (33%), better rewards (16%) and a higher credit limit (9%) on their wish list items for a new credit card.
Challenges with Finding the Right Card
By far the biggest obstacle to getting a new credit card is the time required to research and evaluate options, with 69% saying they felt the process was just too time-consuming. Also, 61% of respondents said they felt overwhelmed by the sheer number of options available to them, while 57% said it's just too difficult to tell which card would be best for them.
When they do go looking for a new card, 37% use search engines to hunt. They also look at online reviews (21%), talk to their banks and family members (17%), and consult friends (11%). They give equal attention to online forums and direct mail (11%).
The majority (55%) of respondents are in favor of a matching tool that would help them find their ideal card. In fact, 18% said they've used such a tool in the past. They used a tool for the chance to get a better fit (27%), the ease and convenience (9%), and to see what they could qualify for (6%). Among those who said they would try a tool in the future, a better fit was the top motivation (16%).
While the only way for someone to know if they'll be approved for an offer is to apply, many consumers shared input on what would help them. One way online matching tools could improve would be to provide information on pre-qualified offers, respondents said. Getting turned down for a credit card can affect applicants emotionally as well as financially, so knowing in advance they were likely to be approved for a card would be beneficial. 40% of those surveyed said they had been turned down for a credit card in the past, and 23% were turned down even after using a matching tool.
69% said they wished they could know in advance if their credit card application would be approved, while 72% said the majority of the credit card solicitations they received just weren't a good fit for them. In fact, only sending offers for which an applicant pre-qualified was the top way credit card solicitations could be improved, respondents said. They also wanted more accurate information about the credit card's terms (34%), more information about the offer (31%), consideration for their past purchase and credit behaviors (22%) and consideration for their rewards preferences (22%).
Selecting a New Credit Card
It's good news that so many people view a credit card as only for emergency use; that perspective could help them avoid unnecessary credit use, interest expenses and the possibility of running up debt. Also positive is the fact that those who regularly use their credit cards for daily purchases either do so for the rewards, and/or are aware of the risks of carrying a balance.
However, the survey also indicates that too many Americans may be holding credit cards that aren't a good fit for their needs. They could be paying more than they need to in terms of interest rates and fees, or alternatively, missing out on the rewards and benefits they could be getting from a card that better matches their needs or usage habits.
Fortunately, there are things that can help make the process of finding the right credit card much easier. Experian offers information and options for consumers looking for credit cards and allow users to search card offers by several parameters, including rewards type, card type and interest rates. A matching tool can help consumers refine their credit card search to find the card that's right for them faster and more reliably.
Survey Methodology
The data points referenced in this report come from a survey commissioned by ConsumerInfo.com, Inc., an Experian company, produced by Edelman Intelligence and conducted as an online survey of n=1000 adults nationwide that took place May 12-18, 2017.