At Experian, one of our priorities is consumer credit and finance education. This post may contain links and references to one or more of our partners, but we provide an objective view to help you make the best decisions. For more information, see our Editorial Policy.
For those with less-than-stellar credit who need a credit card, the Indigo® Platinum Mastercard® is one worth considering. Unlike many cards geared toward consumers with bad credit, this card doesn't require a security deposit, but expect a lower credit limit and not many perks.
You may also be on the hook for a steep annual fee with this card. Here's everything you need to know about the Indigo® Platinum Mastercard® before you apply.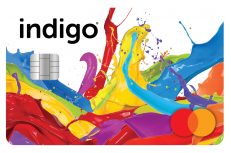 Indigo® Platinum Mastercard®
Apply
on Genesis FS Card Services's website
Recommended FICO® Score*
Poor - Good, New to Credit, Rebuilding
Indigo® Platinum Mastercard®
Card Details
Less than perfect credit is okay
No security deposit needed
Account history is reported to the three major credit bureaus in the U.S.
Simple and fast application process
Fraud protection for stolen or lost cards
Select your own style of card design at no extra charge
Customer service contact info for Indigo
1-866-946-9545
| Pros | Cons |
| --- | --- |
| No security deposit required | Low credit limit |
| Approval possible with bad credit | Potential for a high annual fee |
| Get prequalified without a hard credit check | No rewards program |
Experian Review
If you're just starting to build credit or trying to rebuild a poor credit score (in the FICO® Score☉ range of 300 to 579), the Indigo® Platinum Mastercard® is one to consider. It doesn't have any bells and whistles, but it also doesn't require a security deposit, which is what you'll need if you apply for a secured credit card.
Also, the card reports your monthly payments and balance to all three credit reporting agencies (Experian, TransUnion and Equifax), which can help you establish a good credit history if you use the card responsibly.
Depending on your creditworthiness, you could pay an annual fee as high as $99 with this card—a significant drawback considering there are plenty of credit cards for those with bad credit that don't charge an annual fee at all. You'll also have a low credit limit, which can make it challenging to keep down your credit utilization rate—the credit you're using relative to your limits.
As you consider whether this card is right for you, here are all the details you need to help you make your decision.
Prequalify Before Applying
One benefit of the Indigo® Platinum Mastercard® is its prequalification tool, which allows you to determine your eligibility before you apply. Prequalifying doesn't require a hard credit inquiry, which can lower your credit score by a few points. The soft credit check that occurs with prequalification won't affect your credit at all.
To prequalify, you'll just need to share your name, address, date of birth, Social Security number and contact information. If you don't prequalify, the card's issuer, Celtic Bank, may recommend a card that you are prequalified for from a partner bank, such as the First Progress Platinum Elite Mastercard® Secured Credit Card.
Build Credit Across All Your Credit Reports
One of the main reasons to consider getting the Indigo® Platinum Mastercard® over another credit card is that your payments will be reported to the three major credit bureaus each month. By paying all your bills on time and keeping your balance well below your credit limit, you could improve your credit scores with this card.
Not all credit cards for bad credit do this—some report to only one or two credit bureaus, and some may not report at all.
Consider the Low Credit Limit and Potentially High Annual Fee
Depending on your credit history, you may qualify for one of three annual fee structures: no annual fee at all, a set fee of $59 per year, or a $75 annual fee that jumps to $99 after the first year. If you qualify for no annual fee, the card is on par with other top credit cards for bad credit.
But if you're paying $75 the first year and $99 after that, or even $59 per year, it may be worth getting a secured credit card instead—because you'll usually at least get your security deposit money back at some point with a secured card.
The card's credit limit is just $300, and there's no way to increase that. This means you'll need to be careful about how you use your card. Your credit utilization rate—your balance divided by your credit limit—is a major factor in your FICO® Score, and the lower the rate, the better. Your credit scores will start to be hurt if your credit utilization stays above 30%, which means you'll want to carry a balance below $90 on this card (preferably none at all).
To avoid racking up a high balance, consider using the card sparingly or making multiple payments throughout the month. According to the card issuer, it can take up to 14 days for your account to reflect a payment, so keep that in mind as you manage your usage.
Finally, expect to pay a high interest rate if you carry a balance on this card. The ongoing interest rate is 24.90% fixed, which is above average. So make it a goal to use the card only when you know you can pay it off.
Don't Expect Many Perks
When it comes to card benefits, the Indigo® Platinum Mastercard® provides the bare minimum. You'll get:
Mastercard ID theft protection, which provides access to identity theft resolution resources if you fall victim to fraud.
A 15% discount on airport meet-and-greet services through the Mastercard airport concierge.
Mastercard global service, which offers 24-hour assistance if your card is lost or stolen, as well as emergency card replacement and emergency cash advances.
You can manage your account online, but there's no mobile app to make it easier to keep track when you're on the go.
Additional Info
| | |
| --- | --- |
| Purchase APR: 24.90% fixed | Grace period: 25 days |
| Transfer APR: The card does not allow balance transfers | Annual fee: $0, $59, or $75 the first year then $99 after that |
| Cash advance APR: 29.9% fixed | Balance transfer fee: The card does not allow balance transfers |
| Minimum interest charge: $0.50 | Cash advance fee: None for the first year, then 5% of the advance amount or $5, whichever is greater |
| | Foreign transaction fee: 1% |
| | Late payment fee: Up to $40 |
| | Returned payment fee: Up to $40 |
Authorized-User Policy
If you want to add an authorized user to your Indigo® Platinum Mastercard® account, you can do so at no charge. The authorized user will get a card with their name on it that's linked to your account, and they can make purchases using your credit line. You'll be responsible for paying off the full balance, including their purchases.
Is This Card Right For You?
The Indigo® Platinum Mastercard® can be a good fit if you're working on improving your credit and don't have the cash to cover a security deposit. But unless you qualify for no annual fee, it may be worth saving up for a deposit and getting a card that doesn't charge one or one that offers rewards.
But if you do qualify for a $0 annual fee with the Indigo® Platinum Mastercard®, and use the card sparingly and responsibly, it can be a great tool to help you build your credit.