Prequalified. Preapproved. Prefontaine. Wait, what? Nowadays when it comes to applying for a loan or credit card you have to go through one of those steps. The first two are faster than the last one—a famous Olympian—and only takes seconds before you are off and running with a new credit approval.
Understanding the differences between what prequalified means and how you get preapproved, can save you time and money:
Prequalified is when you (the consumer) agree to provide your credit information to a lender in order to shop for credit offers—such as a credit card or loan.
Preapproved is when a lender independently determines that you meet their requirements for credit and sends you an offer. If you're preapproved, you can then decide whether you want to formally apply for and ultimately accept the offer of the loan or credit card from the lender or creditor.
What Does Prequalified Mean?
Being prequalified means that you agreed or opted-in to start the process to find out which loans or credit cards you qualify for. Consumers may receive a prequalification offer in the mail that says, "you may qualify for a $500,000 home loan."
For example, if you visit a bank and ask whether you would qualify for a credit card even though you have bad credit, the bank (lender) can see if you would be eligible during a prequalification assessment. Once you submit an application to apply for the new credit, your credit reports are pulled and a hard inquiry is added to your credit file (which can impact your credit scores).
Key facts to know about prequalification:
Who initiates this? You (the consumer).
Can this impact my credit score? The prequalification itself doesn't impact your credit, but if you then formally apply for credit, it will show up on your credit report and could impact your scores.
Is this a firm offer of credit? No, prequalification offers state that you "may qualify" for a certain amount. This can also mean that you may not qualify for the loan or credit card once your credit reports are reviewed—if something is concerning to the lender that wasn't available to them in the prequalification assessment comes to light.
What Does Preapproved Mean?
Being preapproved, or receiving a preapproval, means that a lender has independently determined that you meet their requirements for a credit opportunity through a soft inquiry credit check. You may receive an offer in the mail that says, "you've been preapproved," from there, you have to decide if you want to submit an application based on the offer they sent.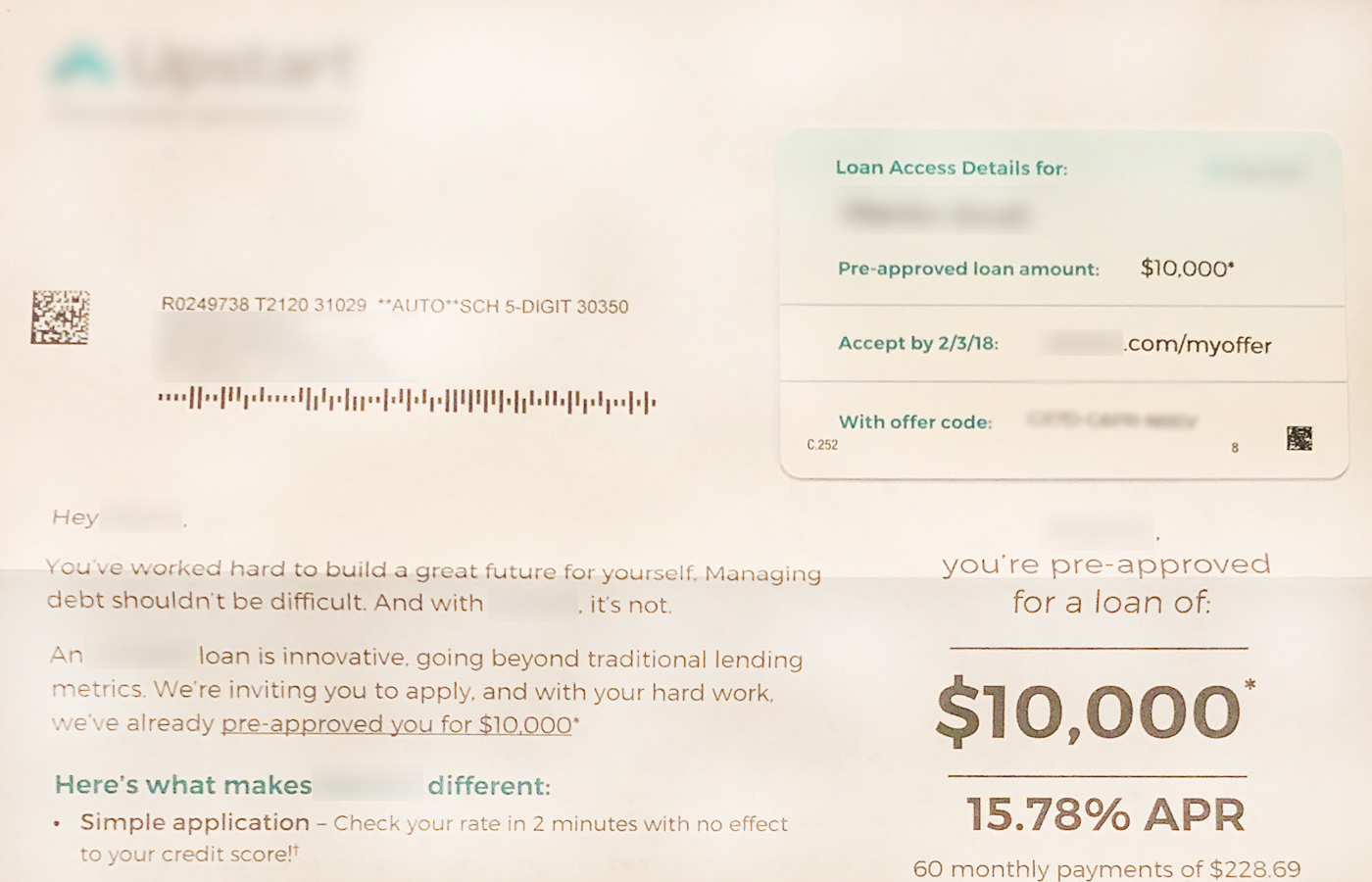 If you do, the lender will let you know if you are approved. Getting preapproved lets you know how much of a loan or credit card you qualify for and at what interest rate, along with what the terms could be.
Key facts to know about preapprovals:
Who initiates this? The lender.
Can this impact my credit score? No, unless the consumer submits an application.
Is this a firm offer of credit? Yes, only a dramatic change to your credit from the time the lender reviewed or if the lender can't verify your income could they rescind the offer.
How Do Preapproval and Prequalification Offers Impact My Credit Score?
Prequalification (also known as prescreening) alone does not impact your credit scores. These are known as soft inquiries. Soft inquiries are never included in credit score calculations. Once you formally submit an application or accept a new line of credit, a hard inquiry is made on your credit file, which is added to your credit report and can impact your credit scores.
If you are preapproved for a credit offer, that preapproval won't impact your credit scores either. Once you formally apply, however, that application will count as a hard inquiry and can impact your credit scores.
Typically, a hard inquiry subtracts a few points from your credit scores, but typically only for a year, depending on the credit scoring model. You can learn more about the difference between hard and soft inquiries here.
Why Do I Receive Credit Card Offers in the Mail or Online?
Consumers may receive credit offers in the mail or online because lenders use a behind-the-scenes process to determine who they can extend a credit offer toward. Lenders can segment consumers based on different criteria, such as whether you are an existing customer, to offer various credit offers such as a cash back credit card or low-interest credit card. All of these offers are governed by the Fair Credit Reporting Act (FCRA).
Specifically, the FCRA requires lenders initiating a prescreen to:
Provide notices to consumers offered credit based on the preapproved list.
Extend firm offers of credit to consumers who passed the prescreening.
Maintain records of the prescreened lists.
Allow consumers to opt-out of prescreened offers.
Can I Opt-out of Credit Card and Loan Offers?
Yes, you can opt-out of unsolicited credit offers for a 5-year period or permanently by calling the toll-free number 1-888-5-OPT-OUT (1-888-567-8688) or visiting www.optoutprescreen.com.
Choosing to opt-out of this list should stop you from receiving any prescreened offers but not all depending on the source of the list they are using. Some companies may require you to call them directly, for example, local businesses, a church, or alumni associations.
If you decide to opt-out you may need to provide your Social Security number, date of birth and your home telephone number. If you change your mind, you can call the same number or visit the same site and request to opt back in.
The investment in time that you make in knowledge to understand these differences will pay you the best interest in the long run.
Learn More: Experian also offers a tool that finds the best credit card and loan offers for you.