Buying a car can be a lengthy process, and by the time you're almost done, working with the dealer's finance department or a lender may simply feel like a necessary evil. If you're not careful, though, you could end up paying more for a car loan than you need to.
While there are some limitations, it's possible to negotiate the terms of a car loan with lenders and dealers. Here are some steps you can take to save hundreds or even thousands of dollars.
Be Prepared and Know Your Finances
Before you even start shopping around for a new vehicle, it's important to take stock of your financial situation and figure out how much you're comfortable spending.

Check Your Credit Score
The interest rates you qualify for will largely depend on your credit history, along with other factors, so checking your credit score will give you an idea of where you stand.
The higher your credit score, the more likely you are to qualify for a lower interest rate. To get an idea of what lenders are looking for, familiarize yourself with the different FICO® Score☉ ranges: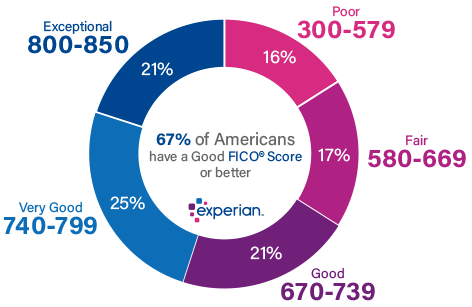 If your score is in the very good or exceptional range, you can generally expect to have more negotiating power because lenders are more likely to offer you their lowest rates. If your score is considered good, you may still have some solid options, but loans may be limited if your score is below that. The average interest rate on a new car loan was 3.82% for the best credit scorers, while those with the lowest credit scores carried new car loans with 14.25% interest rates on average, according to Experian's State of the Automotive Finance Market from the fourth quarter of 2019.
That interest rate difference translated into lower monthly payments for those at the top end of the credit score range. Consumers with the highest credit scores had an average monthly payment of $522, while those with the lowest credit scores had an average monthly payment of $562, a $40 difference, according to Experian data.
As a result, if your credit score isn't where you want it to be and you don't have to buy a new car right now, consider taking some time to work on improving your credit before you take the next step.
Know Exactly What You Can Afford
While it's important to take your time to find the best deals available, it's crucial that you make sure your new car payment works for your budget.
To determine how much car you can afford, factor in all of the costs that come with buying and owning a car, including:
Loan payments: This includes both the principal amount of the loan and its interest charges. Your loan amount will include your vehicle's sales price as well as taxes, fees and add-ons like service contracts. What you'll pay every month depends on your loan amount, loan term and interest rate.
Auto insurance: A lot of factors go into deciding your insurance premiums, including the make, model, age and condition of your vehicle. Get a quote from an insurer to find out what to expect. In many states, your credit score is another factor that determines what you'll pay for insurance.
Maintenance and repairs: Every car requires maintenance and repairs over time, but the older the vehicle, the likelier it is that you'll have these expenses on the regular. Buying an older car may save you upfront costs but you'll have to plan for when things may go wrong.
Fuel: Depending on how much time you spend behind the wheel and the fuel economy of your vehicle, run some numbers to determine how much you'll be paying in gas.
Auto resource websites such as Edmunds and Kelley Blue Book can estimate a vehicle's total cost of ownership over a five-year period, which is slightly less than the average auto loan term of roughly 69 months for new cars and 65 months for used cars, according to Experian data.
When you've narrowed down your search, take some time to research the car you want to buy and see what it's selling for in your area. Comparing prices and understanding the market can give you some more negotiating power when you're ready to buy.
Research Auto Loans and Interest Rates
When you work with a dealer, their finance department can shop around for your vehicle loan, getting rates from multiple lenders so you don't have to.
The downside is that dealers aren't legally required to offer you the best rates you qualify for. In fact, the rate you're quoted may include compensation for the dealer for arranging the financing between you and the lender.
This means it's a good idea to shop around and compare interest rates for yourself before you even head to the dealership so you know what's available based on your credit and income.
Many lenders offer what's called a direct loan, which means they lend to you directly rather than working through a dealership.
You can also apply for car loans directly on lender websites, and some even prequalify you with just a soft credit check, which won't hurt your credit score. Even if you do have to submit a loan application, credit scoring models typically combine auto loan hard inquiries if they're all made around the same time—typically within 14 to 45 days of one another. This means your loan applications will have less of an effect on your credit scores.
This process of applying for and comparing auto loan rates and terms with several lenders can take time, but it's time well spent if it can help you score a lower interest rate.
Also, this process may be able to help you negotiate your interest rate directly with lenders. Some lenders may offer to beat any rate you get from a competitor, so the more options you consider, the better your chances are of saving money.
As you compare interest rates, make sure to look at the annual percentage rate (APR), which represents the total cost of borrowing, including both interest and fees.

Other Ways to Reduce Your Auto Loan Interest Rate
Banks and credit unions charge interest to compensate for the risk they take on when lending money. So one key to lowering your interest rate is to reduce the risk you present to prospective lenders. Here are some ways to do that:
Make a larger down payment. The more you borrow from a lender, the more it stands to lose if you default on your payments. By putting more money down or trading in a vehicle, you'll not only reduce how much you have to borrow, but you could qualify for a lower interest rate.
Reduce the sales price. Again, the less money you borrow, the less of a risk you pose to lenders. And, ultimately, you'll save more money overall if you set your budget based on how much the vehicle costs rather than the monthly payments, which car dealers sometimes focus on. You can reduce the sales price by choosing a cheaper car or declining add-ons, such as service and maintenance contracts and gap insurance.
Opt for a shorter repayment term. Lenders typically offer lower interest rates with shorter repayment terms because there's less of a chance you'll default over, say, four years than seven years. The only caveat is that shorter repayment terms equal higher monthly payments, so you'll need to make sure you can afford them.
Get a cosigner. If you have bad credit or you simply want more negotiating power, consider asking a creditworthy cosigner to apply for the loan with you. Your cosigner agrees to make payments on the loan if you can't, effectively reducing the risk of default for the lender. Just keep in mind that if someone cosigns with you, the loan also shows up on their credit report, and payment problems will damage their credit history.
Consider these and other ways to reduce your interest rate before it's time to negotiate with the dealer or lenders.

How to Lower Auto Loan Interest Rates After Getting a Loan
Even after all your efforts, it's still possible you won't qualify for the interest rate you want. Fortunately, that doesn't mean you're stuck with a high interest rate for the entire term of your loan. If you can improve your credit score, you may be able to refinance your car loan with a different lender and score better terms.
Here are a few actions you can take that will contribute to your overall creditworthiness:
Check your credit report. Your credit report provides a list of all your current and some or all previous credit accounts, and can provide you with the information you need to know which areas you need to address.
Dispute inaccurate or fraudulent information. In rare instances, incorrect or even fraudulent information could show up on your credit report. If this happens, you can file a dispute with the credit reporting agencies to have the details corrected or removed.
Pay on time, every time. If you're behind on payments with any of your credit accounts, get caught up as quickly as possible, then focus on paying on time every month going forward.
Pay down your credit card balances. Your credit utilization ratio, which is your total card balance divided by your total credit limit, is an important factor in your credit score. In general, the lower your utilization ratio, the better, so work on paying down your credit card debt and keep it relatively low.
Use your utility payments to boost your score. Utility and phone payments haven't had any impact on your credit score historically. But with Experian Boost®ø, you can connect your bank accounts and opt to have the positive payment history associated with those accounts added to your credit file, which can help increase your FICO® Score.
It's not always easy to know when to refinance a car loan, but it's generally best to consider it if your credit score has improved or interest rates have gone down since you took out the first loan.
Again, as you go through this process, it's a good idea to shop around and compare rates from multiple lenders. When you find the best deal for your situation and the lender approves the loan, it will pay off your original loan on your behalf.
To give you an idea of your potential savings, let's say you initially took out your car loan when your credit scores were much lower than they are now, and your $15,000 loan had a 15% interest rate and 60-month repayment term—that gives you a monthly payment of $357.
Now, let's say you're roughly 16 months into paying off your loan, and your loan amount is down to $12,000. Your credit score is now in the fair range, so you start shopping around for new rates and the lowest you qualify for is 8%. If you were to replace your current loan with a new one that has a 48-month repayment term, your monthly payment would drop to $293, and you'd save $1,601 in interest over the remainder of the new loan.

Never Settle
If your credit isn't in stellar shape, you may have a hard time qualifying for some of the best interest rates auto lenders have to offer. But that doesn't mean you have to settle for a high interest loan, even if you have bad credit.
Take your time to consider your options, shop around and compare interest rates, and look for opportunities to reduce the amount of risk lenders take on. If you have time before you need a new car, don't rush into anything. Be prepared to walk away if the terms of the loan don't match your budget.
And if you don't have time, take what you can get now and work on building your credit, so you can qualify for a lower interest rate through refinancing in the future.