At Experian, one of our priorities is consumer credit and finance education. This post may contain links and references to one or more of our partners, but we provide an objective view to help you make the best decisions. For more information, see our Editorial Policy.
You have a big purchase to make—maybe it's a flat-screen television or a new lawnmower. You spend hours researching the best makes and models and then finally decide to hit the "buy" button. When the item arrives, a little packet of paper falls out of the box. It's the warranty form. Maybe you'd usually just toss it in the trash—it's probably only good for a year or two anyway. But the credit card you used to make your purchase might actually extend that original warranty by another year or two, making it all the more important to fill out. Here are the credit cards that offer extended warranty protection and how to take advantage of it if something goes wrong with your purchase.
What Is an Extended Warranty?
A new product you buy may come with a manufacturer's warranties. These are basically guarantees that if your item malfunctions, the manufacturer will either fix it or replace it for you. Unfortunately, a lot of warranties end after a year or two … just about the time things tend to break.
An Extra Year or Two of Protection
Many credit cards offer a benefit that will extend the warranties on items you buy, up to two years in some cases. To take advantage of them, you must use your card to make the purchase and register for the manufacturer's warranty. The credit card's extended policy may then kick in after the original warranty expires. So let's say the warranty on your printer lasts a year, but your credit card has extended warranty protection for a year beyond that. That means you could be eligible for up to two years of overall coverage. It's not automatic, though.
Terms, Conditions and Exclusions
As with any credit card protection like this, you need to be aware of the terms, conditions and exclusions. Extended warranties typically only cover the purchase for a set period of time and apply only to manufacturer's warranties that are three years or less. There are also usually dollar caps on coverage, so if you plan to make large purchases, double-check that your items don't cost much more than the maximum benefit you might be entitled to. Also keep in mind that many items are usually excluded, such as computer software, antiques, previously owned items, those that are either purchased at resale or for commercial use and motorized vehicles, among other categories.
Extended warranties are typically offered by the credit card network, like Visa or Mastercard, rather than by an individual bank or by specific credit card. To find out if your card offers extended warranty coverage, check its benefits guide or contact your issuer directly for details.
Which Credit Cards Offer Extended Warranties?
Extended warranties are actually a much more common credit card perk than you might expect.
Credit One Bank American Express® Credit Card: Like many American Express cards, this one, issued by Credit One Bank, extends the original manufacturer's warranty on covered products. In this case, you'll get extra coverage on products with warranties of 12 months or less purchased in the U.S. with the card for a period equal to the duration of the original warranty. Its purchase protection will also cover eligible items damaged or stolen within 90 days of the date of purchase up to $1,000 per loss and $50,000 per cardmember account per 12-month period.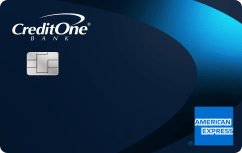 Credit One Bank American Express® Credit Card
Apply
on Credit One Bank's website
Terms Apply
Recommended FICO® Score*
Fair - Good
Credit One Bank American Express® Credit Card
1%
Cash Back on All Purchases
Earn unlimited 1% cash back rewards on all purchases, terms apply
Card Details
Earn unlimited 1% cash back rewards on all purchases, terms apply
$0 Fraud Liability ensures you won't be responsible for unauthorized charges
Retail Protection covers you if an eligible item is accidentally damaged or stolen, terms apply
Get deals on shopping, dining, travel, and entertainment through Amex Offers
Enjoy exclusive access to pre-sale tickets for some of the hottest nationwide concerts and events
Know you're covered when the unexpected happens while traveling with Travel Accident Insurance, terms apply
If you are a Covered Borrower under the Military Lending Act, you may get a different offer
How Do You Use an Extended Warranty?
While you have to be careful of exclusions, extended warranties are not difficult to invoke. Let's say you purchased a new food processor for $200 using a credit card with extended warranty coverage. Here are the steps to take to ensure your purchase will be covered:
Keep your receipt: First, make sure you keep the receipt—whether it's an actual paper receipt or an electronic version. If necessary, fill out the manufacturer's warranty and register your purchase. After a year and a half of making soups, sauces and pie crusts galore, the food processor suddenly stops working. Even though the manufacturer's warranty ended at one year, you can lean on your credit card to help you either repair or replace the appliance.
Timing is key: To repair or replace your food processor, you generally have to contact your credit card's benefits administrator within 60 to 90 days of the incident, depending on the card. If you can't find the phone number or website to do so (it's usually listed in your card's benefits guide), call your card issuer and ask for the appropriate contact information.
Paperwork: You'll then need to fill out forms about the item and include any documentation the benefits administrator requires. Those materials usually include your credit card information, the original receipt, your credit card statement from the month you made the purchase, the manufacturer's warranty, a description of your item and its serial number, and possibly things like photos of your item and quotes for repairs.
Verdict: Once your claim has been substantiated, the benefits administrator will advise you on what to do next: how and where to get your food processor repaired or replaced, and how much you will be reimbursed.
Repair and reimbursement: You can usually expect reimbursement within about a week if you have to buy a new item; if you submit it for repairs, the benefits administrator may pay the facility that they authorize to do the work directly.
What Other Protections Do Credit Cards Offer?
In addition to extended warranty coverage, you may find your credit card protects you in other instances as well. Here are a few of the other types of insurance many credit cards offer and what they cover.
Price protection: Let's say you buy something and then later see it advertised for a lower price. While some merchants will refund you the difference as a goodwill gesture, it doesn't happen often. Luckily, a handful of credit cards offer price protection that may refund the price difference.
Return protection: If you want to return a purchase but the retailer won't take it back, your credit card may refund you for the price of the item under certain covered circumstances.
Cellphone protection: A relatively recent development, some credit cards now offer protection if your phone is damaged or stolen under covered circumstances. You usually have to pay for your cell plan with the card in question, and there is usually a deductible, but it could still save you hundreds of dollars if something does happen to your phone.
Trip interruption or cancellation: This type of protection usually covers your non-refundable, pre-paid travel expenses if your trip is canceled or interrupted due to unexpected events. Coverage caps vary by card, but there are often maximum payouts per individual ticket and per trip.
Trip delay: If your common carrier, like a flight, train or cruise ship, is delayed and you have to pay for extra expenses like meals or lodging, your credit card might reimburse you. This type of coverage usually kicks in after 12 hours or an overnight delay, and typically maxes out at $300 to $500 per ticket.
Lost or delayed baggage: If your bags show up late or go missing, some credit cards will reimburse you for replacement items like clothing or toiletries. For delays, coverage is usually around $100 per day for between three and five days, while lost-luggage insurance usually goes up to $3,000 per bag. As you might guess, a lot of situations and items, like jewelry and electronics, tend to be excluded.
Rental car insurance: You might have to use your own personal insurance or buy an agency's expensive policy to cover you during a car rental, but some credit cards offer secondary coverage that kicks in after you've exhausted your primary policy's benefits.
Travel accident insurance: Some credit cards will pay for medical expenses or offer a type of insurance payout if you or a travel companion are injured or killed during a trip. Lots of situations are excluded, but let's hope that you never have to use this type of benefit!
Credit cards offer plenty of flashy perks like big intro bonuses and rewards points that can be redeemed for travel and cash back. But one of the most underrated benefits a card can offer is extended warranty protection. Taking advantage of it usually means you can enjoy new purchases with peace of mind for an extra year or so knowing that you won't be on the hook if something goes wrong. Just be aware of the exclusions and conditions, and stay on top of your specific card's extended warranty terms to make sure that items you buy are eligible. To find credit card offers based on your needs, you can find personalized options through Experian CreditMatchTM.