At Experian, one of our priorities is consumer credit and finance education. This post may contain links and references to one or more of our partners, but we provide an objective view to help you make the best decisions. For more information, see our Editorial Policy.
If you have bad credit and can't get approved for an unsecured credit card, the Total Visa® Unsecured Credit Card could be an option for you.
The card charges several fees and has an abnormally high annual percentage rate (APR), however, so keep those in mind as you decide whether to apply. Here's everything you need to know about the Total Visa® Unsecured Credit Card.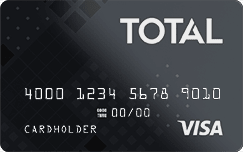 Total Visa® Unsecured Credit Card
Apply
on The Bank of Missouri's website
Recommended FICO® Score*
Poor - Fair
Total Visa® Unsecured Credit Card
Card Details
Checking Account Required
Fast and easy application process; response provided in seconds
A genuine VISA card accepted by merchants nationwide across the USA and online
Manageable monthly payments
See your score! Easy, free Credit Monitoring in the Total Visa Mobile App!
Reports monthly to all three major credit bureaus
Choose from multiple card designs
| Pros | Cons |
| --- | --- |
| Can qualify with a low credit score | Charges several upfront and ongoing fees |
| Doesn't require a security deposit | Has a steep APR |
| Reports to all three credit bureaus | Offers a low credit limit |
Customer service contact info
(844) 206-4371

Total VISA

P.O. Box 85710

Sioux Falls, SD 57118-5710
Experian Review
Getting a credit card when you have bad credit isn't always easy, but that's no reason to give up. The Total Visa® Unsecured Credit Card is geared to consumers who have less-than-perfect credit.
Look closely at the various fees and APR on this card to determine whether it's a good fit, but it's worth considering if you're trying to improve your credit and are looking at all possible options—including unsecured cards that will report your payment activity to all three credit reporting agencies (Experian, TransUnion and Equifax).
This isn't the only unsecured credit card for bad credit out there, though, so carefully compare it with alternatives before you apply.
Know the Costs Going In
You don't have to put up a security deposit to get approved for this card, which is nice if you don't have the cash for a secured credit card. But the card charges several fees, some of which are uncommon even for credit cards for bad credit.
When you first get approved for the card, for example, you'll be required to pay an $89 processing fee, or "program fee," just to open the account. There's also a $6.25 monthly maintenance fee after the first year. You won't find either of these fees with most credit cards.
The card's annual fee is $75 the first year, then $48 after that (on top of the monthly fee). That brings the total cost from fees alone to $164 in the first year and $123 thereafter. Add another $29 per year for each authorized user card on the account.
Typically, cards that charge fees this high offer rewards and other benefits. The Total Visa® Unsecured Credit Card is lacking in these extras, however, instead focusing on being a basic go-to card for building credit. Another quirk to keep in mind is that you can't use the card outside the U.S. So if you're planning a trip abroad, you'll need a different payment method.
If you're having difficulty qualifying for other unsecured credit cards and don't want to put down a deposit for a secured credit card, it may still be worth considering.
Get Approved With Less-Than-Stellar Credit
The Total Visa® Unsecured Credit Card is best suited for people who have made some serious credit missteps in the past. It's a last resort if you can't get approved for any other credit card for bad credit but still want to establish a positive payment history.
The card reports your activity to all three major credit bureaus, which is something that not all bad-credit card issuers do. So as long as you use the card responsibly and make on-time payments every month, it can help you establish a good credit history over time.
Best if You Plan to Pay Off Your Balance Each Month
This card charges a 34.99% APR on new purchases, making it one of the costliest credit cards on the market. So if you're considering this card, make sure you have a plan to pay off your balance in full each month.
Also, keep in mind that the starting credit limit is $300, which gives you little room for error with your credit utilization ratio—the percentage of your limit you're using at any given time. Credit experts recommend keeping your utilization ratio below 30%, which means with this card it's best to try to keep your balance below $90. But the lower, the better.
After 12 months with the card, you can request a credit limit increase, but keep in mind that there's a 20% fee if you're approved. In other words, if your credit line is increased by $100, you'll be charged $20.
Additional Info
| | |
| --- | --- |
| Purchase APR: See terms* | Grace period: 21 days |
| Transfer APR: N/A | Annual fee: See terms* |
| Cash advance APR: See terms* | Balance transfer fee: N/A |
| Minimum interest charge: $1.00 | Cash advance fee: $0 for the first year, then 3% of the advance amount ($10 minimum) |
| Servicing Fee: $6.25 monthly servicing fee after the first year | Foreign transaction fee: Not allowed to use this card outside the U.S. |
| | Late payment fee: Up to $41 |
| | Returned payment fee: Up to $41 |
Authorized-User Policy
Cardholders can add an authorized user to their account with a $29 annual fee per additional card. Authorized users can use their cards to make charges against your credit line, but you'll be responsible for making payments as the primary account holder.
The card's issuer may report card activity to both your and your authorized users' credit reports. Read the Total Visa® Unsecured Credit Card terms and conditions for more information.
Is This Card Right for You?
The Total Visa® Unsecured Credit Card may be worth considering as a last resort if you can't get approved for another unsecured credit card and can't afford a security deposit. But even then, considering the card's fees, it may be better to wait until you have enough cash set aside for a deposit on a secured credit card—because that's money you can get back at some point.
Before you apply for the card, take some time to consider other options. For example, the Indigo® Mastercard® is another unsecured credit card for bad credit that charges an annual fee of $75 the first year; $99 thereafter. Its standard APR is 24.90%.