At Experian, one of our priorities is consumer credit and finance education. This post may contain links and references to one or more of our partners, but we provide an objective view to help you make the best decisions. For more information, see our Editorial Policy.
Petal launched its first credit card, issued by WebBank, with an intriguing proposition. You securely link your bank account to give Petal read-only access, and you can be approved for a new credit card based on your banking history. Petal's card issuer, WebBank, can review your credit report and score when available, but doesn't require a credit score to qualify. Now, there's a newly launched credit card to help people with more complicated credit histories—the Petal® 1 "No Annual Fee" Visa® Credit Card.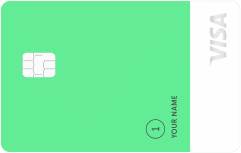 Petal® 1 "No Annual Fee" Visa® Credit Card
Apply
on Petal's website
Issued by WebBank, Member FDIC
Recommended FICO® Score*
Poor - Fair, New to Credit, Rebuilding
Petal® 1 "No Annual Fee" Visa® Credit Card
Card Details
$0 Annual Fee
Variable APRs range from 24.49% - 33.99%
$300 - $5,000 credit limits
Earn a credit limit increase in as little as 6 months. Terms and conditions apply.
No credit score? No problem. If eligible, we'll create your Cash Score instead.
2% - 10% cash back at select merchants
See if you're pre-approved within minutes without impacting your credit score
No annual or foreign transaction fees
Build credit alongside hundreds of thousands of Petal card members
Petal's mobile app makes it easy to manage your money, track your spending, and automate payments
Petal reports to all 3 major credit bureaus
No deposits required
Card issued by WebBank
| Pros | Cons |
| --- | --- |
| No annual fee or foreign transaction fees | May require a valid U.S. bank account |
| Doesn't require a credit history or score | High interest rate |
| Earn cash back on select purchases | Doesn't offer rewards on every purchase |
| $300 to $5,000 credit limit depending on your creditworthiness | |
Petal Customer Service
support@petalcard.com
855-697-3825

Petal Card Inc.
MSC — 166931
P.O. Box 105168
Atlanta, GA 30348-5168
Experian Review
The Petal® 1 "No Annual Fee" Visa® Credit Card is Petal's latest card offering, issued by WebBank, and it's designed for people who have complicated credit histories Unlike a secured card, you don't have to send a security deposit and can still get a decent credit limit.
A Good Option for Establishing and Improving Credit
The Petal® 1 "No Annual Fee" Visa® Credit Card can be a good option if you don't have credit, or if you have low credit scores that you're working to rebuild. Here's why:
There's no annual fee.
You don't need a credit history to qualify.
The Petal® 1 "No Annual Fee" Visa® Credit Card is reported to all three major credit bureaus —Experian, Equifax and TransUnion—and SageStream, a smaller credit reporting agency that some creditors may use.
It's an unsecured card that doesn't require a security deposit.
While the type of credit card you have doesn't impact your credit, the Petal® 1 "No Annual Fee" Visa® Credit Card may be a better choice than other cards for people with low or no credit.
It may be difficult to get a traditional credit card if you haven't yet established a credit history or don't have good credit. That's why many people turn to secured cards when they're building or rebuilding their credit. And, to be fair, some of the best secured cards don't have annual fees and offer rewards on purchases. However, you still have to send the card company a refundable security deposit. For example, if you want a card with a $300 credit limit, and the card issuer allows it, you'll usually need to send $300 to secure your account.
With the Petal® 1 "No Annual Fee" Visa® Credit Card, you may be offered a credit limit of $300 to $5,000 without having to provide a security deposit. Even if you don't plan on making $300 worth of purchases, having a high credit limit can help you maintain a low credit utilization ratio, which can be good for your credit scores.

How to Qualify for a Petal® 1 "No Annual Fee" Visa® Credit Card
Even though the Petal® 1 "No Annual Fee" Visa® Credit Card doesn't require a credit history or score, you'll still need to meet the minimum requirements and go through an application and underwriting process. If you get approved for a card, your credit limit and interest rate can depend on your overall creditworthiness.
At a minimum, to get the Petal® 1 "No Annual Fee" Visa® Credit Card, you need to:
Be 18 years old (19 in Alabama and Nebraska)
Have a U.S. telephone number and email address
Be a legal permanent resident within the U.S. with a valid Social Security number or Individual Taxpayer Identification number. Your address can't be a correctional facility.
Not already have, or previously have applied for, a Petal card
You may also have to link a checking or savings account that you're the primary or joint account holder on. The account must have at least three months of banking history, be with a U.S. financial institution and be where you deposit your primary income.
During the application process, WebBank analyzes your banking information, looking at your income, saving and spending history to determine your Cash Score. This score is used, along with your credit history and credit score (when they're available), to help determine if you qualify for a Petal card and the credit limit and interest rate you'll receive.
While not everyone has to link a bank account, your application may be denied if you're asked to link a bank account and choose not to, or your bank doesn't qualify. Petal's linking service (Plaid) works with many banks, credit unions and financial institutions. But some large financial institutions are not supported. There may also be temporary connection issues with some financial institutions, which you can check on the Petal site.

Cash Back at Select Merchants and Few Fees
You can earn cash back rewards using the Petal® 1 "No Annual Fee" Visa® Credit Card through the Petal Offers program, which you'll be automatically enrolled in when you receive your card. Petal Offers may be for 2% to 10% cash back at select merchants, a potentially high cash back rate. However, because they're merchant-specific, the program is limited compared to a rewards card that offers cash back on all purchases or broader category-wide purchases.
You won't pay an annual fee to use the Petal® 1 "No Annual Fee" Visa® Credit Card. Nor will you be charged foreign transaction fees, which means your money can go further if you use this card when traveling overseas or making online purchases in foreign currencies.
The two fees that you could be charged are late payment and returned payment fees. However, you can avoid these by making at least the minimum payment by your bill's due date every month and not having any of your payments returned.

Apply Without Hurting Your Credit
Another reason Petal's cards may be appealing is that the application process starts with a soft credit check preapproval, which won't impact your credit scores.
After you complete the application, you may be preapproved for the Petal® 1 "No Annual Fee" Visa® Credit Card or Petal's other card offering, the Petal® 2 "Cash Back, No Fees" Visa® Credit Card.
If you are preapproved and decide to continue with a full application, you'll need to agree to a hard inquiry, which could temporarily hurt your credit scores a little. If you aren't preapproved, you can stop there and your credit won't be impacted.
Easily Track Your Spending Using the Mobile App
Once you have the Petal® 1 "No Annual Fee" Visa® Credit Card, you might start using Petal's feature-rich app—available on iOS and Android.
For example, the app includes:
A budgeting tool that you can use to set how much you want to spend using your card each month and track your progress.
A payments calculator that breaks down how different payment amounts can affect your total interest payments.
An automatic subscription monitoring tool that tracks (and lets you easily cancel) subscriptions you're paying for with your card.
You can also use the app to easily find nearby merchants offering cash back Petal Offers.
You can also manage your account from the online, browser-based portal if you'd prefer.

Additional Info
| | |
| --- | --- |
| Purchase APR: 24.49% - 33.99% Variable | Grace period: 25 days |
| Transfer APR: N/A | Annual fee: $0 |
| Cash advance APR: N/A | Balance transfer fee: N/A |
| Minimum interest charge: N/A | Cash advance fee: N/A |
| | Foreign transaction fee: None |
| | Late payment fee: Up to $40 |
| | Returned payment fee: Up to $29 for your first late payment. Up to $40 for subsequent late payments. |
Authorized-User Policy
Petal doesn't allow you to add an authorized user to your credit card.
Is This Card Right for You?
The Petal® 1 "No Annual Fee" Visa® Credit Card could be a good fit for anyone who's new to credit or trying to rebuild their credit. Particularly when compared with secured credit cards, the fact that it's an unsecured card with no annual fee, $300 minimum credit limit and cash back offers are big benefits. However, the Petal 2 "Cash Back, No Fees" Visa® Credit Card may be an even better option if you can qualify, as it offers cash back on all purchases. Fortunately, you'll be considered for both cards with Petal's soft credit check preapproval.