At Experian, one of our priorities is consumer credit and finance education. This post may contain links and references to one or more of our partners, but we provide an objective view to help you make the best decisions. For more information, see our Editorial Policy.
The Official NASCAR® Credit Card from Credit One Bank® might sound like a great choice if you're a fan of the sport. But if you have great credit, this card is easy to top in value. You'll earn bonus rewards on NASCAR Shop purchases, but you won't get any cash back on certain purchases, and the card's annual fee can be pricey.
Whether you're a die-hard NASCAR fan or you want to improve bad credit with an unsecured credit card, here's what you need to know.
Official NASCAR® Credit Card from Credit One Bank®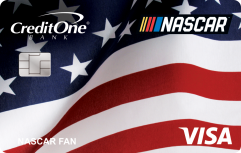 Apply
on Credit One Bank's website
Recommended FICO® Score☉
Poor - Exceptional
17.99% - 23.99% Variable
Intro APR: N/A
Card Details
See if you Pre-Qualify without harming your credit score
Get 1% cash back rewards on eligible purchases and double cash back rewards at the NASCAR Shop, terms apply
No need to fret—you're covered by $0 Fraud Liability
Accounts are automatically reviewed for credit line increase opportunities
Choose your monthly payment due date for added convenience, terms apply
Monitor your credit with free online access to your Experian credit score, terms apply
Looking to rebuild credit? We report to the major credit bureaus monthly
Never miss an account update with customizable text and email alerts
If you are a Covered Borrower under the Military Lending Act, you may get a different offer
Customer service contact info for Credit One Bank
877-825-3242
Credit One Bank
P.O. Box 98873
Las Vegas, NV 89193-8873
| Pros | Cons |
| --- | --- |
| No security deposit | Not all purchases earn rewards |
| No annual fee for eligible cardholders | The annual fee can be steep |
| Bonus rewards on NASCAR Shop purchases | Complicated terms |
Experian Review
The Official NASCAR® Credit Card from Credit One Bank® is a rewards credit card for the entire spectrum of credit scores. It doesn't require a security deposit, which makes it a decent option if you have bad credit you want to improve.
But depending on where you stand with your credit, your chances of earning cash back may be limited. The card also has a range of annual fees.
Finally, unless you're an expert at reading fine print, the card's terms can be a bit confusing. We'll break everything down here to help you decide whether it might be a good fit for you.
Cash Back Is Based on Your Credit Score
The structure of the card's cash back rewards program is based on your creditworthiness. If you have excellent credit, for instance, you'll earn 1% cash back on eligible purchases and 2% back at the NASCAR Shop.
If your credit is less than stellar, you'll still get 2% back on NASCAR Shop purchases, but you may only earn 1% back on gas and automotive purchases. Using the card for anything else gives you no rewards value at all.
You will, however, get exclusive access to deals, discounts and experiences with select NASCAR partners.
But with most rewards credit cards offering at least something on every purchase you make, the prospect of earning cash back on only a few categories isn't very appealing. Some secured cards, including the Discover it® Secured, offer cash back rewards on everything.
Fees Can Add Up Quickly
The card's annual fee ranges from $0 to $95 for the first year, then $0 - $99 after that, depending on your creditworthiness. But even if your credit is excellent, this card's other fees will eat into any value you get out of the card:
Authorized user fee: $19 annually
Foreign transaction fee: 3% of each international transaction with a $1 minimum
Credit line increase fee: The card issuer doesn't disclose this fee but may impose it when processing your request
Optional credit protection program fee: If you opt in, this fee is $0.96 for each $100 on your monthly billing statement
The optional credit protection program kicks in if you become disabled or involuntarily unemployed. If you're eligible, it will cover your minimum payment for up to six months.
It's also important to keep in mind that the minimum credit line you can get approved for is $300, which won't give you much headroom with your spending. That's because your credit utilization rate—your balance as a percentage of your credit limit—is a major factor in your FICO® Score☉ .
The lower your credit utilization rate, the better. Credit experts say anything above 30% will have a more serious effect on your credit scores, so try to keep your balance below $90 if you have a $300 limit.
The Terms Can Be Confusing
The terms of the card vary depending on your credit situation, but there's no way of knowing for sure what you qualify for until you apply.
Credit One Bank does allow you to get prequalified with just a soft credit check to get an idea of what you might receive in terms of rewards and fees. But prequalification isn't the same as preapproval, so those terms can change once the bank runs a hard inquiry on your credit report.
With this card, there are so many iterations of what you could qualify for that it's difficult even to know what to expect. Here are some examples:
The annual fee after the first year may be billed monthly or annually.
The cash advance fee can be 3% of the advance amount with a $10 minimum, 5% with a $10 minimum, or 8% with a $5 minimum.
If you're covered under the Military Lending Act, your terms may be completely different, but being a covered service member under the act could cause your application to be denied.
Borrowers with excellent credit may earn 1% cash back on "eligible purchases," but the bank doesn't state which purchases are eligible.
Some cardholders don't get a grace period, which means your purchases start accruing interest immediately.
If you want to know exactly what you're going to get with a new credit card before you apply, this one may not be the best fit.
Additional Info
| | |
| --- | --- |
| Purchase APR: 17.99% - 23.99% Variable | Grace period: 24 days for eligible accounts |
| Transfer APR: N/A | Annual fee: $0 to $95 for the first year, then $0 - $99 after that |
| Cash advance APR: 23.99% Variable | Balance transfer fee: N/A |
| Minimum interest charge: $1 | Cash advance fee: 3% of the advance amount with a $10 minimum, 5% with a $10 minimum or 8% with a $5 minimum |
| | Foreign transaction fee: 3% of the transaction amount with a $1 minimum |
| | Late payment fee: Up to $39 |
| | Returned payment fee: Up to $39 |
Authorized-User Policy
If you want to add an authorized user to your account, the new card will incur a $19 annual fee. All authorized users must be at least 15 years old, and while they can make purchases on your account, you're solely responsible for paying them off.
Authorized users can also:
Make payments
Report a lost or stolen card
Access account information, including the balance, available credit and payment information
Remove themselves from the account
Also, note that if you add an authorized user, Credit One Bank will only report account activity on their credit report if it's your spouse. In general, most credit card issuers report account activity for all authorized users. Read Credit One Bank's card terms for more information.
May Be Worth It for NASCAR Fans
If you're a NASCAR fan who would love a branded card, along with all the discounts and perks that come with it, the card may be worth considering. But overall, Credit One Bank makes it difficult to know what you're going to get out of the card unless you apply. Regardless of where your credit stands, you may be able to get more value elsewhere.
Before you apply for the Official NASCAR® Credit Card from Credit One Bank®, take some time to compare it with other credit cards to make sure you find the right card for you.