At Experian, one of our priorities is consumer credit and finance education. This post may contain links and references to one or more of our partners, but we provide an objective view to help you make the best decisions. For more information, see our Editorial Policy.
Universal Credit makes it easy to check your loan offers with a quick online form and no impact on your credit score. It probably isn't the best fit for people who have excellent credit, but it could be a contender for applicants who want to quickly get a fixed-rate personal loan.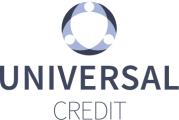 See if you're eligible
Recommended FICO® Score*
Fair - Exceptional
Available loan amounts: $1,000 to $50,000
Est. monthly payment: $32 to $2,206
Grace period: 15 days
Application fee: $0
Loan Details
Affordable loans from $1,000 - $50,000 with low fixed rates that will never change, affordable monthly payments, and no prepayment penalties
Quick online application -- get pre-approved in just minutes
Checking your rate won't impact your credit score
Review multiple loan options so you can pick the amount and term that fits your budget and timeline
With automatic payments and a customizable due date, managing your account is easy and you'll be able to circle the date on your calendar when you'll be debt free
Disclosure
| Pros | Cons |
| --- | --- |
| Check your rate without impacting your credit | Charges an origination fee |
| No prepayment penalties | Potentially high APR |
| Get the funds within one business day after approval | APR can depend on how you use the funds |
Universal Credit Customer Service
(877) 418-9765
275 Battery Street, 23rd Floor
San Francisco, CA 94111, USA
Experian Review
Universal Credit is an online-only brand of Upgrade, a company that also offers personal loans, cards and other financial products under the Upgrade brand. Via Universal Credit, you can apply for fixed-rate personal loans that have three- or five-year repayment terms and no prepayment penalties. The offering is in line with what you can find from many online-only lenders, but there are a few specific pros and cons to keep in mind if you're considering Universal Credit.
Check Your Offers Without Impacting Your Credit
A great feature is that you can check your loan offers with a soft credit inquiry—the type of credit check that won't impact your credit scores. If you're shopping for a personal loan, comparing offers from several lenders can be a great first step. And since checking won't hurt your credit, it might be worth seeing what Universal Credit offers you.
Potentially High Rates and Fees
Universal Credit will determine your loan's interest rate based on various factors, including your credit score, credit history and the loan's repayment term. However, its lowest interest rate may be higher than other lenders' lowest-advertised rate.
Additionally, Universal Credit charges at least a 5.25% origination fee. Some lenders don't charge origination fees, or might have a lower low-end for their fees.
In the end, your specific loan offers are what matters most, and Universal Credit might give you the best loan for your needs. But if you have good to excellent credit, another lender might be a better fit.
Your Interest Rate Could Depend on How You Use the Loan
You can use a personal loan from Universal Credit to buy almost anything and to pay off other types of debt. Getting a personal loan for debt consolidation can be a good way to save money and simplify your finances if your new loan has more favorable terms than your current debt.
How you plan to use the funds may also impact the interest rate on your loan from Universal Credit. The company says that to get the lowest rate you'll need to use at least a portion of the loan to pay off existing debt directly (in other words, Universal Credit will send the funds to the other creditor) and you have to use autopay to repay your loan.
How to Qualify for a Universal Credit Personal Loan
You'll need to meet the minimum requirements if you want to qualify for a loan from Universal Credit:
Be a U.S. citizen or permanent resident, or live in the U.S. with a valid visa
Be at least 18 years old
Have a valid email address
Have a verifiable bank account
Meeting these requirements doesn't guarantee you'll get approved. Your credit, income and outstanding debt can still impact your eligibility and loan offers.
Universal Credit Personal Loan Fees
Universal Credit charges a 5.25% to 9.99% origination fee on all of its loans, and your fee will be taken out of the amount you receive. It doesn't specify what will determine your fee amount, but lenders generally charge different fees based on applicants' creditworthiness, the loan amount and the loan's repayment terms.
You may also have to pay a late payment fee, although Universal Credit doesn't specify the fee amount or whether it offers a grace period after the due date. However, you won't have to pay an application fee to apply or a prepayment penalty or fee if you pay off your loan early.
How to Apply for a Universal Credit Personal Loan
If you think Universal Credit's personal loan might be a good fit, follow these steps to get started:
Check your offers. See if Universal Credit offers you a loan with a soft credit check.
Choose an offer. You might receive several offers with varying amounts, repayment terms, interest rates and fees. Compare the offers to see which one you prefer, and accept an offer to continue. At this point, you may need to agree to a hard credit check, which could impact your credit score.
Verify your information. Be prepared to share documents to verify your identity and income. You may receive a notice by email and within your account's dashboard.
Receive the loan. Once your application is approved and verified, Universal Credit will disburse the loan proceeds. They may appear in your account within one business day, but it could take longer for your bank to process the transaction. Funds sent to other creditors may take up to two weeks to clear, and you'll want to monitor those accounts and continue making payments as needed.
After you receive your loan, you'll start making monthly payments based on your repayment schedule. The loan has a fixed interest rate, which also locks in your monthly payment amount. However, you may be able to save on interest by paying off the loan early.
†The information provided is for educational purposes only and should not be construed as financial advice. Experian cannot guarantee the accuracy of the results provided. Your lender may charge other fees which have not been factored in this calculation. These results, based on the information provided by you, represent an estimate and you should consult your own financial advisor regarding your particular needs.
Compare Loan Offers to Find the Best Fit
Comparing offers from multiple lenders will help you determine who will give you the best rates and terms. If you don't want to go lender-by-lender, try Experian CreditMatch™ instead. There's no hard credit check or obligation to accept one of the offers. And once you're logged in, you can quickly get personal loan offers from multiple providers—including Universal Credit—based on your unique credit profile.