The Housing Choice Voucher program, also known as Section 8, is a government initiative that helps families afford housing by paying a portion of the rent. If your household income is less than 50% of the median income in your county or metro area, you may qualify for a housing voucher. Here, we explore how the voucher works, who qualifies and how to apply.
How Do Section 8 Vouchers Work?
The Section 8 voucher program is run by local Public Housing Agencies (PHAs) and lets you pay just 30% to 40% of your gross monthly income for rent when living in a privately owned home. Basically, you pay your share, and the government steps in to pay the difference.
If you are approved, the PHA tells you what size home you can rent given your family size and composition. You can choose to live in any available single-family home, townhouse or apartment where the voucher is accepted as long as the home passes a quality and safety inspection.

Section 8 Eligibility Requirements
PHAs look at your income, family composition, citizenship and eviction history to qualify you for a Section 8 housing voucher. Here's a bit more detail on the eligibility criteria: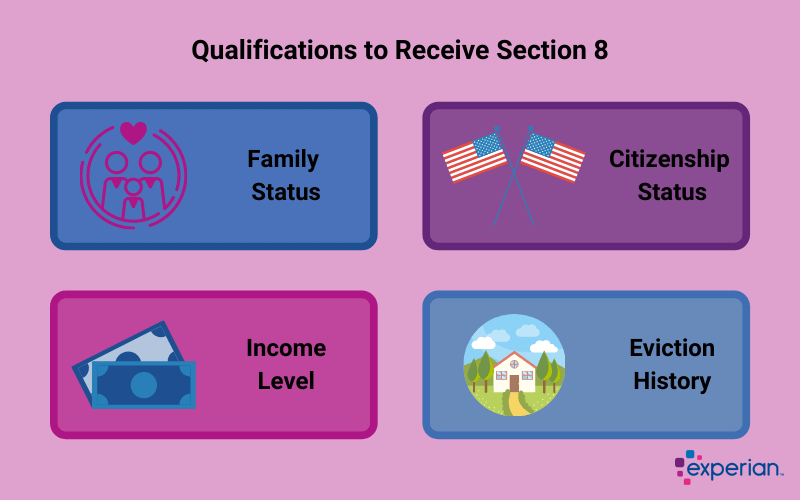 Income
Generally, you need to make less than 50% of the median income in your area, and income limits can vary greatly from one area to the next. For example, the income limit for a one-person household in New York City is currently $41,800, whereas the limit in Orlando is $25,450.
All forms of income are considered, such as employment income, net income from business ventures, investment income, welfare assistance, Social Security income and retirement fund payments. Your local PHA can give you information on the income limits for where you live.
Family Size and Composition
The PHA will count the number of people in your family and consider who lives in your home, be it children, a person with a disability or a family member over 62. College students may qualify for Section 8, but only those who meet certain criteria, such as being 24 years or older, a veteran or a person with disabilities.
Citizenship
Only U.S. citizens and certain noncitizen residents qualify. Eligible noncitizen residents may include people who have established permanent residency or immigrants with refugee status. Part of the Section 8 application is verification of citizenship and residency status through documentation.
Eviction History
Households can be denied a voucher if a member has been evicted in the past three years because of a drug-related offense. However, in some cases, the PHA may approve your application if the family member completed a rehab program or no longer lives in the household.
How to Apply for a Section 8 Voucher
If you believe you're eligible for Section 8, you can apply through your local PHA. The PHA can explain the documents you'll need to provide to show income, family size and citizenship.
After getting a stamp of approval, you may be put on a waiting list depending on the number of applicants. If the list is long and the program funding is limited, it could take a while for you to get your housing voucher. However, some people on the list—such as people displaced, homeless or living in poor-quality housing—may get priority.

What to Do if You Don't Qualify for Section 8
Suppose you don't qualify for a Section 8 housing voucher, or you're stuck on a waiting list. In that case, you may still be able to get housing help through other programs, especially if you're in an emergency situation and at risk of becoming homeless. Here are a few options to consider:
State and city housing agencies: State and city housing agencies may run housing programs targeted to certain populations or people who meet requirements and need financial assistance. For example, New York's CityFHEPS program helps people pay rent and find homes. If you're financially affected by COVID-19, state-run programs may offer relief that could help you avoid eviction. In addition, many states have "211" programs for human services, which might provide ongoing housing and eviction prevention support.
Additional federal programs: HUD may subsidize rent at specific apartment complexes. You can search for subsidized apartment rentals on the HUD website. Another alternative could be exploring public housing if you can't get a housing voucher.
Community housing programs: Nonprofit and community organizations may provide housing opportunities to people in underserved communities. Housing counseling agencies approved by HUD may be able to help you explore these and other options.
Final Word
The Section 8 housing voucher program has opened the doors to affordable housing for millions of families. If you don't qualify for Section 8, you could turn to other support avenues, such as state and community programs.
What if you have the income to pay rent, but you have poor credit? If you know someone who has good credit, you could ask them to cosign for you. But it's also worthwhile to start building (or rebuilding) your own credit so you can apply for rentals on your own down the line.
First, pull your credit report and scores to see where you stand. Next, commit to making on-time payments on all credit accounts from here on out and trying to reduce credit card balances. Lastly, consider using a tool like Experian Boost®ø, which gives you credit for on-time cellphone, utility bill and select streaming service payments so you can establish a record of positive payment history.