What's the best financial "landing spot" for a new home down payment? It's a fair question, and one that home purchasers consumers need to confront right away. Why? Because buying a home is all about working with a budget and cutting into potential interest payments that come with a mortgage loan.
In short, the more cash you put down for a home down payment, the lower the loan amount you'll need and the less interest you'll pay.
The benefits of a higher home down payment are substantial:
A cleaner path to loan approval — You increase your chances of an easier mortgage loan approval with a bigger down payment, as lenders will likely view you as a good saver, and thus a low credit risk.
Lower mortgage loan rates — Since a higher down payment reduces your loan-to-value ratio on a mortgage loan, you can usually earn lower loan interest rates from lenders. Any hike in the amount of a home down payment lowers loan-to-value ratio, while also reducing risk to the lender.
You'll likely pay off your mortgage sooner — The more cash you can put down on a home down payment, the lower your mortgage loan amount. Thus, that makes it more likely you can pay off your entire mortgage loan debt sooner than if you didn't have a big home down payment.
A lower monthly mortgage payment — A larger home down payment cuts your monthly mortgage bill, leaving you with extra cash for other key household financial considerations, like college and/or retirement savings.
No mortgage insurance — By steering more cash into a home down payment (say, with a 20% down payment), you can avoid private mortgage insurance (PMI). Anything less than a 20% home down payment, and your mortgage lender will likely require you include private mortgage insurance with your home purchase, which insulates the lender from downside risk if you can't meet your loan payments. A more robust home down payment can help you steer clear of PMI premiums. Private mortgage insurance can be pricey—up to 1% of the entire mortgage loan amount on an annual basis, in many cases. On a $200,000 home loan, that means almost an extra $200 per month saved by not having to buy PMI insurance.
Average Down Payment on a U.S. Home
According to a recent survey by The National Association of Realtors (NAR), while homebuyers aim for the "magic" number of 20% for a home down payment, the actual national average is 10%. First-time homebuyers only put down 4% as a down payment, the company reports.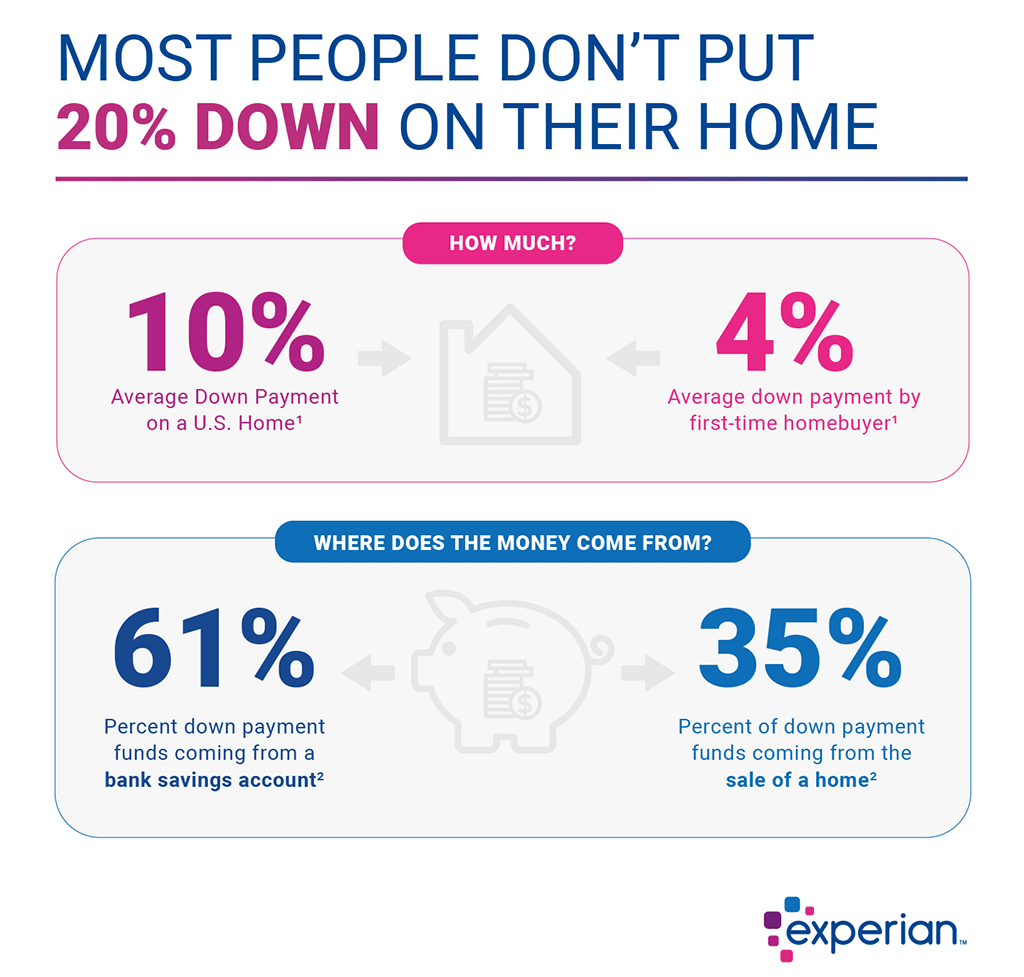 1 Realtor.com, 2 NAR
How Much of a Down Payment Should You Pay for a New Home?
While down payment obligations vary from lender to lender, and primarily depend on your credit health and your debt-to-income ratio, most traditional loans require at least 5% down in immediate payment on a new home.
Yet homebuyers, even cash-strapped first-time buyers, have options. For example, U.S. Federal Housing Administration home loans are easier to get, are more lenient about bad credit (even a FICO® Score* of 500 can get you an FHA loan), and only require the borrower to put down 3.5% of the home's value in a down payment.
The perfect down payment depends on the price point tied to your homeownership goals, mortgage experts say. "Start by talking to a lender the moment you consider buying a house," advises Jennifer Beeston, vice president of mortgage lending at Guaranteed Rate Mortgage, in Santa Rosa, Calif. "A good lender can guide you on the down payment required for programs at your price point. There is no perfect number as every situation is unique and given the variety of loan programs and options are growing daily."
For homebuyers, it's helpful to keep an eye on the big picture, too.
"You should make a 20% down payment for any home you purchase, but that doesn't necessarily mean you need to," says Tad Herrington, senior financial planner at John E. Sestina & Company, Columbus, Ohio. "The bigger issue is proving that you are able to afford the home in the first place."
Too often people purchase a home before they have the proper savings in place, Herrington notes. "Saving 20% is a good litmus test that proves you have positive cash flow and are able to save money on a consistent basis," he says.
In today's mortgage landscape, it's easy to obtain a loan with little-to-no down payment, but you should still have savings on hand before purchasing a home. "If you need to take money from your retirement account, you can't afford it," Herrington states. "If you don't have enough saved away for unexpected expenses (like floods, roof leaks, water heater and repairs), you can't afford it. This leads to using credit card debt or other loans to maintain the home."
Also, avoiding the down payment means you start with zero equity in the home, and you are more susceptible to market volatility, he adds. "In other words, you can easily become underwater (i.e., achieve negative equity) if the house goes down in value," Herrington warns.
Main Sources of Home Down Payments
61% of home down payment funds come from a bank savings account, according to the National Association of Realtors. Another 35% comes from the sales of a home, and the rest usually stems from a cash gift from family or friends, the NAR reports.
Great Ways to Save for a Home Down Payment
Actually coming up with the cash for a home down payment isn't easy, but it is doable, and there are myriad ways to get the job done. Here are some specific tips:
Identify where you are spending money and cut that spending
Before you can save money for a home down payment, you have to know where your money is going, says Beeston. "I really like the website Mint.com because it's free and it gives people an incredible view fast of where their money is going with very little effort," she says.
"You can then set up budgets and be notified when you're overspending on that budget." Beeston says she used Mint when she was first saving for a house. "It showed me I was spending $2,000 a month on groceries for three people," she says. "I was totally unaware but it made my overspending crystal clear and I was able to cut $500 a month just by sticking to my budget."
Auto-deduct
The best way to save for a down payment is to set it on autopilot, says Herrington. "Identify your goal and time-horizon, then have savings automatically deducted from your paycheck," he advises. "This way you're ensuring you pay yourself first." The home down payment savings should be in a vehicle easily accessible and not subject to market volatility, Herrington adds.
"I always recommend using a high yield savings account. You give up some potential return on your investment, but you also guarantee you won't lose half of it when you need it, like you might in the stock market. There's nothing worse than saving up $20,000, that drops in value to $10,000 when you need the money."
Contribute less to your 401(k)
Taking money away from your savings can seem scary, says Kevin Miller, director of growth at Open Listings, in Los Angeles, Cal. "But think about it this way: your new home won't just be a house, it will be an investment," Miller says. "From June, 2016 to June, 2017, home prices rose, on average, by 5.8% nationwide. That's about as good as a return you can get on any investment, plus you get to live in your home."
Leverage the power of "gift funds"
"We're frequently seeing the use of "gift funds" for borrowers who need down payments," says David J. Hosterman, branch manager at Castle & Cook Mortgage, LLC in Greenwood Village, Col. Both conventional and government loans allow for gift funds, Hosterman says. "Typically gift funds are from a family member and can be executed extremely quickly."
To properly document gift funds, both the borrower and the donor have to sign a gift letter, provide evidence like a bank statement showing the donor had the ability to gift the funds, produce a copy of the check from the donor, and have documentation showing the deposit of the check into the borrower's account, he notes.
Shop around for different mortgages
Saving for a home down payment may be as easy as finding a great deal on a home loan, says Dan Green, a mortgage specialist with Growella in Cincinnati, Oh. "Ultimately, the best down payment is the one with which you're most comfortable," Green says. "With so many low- and no-down-payment home loans available, buyers can choose the down payment size that best meets their needs."
Green says there are at least six government-backed loan programs today that require 5% down or less:
U.S. Veterans Administration loan

Fannie Mae HomeReady loan

Fannie Mae Conventional 97 loan

A conventional mortgage loan

U.S. Department of Agriculture loan
"Furthermore, there are more than 600 down payment assistance programs nationwide to help buyers get into their homes," Green says. "Many offer cash grants of $25,000 or more that don't require repayment if the buyer agrees to stay in its house for at least five years."
Green has cataloged these programs onto his website, into a searchable database. Find it here.
Crossing the Goal Line
Once you've figured out both your home down payment savings number, and how you're going to save the money, get started and keep the savings momentum going on your home down payment program. Make sure to account for home purchase closing costs, which can add thousands of dollars when you sign your home mortgage (a smart, experienced mortgage specialist can work with you to minimize some of those costs).
Past that, keep your eyes on the prize and know that the more money you save for a home down payment, the less you'll pay on the mortgage. That can make any "home, sweet home" scenario that much sweeter.