When Experian asked me to review its free online Personal Finances tool, I was immediately on board. Gathering up information from my various checking, savings, credit card, loan, retirement and investment accounts can be cumbersome. Having a tool do the work for me? Yes, please.
Could Experian's personal finance tool help make understanding and organizing my finances easier? I grabbed my laptop—and my college-aged son Noah for technical backup—and logged in.
Get Started Quickly and Easily
If you're logged in to your Experian account, look under the Finances tab and click on Personal Finances to access the tool.
Experian provides some introductory information and invites you to get started. To connect your accounts, you'll securely provide login information for your bank, credit card and investment accounts. The tool downloads transaction and account information automatically, which can take several minutes. While the tool worked hard, it's important to note that I did not: Assembling a large amount of data took a relatively small human effort.
Since I already use my Experian account to monitor my credit score and activity regularly, the Personal Finances tool had my credit data on file. So even before I entered all of my card accounts, it displayed my credit limits and utilization as well as my Experian FICO® Score☉ .
Multiple Accounts in a Single View
Once the startup process was complete, I had an easy-to-read dashboard showing my bank accounts, card accounts, mortgage, car loan, investments and retirement accounts. That alone was worth the cost of admission (which, by the way, is free). Checking each of these accounts individually would have taken me several minutes and still would not have provided a unified view of my finances. In a world where so many of us maintain multiple accounts with multiple financial services providers, scanning your money situation in a single pass is clarifying.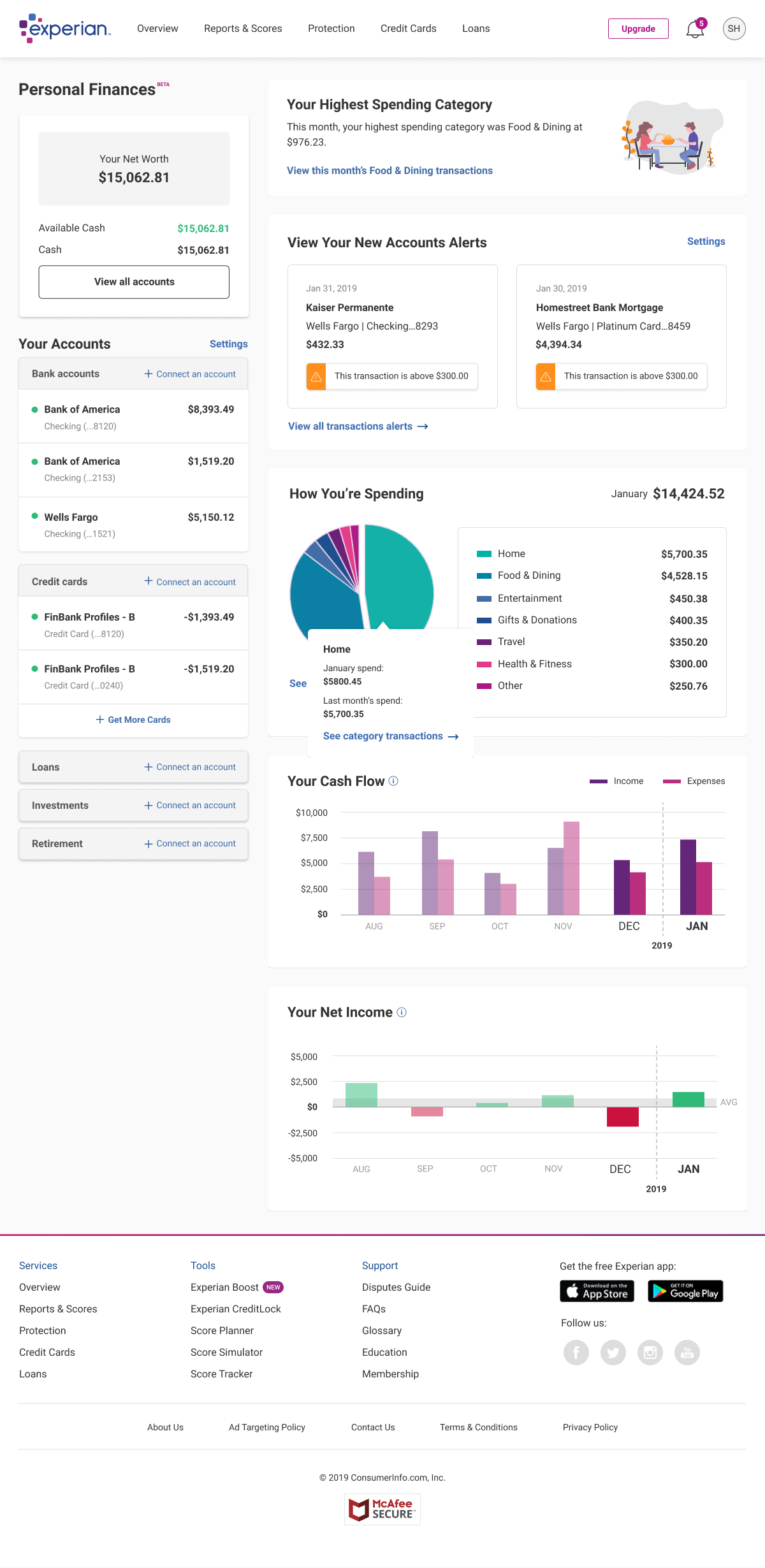 In real life, getting a wide, strategic view of your finances isn't easy. Although I make a concerted effort to stay on top of my financial accounts—and my credit—I don't always have a clear, reality-based understanding of the big picture. That's not ideal. Simply seeing where my finances stand at any given time is a breakthrough. So far, so great.
Alerts and Advice to Track Your Cash Flow
The Personal Finances tool offers a few simple alerts. You can ask to be notified when your credit or debit cards post transactions over a designated amount—in my case, $100 each. The tool will also alert you when your bank account drops below a certain dollar level. Although a low-balance alert is probably always a good idea, it seems even more valuable in current times. I try to keep a cushion of cash in my checking account, but having an extra set of "eyes" on my account felt reassuring.
Wondering where your money goes every month? The Personal Finances tool sends you a roundup of your top spending categories every month, such as food and dining, auto and transport, and even pets, among others.
I also received pop-up advice about my spending. The tool noted that the multitude of debit transactions I do monthly could be moved to a credit card that earns rewards or cash back. In particular, dollars spent on dining could earn me an enticing number of bonus reward points on a number of credit cards. Which credit cards? The tool linked me seamlessly to an Experian CreditMatch™ page with personalized suggestions.
Financial Inspo for Gen Z
Working with the Personal Finances tool had a significant side effect for Noah: It inspired him to check up on his credit. "I've been working on building my credit since I started college," he says. "But I'm also limited in terms of my income and how much credit I need. As a full-time student working part time, I try not to spend too much or rack up a lot of debt." As a rule, he pays off his credit card bill in full every month.
Experian's credit score feature showed that Noah's credit score is, thankfully, "very good." The tool suggested opening a few new credit accounts when he's ready to beef up his credit profile. It also recommended a dark web scan, which is an especially good idea for teens and young adults since many have had online identities since childhood, meaning they're vulnerable to identity fraud even before they establish their financial lives in earnest.
Engaging With Our Finances
Road-testing the Personal Finances tool also helped both Noah and I engage with our finances in a new way. Getting a handle on our finances has also provided a rational incentive to stay engaged. Once everything was set up, it was nearly effortless to get a quick scan of our financial health.
Whether you're trying to establish good money habits or re-establish a sense of control over your sometimes complicated finances, having that kind of fast access to insight is a huge plus. It helps you monitor your accounts and helps you see your credit-building efforts in the context of your overall financial health. Trying to understand your finances can be laborious and messy. But using technologies like Experian's Personal Finances tool can help simplify the process—and provide the strategic viewpoint you need to navigate successfully.