If you've heard about Experian Boost®ø and are wondering whether it really works, the answer is yes! Since launching in early 2019, Experian Boost has helped millions of people instantly increase their credit scores.
For the first time, Experian Boost allows you to improve your credit scores and build credit history using utility, telecom, rent, insurance and streaming service bills you pay every month. Experian Boost works by connecting to your bank and credit card accounts to find qualifying on-time bill payments and, with your permission, adding those payments to your credit file. The process takes about five minutes, and you'll see any changes to your credit scores instantly. Most people who try Experian Boost see their credit scores improve immediately.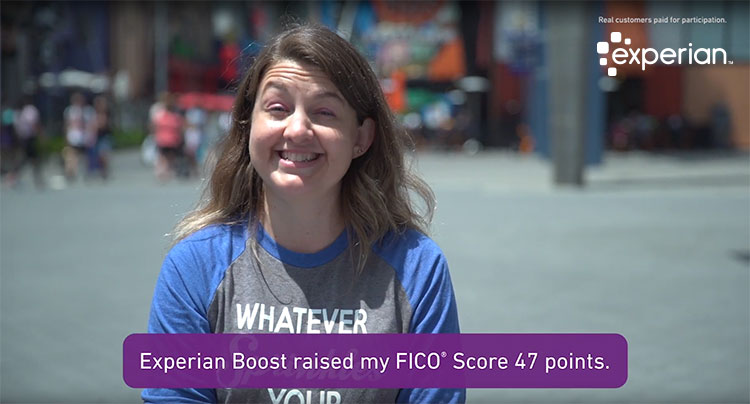 Average users boosted their FICO® Score☉ 8 based on Experian data by 13 points. Some may not see improved scores or approval odds. Not all lenders use credit information impacted by Experian Boost.
How Is Experian Boost Helping Consumers?
A growing number of people looking to improve their scores or establish credit history are trying Experian Boost and experiencing an instant credit score increase. In fact, people receiving a boost instantly raise their FICO® Score by an average of 13 points with Experian Boost.
Will Lenders Use My Experian Boost Score?
Helping consumers raise their credit scores so they can obtain credit when they need it is one of the main reasons Experian Boost was created. Experian Boost impacts multiple credit scoring models, so as long as your lender utilizes the most common versions of the FICO® Score and VantageScore®, they will see your boosted credit scores when they request your credit report from Experian.
You may even find lenders who recommend Experian Boost when you're getting ready to apply for a loan. For example, home equity lending specialist Spring EQ says Experian Boost has become a staple in their lending process and something they recommend to applicants when they believe it can make a difference in granting them a loan with lower interest rates and fees.
Make sure to keep your accounts connected when applying for new credit so lenders can see your boosted credit scores on your Experian report. If you disconnect your bank or credit card accounts from Experian Boost, your credit scores will be calculated without that additional information.
Is Experian Boost Worth It?
Experian Boost is a free feature that can help you raise your FICO® Score in a matter of minutes. For anyone who has worked to improve their credit scores over months or even years, seeing those credit scores go up instantly can be extremely rewarding.
Having a good credit score not only makes you feel good, but it can also help you save money and expose you to new financial opportunities. Your improved FICO® Score may help you get a favorable interest rate on a new loan, which could save you hundreds or even thousands of dollars over the life of the loan. Your improved credit score may also make you eligible for a new type of credit. These positive outcomes make Experian Boost worth it for many consumers.
How Do I Sign Up for Experian Boost?
Signing up for Experian Boost is easy. When you go to the Experian Boost page, you'll be asked to create a free Experian account to start the process. You'll then connect your online bank and credit card accounts so Experian can search for any qualifying on-time payments. Once you verify that you want to add the accounts to your credit file, your credit scores will be calculated using the newly added payment information. The process is simple, and if you receive a boost, you'll see your FICO® Score increase in just a few minutes.
If you pay your utility, telecom, streaming, rent or insurance (excluding health insurance) bills using your bank account or a credit card, consider trying Experian Boost to see if you can instantly raise your FICO® Score and get credit for your past on-time payments. You can always get your FICO® Score for free from Experian to stay on top of your credit and see how you may be able to improve your credit scores.