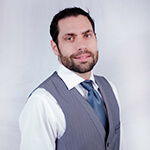 Brian Stack
Brian Stack is Vice President of the Experian® Engineering group at Experian Consumer Services, the leading provider of online consumer credit reports, credit scores, credit monitoring, other credit-related information, and protection products. He's a software, technology and information systems executive with nearly 20 years of startup and enterprise experience.
In his current role, Brian leads a team of data scientists, analysts and software engineers out of San Diego, Florida, Boston and London that are responsible for scouring the dark web for compromised consumer data and incorporating non-credit based data sources such as court records, payday loans, and social network data to produce best of bread identity protection products for Experian consumers and business partners.
A New York native, Brian has a MS in Computer Engineering and currently lives in San Clemente. He is an active runner and an amateur horticulturist.
Articles by Brian Stack
Recommended Articles